»
«
»

Viewing Profile: Topics: LordXayd
LordXayd
Member Since 16 Nov 2011
Offline
Last Active May 01 2013 02:41 PM
Topics I've Started
26 April 2013 - 07:37 PM
We need a Honda Fury in V.
This is my baby (2010 LE).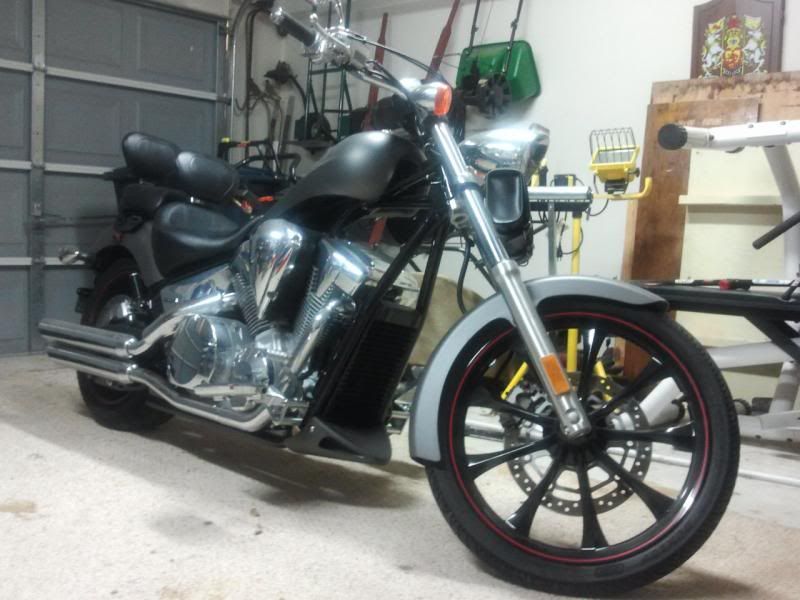 26 April 2013 - 04:53 PM
Hi Guys,

I've been getting the SA fever lately, so I picked it up off of Steam.
The only problem I ever had with SA was the limited garage system, where I didnt feel free to leave my cars laying about.
I've modded Bethesda games lots, but never GTA.
Is there an SR2 style garage mod, and if so can you link me to it?
Thank you!
22 April 2013 - 03:46 PM
After the grave disappointment that was GTA IV, I will not be first in line to pick up V.
Instead I'm going to be paying attention to the reviews first.
* EDIT: I dont mean to say that I'm interested in the opinion of the reviewer, just that I'm hunting for currently undocumented features (like car customization and storage).
My first GTA was SA, which effectively opened the world of sandbox gaming for me.
The story was in fact very good, but what I really liked was all the things you could do outside the story.

1/ Innovative jump spots.
2/ Predefined base jumping.
3/ Area 69 interactivity.
4/ Extensive garage options, including the personal air strip/hanger.
5/ The wide variety of theivable planes, not to mention Los Santos Airport.
6/ Stealing cars and heavily modding them.
7/ Stopping mid mission to grab a vehicle only available during a mission.
8/ Owning businesses.
9/ Modifying CJ.
10/ Hilarious commercials and talk radio (Wild Traveler, Tight End Zone, Gardening with Maurice).

Pretty much the only thing I didn't like was the way the garage system prevented you from making practical use of your stored cars, an issue that SR solved in a lore friendly fashion.

* You store a car the way you want.
* You call a hoodie to bring you the car.
* He steals a base car, models it at your chop shop after the one you have stored and then brings it to you, leaving the original blueprint car in storage.

So when GTA IV came out, I was really excited to explore all the new options.
* Instead what I find are that my outside activities encompass bowling and shooting pool.
* Most of the structures can't be entered.
* While there were predefined jumps, there were far fewer and not nearly as innovative. More like it was a passing thought that you'd be interested in pushing this activity over say... billiards.
* I've never personally preferred mafia over gangs for the protagonist's story, but this wasn't really either one of those. It was more like a revenge laden RPG.
* It's hard to describe what I found wrong with the talk radio station (WKTT). It felt more like TV programming than shock jock material. Certainly more conservative that WCTR. Not GTA style edgy. More like Jerry Springer. Same thing with the commercials.
* No planes, just choppers. And so somehow R* concluded that parachutes weren't needed either. Wrong.
* No functional garages for stolen cars, just a few really buggy parking spaces.
* But why would you even care about keeping a stolen car if there's no chop shop for modding it? I have no interest in a vanilla vehicle.
* And R* apprently agreed with me, so they instead encouraged us to hail cabs and ride busses. Fun!

Excuse me. I thought this was Grand Theft Auto, not Public Transport Auto.
Maybe R* should have made a mission where you hack a terminal for a free Metro Pass.
Or maybe take over the cab company so you don't have to pay.
Yeah... no.

Pretty much the only things that I thought were a win were the graphical upgrade (which I expected) and the slow-mo instant replay on jumps (which I didn't expect but was very welcome).

It was really no surprise to me that when I went to sell it at Gamestop 3 weeks after launch, all they offered me was $6. Citing the line of used copies that they could not give away since it had no replay value (what his patrons told him). Which of course told me that the spectacular opening sales of GTA IV were not based on the game's merit, but the franchise and SA. And I contributed to that.

When I look at the featureset for GTA V, I see several SA qualities returning. Thank goodness for that.
* But I don't see bo diddly on talk radio. I'm sure we'll have it, but I don't want Jerry Springer. I want actual shock jocks.
* No PC version? It's just a possibility? What age are you living in, R*?
* I also don't see anything about chop shops or garages, which is a commonly noted sore point of IV. If R* has the audacity to encourage us once again to ride in cabs or busses, in lieu of the game's namesake, they won't be getting my money. And I'll stop looking at R* as a BioWare or Bethesda that simply made one mistake.

There are so many people out there that defend GTA IV ferociously. I usually have to spend some time digging around in forums to see if I'm just crazy. That somehow SA fun was in the game, but I missed it. Ultimately, what it seemed to come down was that either you're a SA person or you're a GTA IV person. Much like you're an Elder Scrolls person or Fallout. Well let's hope this is the year of San Andreas 2 and Fallout 4. We're due.
→

Viewing Profile: Topics: LordXayd