The last week I've been working on a nice little plugin:
An in-game menu for III, VC and SA to tweak values and execute commands from within the game.
The menu itself is completely empty by default. Other mods have to load it and fill it with whatever they like.
Just so this thread isn't too boring I also wrote some nice little mods that make use of it. SkyGFX and sharptrails also
expose their settings via this menu now.
To install just put the debugmenu.dll into the root game directory. DO NOT rename this file, otherwise other mods won't find it.
The module is not loaded by any dll/asi loaders, that would be pointless because it is empty. The individual mods that use it load it.
You can get the menu here:
https://github.com/a...gmenu/releases/
The debug mod has the following general features (different in each game, read the readme):
- debug camera (original R* leftover in III made usable from the keyboard and ported to VC and SA) (
See an old video
)
- save and load camera positions and time & weather
- standard game cheats in the menu (not for VC, the cheats are awkward to call there, maybe in the next version)
- vehicle spawner with some "interesting" vehicles for quick acccess
- change time and weather
- change some player stats
- COL renderer for III
- lots of postfx settings in SA
Get it here:
https://github.com/a...debug/releases/
And have a screenshot: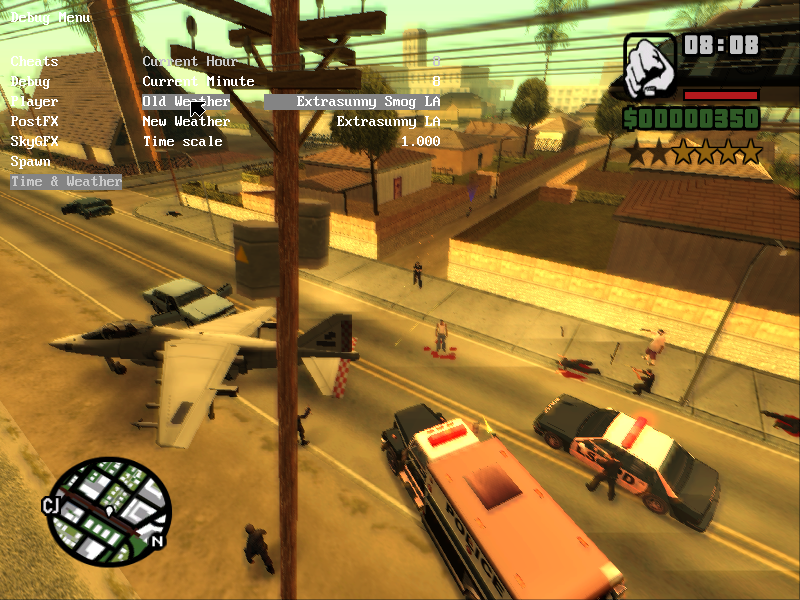 Some information for programmers:
If you want to make use of this, check out the readme at
https://github.com/aap/debugmenu
and in particular the header file which you will need to include:
https://github.com/a...ugmenu_public.h
In this first version of the mod I have not yet settled on a 100% definitive API. So please be aware that later versions of the debug menu may be incompatible with earlier ones. I hope this will not happen but I can't promise. If you have suggestions for functions which you would like to see, tell me. Right now I haven't implemented anything that I didn't need, but a more complete and more flexible API would be nice of course.