SCARLET SPLICERS MC


Scarlet Splicers MC is a new motorcycle club on GTA V/PS4, we're looking to recruit loyal, mature, active, and dedicated brothers/sisters. People who are familiar with MC culture and the counter-culture of the 1960's. It's preferred if you live in Canada or the United States however we welcome all genders/races/nationalities/religions etc. We are strictly a roleplay club, we may occasionally do some TDM's (in-house/just club members) but it's not a priority at all. This club is ran strictly and you will be held up to the same standard as any other member of the MC.

Who We Are:

We're the punks, rebels, outcasts of society; we dare to go where others are too cowardly to venture themselves. We laugh in the face of danger and live life at full throttle. When we walk into a room, people treat us with the respect (and fear) we deserve. Although we may hold a very rough exterior, we are a club of big hearts, we take care of our own and once you're a part of our inner-circle we will always have your back.




What We Ride:

CLASSIC HARLEYS!!!!! Panheads, Shovelheads, Choppers, Bobbers, Brats, Trackers, and absolutely NO crotch rockets! We keep our bikes looking classic, old school, not flashy. You can ride any Western or LCC bike (Sanctus is banned for being ridiculous) but you need to keep it looking realistic to the era of the 1960's/70's. It's also preferred if you DON'T use a really modern looking bike. As stated we like classic Harleys, not anime bikes.




Our Mission:

Scarlet Splicers MC aims to emulate the true MC lifestyle as accurately and respectably as possible. We don't just run around free modes getting into pointless wars or spend all day fighting in TDM's. Needless to say if you're seeking a competitive MC, this isn't the one for you. What we DO, is ride, drink, party, fist-fight, live life on the fringes of society like true outlaws, we hold events, we meet with other clubs, arm wrestle, race, buy and sell illegal goods, and guard our territory. We believe in traditional MC values; Respect, Freedom, Loyalty, Anarchism, Trust, Brotherhood. These are essential to any long-lasting club or organization of any kind. Respect is something to be earned here, not handed out, everyone who puts in the time and effort, and proves their loyalty will be given the respect they deserve.




What We Offer:

As stated above this club is all about brotherhood, when you wear our patch; you're part of our family. You become a brother/sister to every other member in the club, and because of that you will always have someone to lean on, to have your back, to support you in game and out of game. This is a family that extends beyond Grand Theft Auto; we will be there for you in your times of trouble, when you feel like things are beginning to become too hectic you'll be able to turn to us for support. Likewise, we will be here for you when things are going good too, come and let us celebrate your victories with you! We hope you too can someday come to think of us as a second family and a home away from home. This is a tight-knit family that will never abandon you no matter how thin the ice is looking.
 


What Can YOU Offer Us?

So, we've told you a little bit about what we can offer you; now we'd like you to do the same, if you were accepted into Scarlet Splicers MC, what would you bring to the table that nobody else can? Maybe you're good with photoshop and can create patch work, or maybe you're good with the editor and could make videos for us, maybe you're a little hard-headed and know how to discipline people who don't follow the rules...whether you have years upon years of MC experience, or you're completely new to the lifestyle, the possibilities are endless and everybody has something that makes them unique. So, what will you bring to our table...?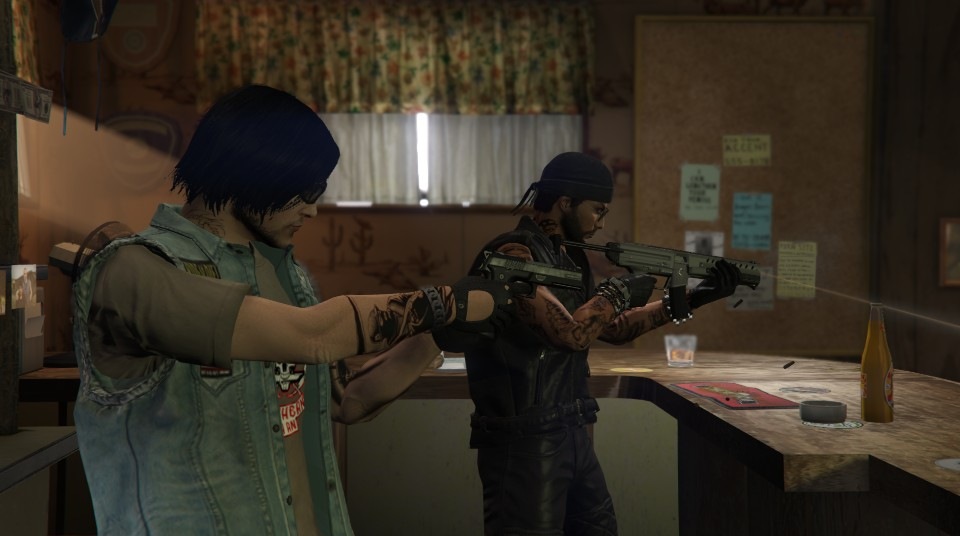 How To Join:

This club is no easy club to join, most people DO NOT earn their full patch. It is a time-consuming process that requires effort, dedication, and commitment. Everybody who wants to be here will earn it by proving their loyalty and commitment to the club. You will be hazed by the club and pushed to your limits, this is to see if you're Scarlet Splicers material. The first step to joining our club is becoming a Hangaround.




Hangarounds:

Every single future brother and sister of this club will start their journey at exactly this spot. Hangarounds acts as a feel-out period for both the club and the recruit. The club is feeling out the new recruit to see if he or she has what it takes to become a member of the club and likewise, the recruit is feeling out the club a little so that they know if this is the club for them or not. This period is essential as we want committed people. We don't want people who are just going to leave a week or two in because they want to do something else. We want brothers people who will be here for the long run; people who will dedicate themselves to the club. If you prove yourself to the club, a member will approach you and offer to sponsor you as a Prospect...




Prospects:

Now that you have been sponsored, things are going to get a whole lot different. No longer is the club simply "feeling you out." You are now an official Scarlet Splicers Prospect. You will be upheld to the same standards as every full patched member, after all that is what you're working towards becoming. You WILL follow every single order your sponsor gives you. (S)He is your direct contact for any questions/concerns you have about the club. They show you the ropes and teach you everything you need to know to be a member that we can't discuss here. You will be hazed by the members, they want to see how far you're willing to go to become a member of this club. Everybody must put in their time and pay their dues. We hope you have what it takes.

Breakdown: Hangaround ==> Prospect ==> Full Patch
 
Chapters:

Southern San-An: The mother chapter of Scarlet Splicers MC, and currently the only chapter recruiting. It acts as the governing body for all of SS-MC. Southern San-An creates the bylaws that govern all of SS-MC and are the overseers of the club as a whole and all of it's chapters. [Status - Active]

Nomads: Nomads is a legacy chapter, only members who have been apart of SS-MC for 3 years are eligible to transfer to Nomads. Transferring to Nomads requires a vote from the chapter the brother is currently part of *and* a vote from Mother Chapter. Nomads has no hierarchy of it's own and is only expected to answer to the mother chapter. There must be a minimum of four (4) brothers active in Nomads for it to be considered an active chapter. [Status - Inactive]




Positions:

We will not guarantee anyone a position in this MC, everything is EARNED and I take that very seriously. If you prove yourself worthy for a full patch position, you'll get it. If you prove that you should be a club officer, you will be one. There are NO hand-outs in this club, as said everything is earned and you WILL hangaround and prospect if you want a place in this club.
 
The hierarchy for the club is as follows:

President

Vice-President

Sgt. at Arms

Secretary-Treasurer

Road Captain

Enforcer (x2)

Road Captain Assistant (x2)

Prospect Manager

Tail Gunner
 
Each of these positions have specific duties to carry out and they will be expected to do so without needing to be told. If you're lucky enough to become an Officer or Lieutenant within SS-MC you will be upheld to the highest expectations as you will be expected to be model members and to serve as prime examples for all patch members, prospects, and even hangarounds to strive towards. (Table positions are open to those who EARN them.)



Requirements:

Finally, the last thing to note before contacting us are the club requirements for membership:

18+ is the preferred age limit, however we're willing to make exceptions to anyone 16+ as long as you're mature.

You must have GTA V on the PS4 (Why else would you bother joining us? lol)

You must have a discord account so you can access the club servers.

You must have a working headset for PS4.

You must own at least one Western or LCC motorcycle. (The Nagasaki Chimera is permitted but it's preferred that you use Western or LCC brand bikes. Once again, the Sanctus is not permitted.)

And finally you must speak fluent English.



COPY & PASTE THE QUESTIONS BELOW AND POST ANSWERS IN A REPLY:

Discord ID:

PSN ID:

MC Experience:

Roleplay Experience:

What You Ride:

What You Can Offer To The Club:

Why You Want To Join:



The following links will lead to the club's social club crew pages (Simply click on the icon and follow the hyperlink):

Full Patch:


Prospects:
 
Hangarounds:
 



If you would like to contact the President directly; his Discord is Bubz_SS-MC#6319