Hi there,

hope someone can help me!

I need at least 4 logos for crews and some other graphics for the comming homepage.
...

Firstly the logo for the main crew:
 
At least exactly as the old "Demon Lords MC" patches Rejected made a long time ago.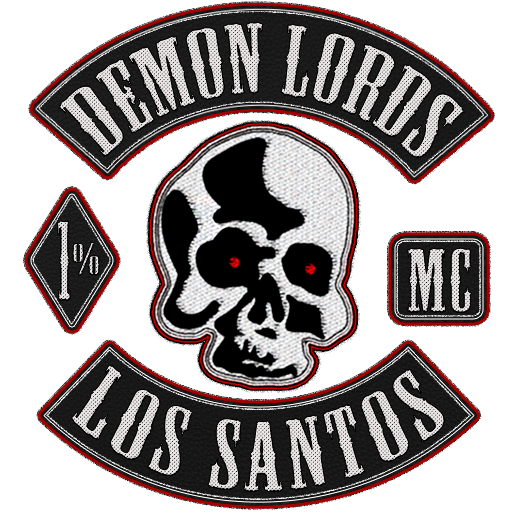 Changes:

- The red outlines in a more bright red, like the Ferrari-red (or the eyes of the skull)
- The rockers a bit smaler ... also the letters ... more like by the first logo of my former crew --> http://fs5.directupl...17/qbh69vlo.png
 
- Writing in the Toprocker: "HELL MACHINE"
- Writing in the Bottomrocker: "BLAINE CO."
- The letters in the rockers are pleace in red with white outlines, that it looks more like by the real life Red Devils MC --> http://static5.suedk...MB4Z_NBatE7.jpg
- The Rockers are also dont need to have the theme size to each other. I mean, the bottomrocker also can be shorter then the toprocker. The letters sizes and shapes should be look equal


....

Prospect crew:

- simple just the bottomrocker and the MC patch
- writing in the bottomrocker exchanged with "PROSPECT"

!! at least like this one --> http://fs5.directupl...08/2rwje8lg.png

...

Property crew:

- Just a top- and bottomrocker
- toprocker: "PROPERTY"

- bottomrocker: "HELL MACHINE"

- in the center a smal patch (like the MC one on the right) with the writing "OF"

!! at least like this one --> http://fs5.directupl...08/zs2qa6ab.png
...

Hangaround crew:

- Just letters (red with withe outlines) that it looks like a embroidery, not like a patch. Basic shall be the following. Means letters placed in a circle and who say "SUPPORT MOTORCYCLE CLUB" and in the center a "813" (instead of the 81 from the Angels) --> http://static.tumblr...atic_avatar.png

- fond the same like by the other patches!

...
 
I still want patches (like they are wearn at the front side of the biker vests) and pins for the homepage. These patches should look exactly like the rockers. Means black ones with red outlines and white (inner) outlines as well as red letters with white outlines. So, i would need this:

> PRESIDENT
> V.-PRESIDENT
> SGT. AT ARMS
> ENFORCER
> ROAD CAPTAIN
> SECRETARY

> PROSPECT
> PROPERTY
> OLD LADY

> LAKESIDE
> ORIGINAL
> FIRST 5
> ROUGH FELLOW
> BLOODHOUND
> BIG HOUSE CREW
> HELL RAIDER
> MFFM
> CANDYMAN
> COPYCAT
Patches with twisted colors. Means, white underground with black outlines and red (inner) outlines as well as the letters in black with red outlines ...
 
> MACHINE
> MAD PACK

And i also would have still the pins/badges who look like out of metal. I still want tow different ones in two different colors each (silver and gold). The first one still the winged wheel and the second one could be two crossed rifles. Like this stuff here (that you have any kind of role model):


...
Hope someone can help me with this project!

In this case, greetings