Wrote a little script today to edit train tracks or flight paths (same thing really) of gta III:
It also handles camera definitions (train.dat), see my post below.
http://aap.papnet.eu...ax/gtatracks.ms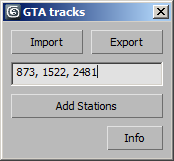 Put into 3ds max' startup directory and open the rollout from the maxscript panel.
You can add train stations by putting the distances in the edit box and click "add stations" with the track spline selected. When you click "info", the default (hardcoded) train stops are printed to the maxscript listener for copy and paste convenience.
The stops are imported as dummies as children of the spline object. On export all objects that are children of that spline are printed as distance values as used by III in the maxscript listener.
Have fun.
EDIT: Maybe you want to know how to actually edit the train stations:
The calls to CTrain::ReadAndInterpretTrackFile at 54F035 (el-train) and 54F06D (subway) have as arguments the number of stations and the station distances on the path measuring from the first path node.
float StationDist[3] at 602284
float StationDist_S[4] at 602290
Moving and removing stations is easy. Just change the distance value and (optionally) decrease the number of distances in the function call. Adding stations might need increasing of arrays.