Demonic MC
Who we are
We are an Xbox One only Motorcycle Club who ride with each other regularly and all get along. Too us it's not just a game, it's a brotherhood who respect each other and the MC community which is why our slogan is 'Brains before bullets'. You don't have to just play gta but you do have to be online on gta with us for at least 3 days a week if you hope to obtain your full patch.
We do have a long history with other clubs but are currently in an alliance with Los Carnales MC and a few other Ceasefires with clubs such as James Gang MC. We also have a past of traitors which when i do your interview, i will update you as to what happened.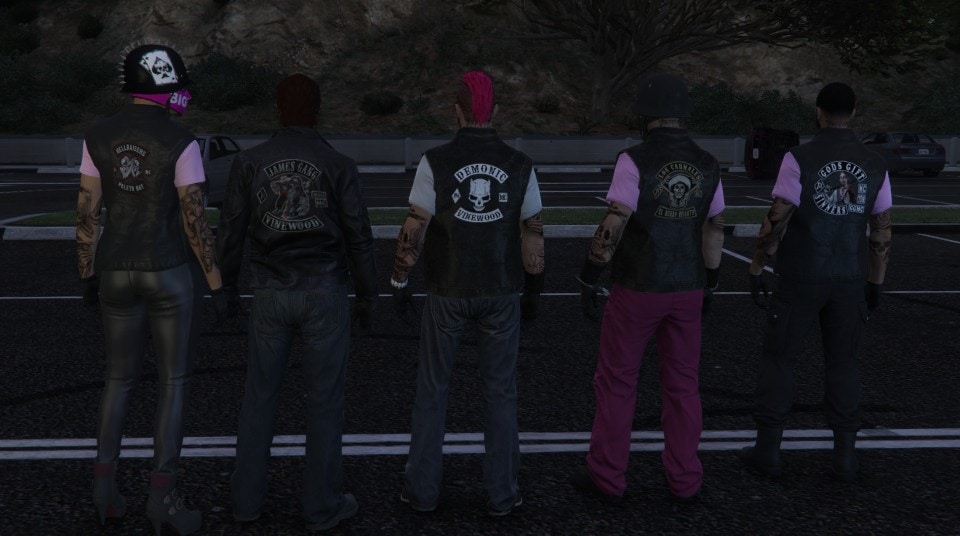 Charters
Mother Charter (Vinewood)-
 Vinewood charter is our Mother charter which is where the club was founded by the first fallen (the first patch members). Should any other charter have a problem they will contact this charter. The Clubhouse is located in Vinewood . The President of this charter is DEMC Alastair.

Nomad Charter- 
This is the Charter for Full patched members who still love the Club but are unable to be as active as other members and therefore can only be on at certain times. They are welcome too each charters Weekly Church too offer advice however they cant vote. 

Church
Every week we have a meeting where the patched members sit around a table to discuss that weeks topics. This is where the patched members will vote for any changes within the MC such as a prospect getting patched in. Church meetings for Vinewood Charter are every Monday at 9 pm German time, 8 pm UK, 3 pm eastern Standard Time, 2 pm pacific and 1 pm  Central European at the Clubhouse.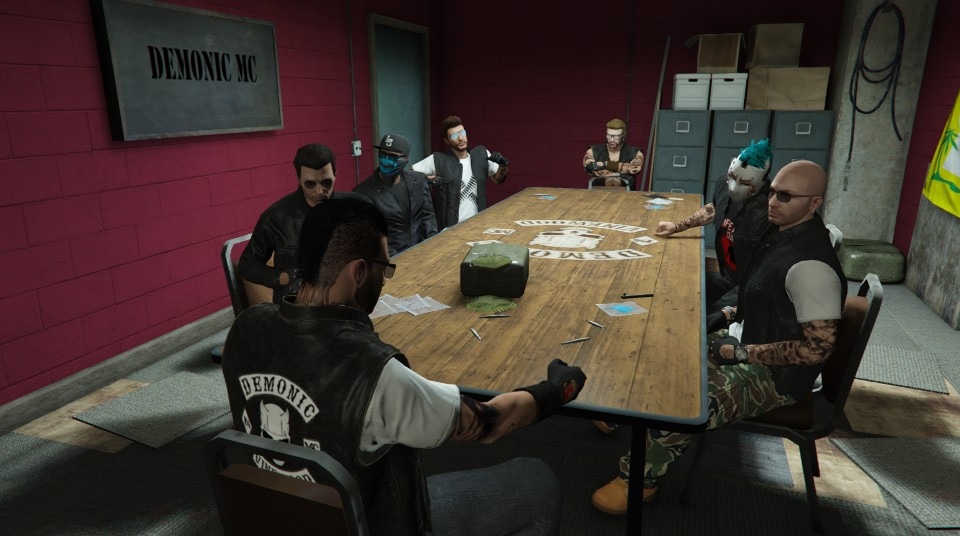 Prospects and hangarounds
We are always looking out for new prospects and would love to meet potential prospects. However you must be 16 or over too prospect. I will explain the rules in person but they must be obeyed when in a public lobby always. These will involve always wearing your patch in a public lobby. to become a full patched member you must complete a set of achievements which either I or the president will go through with you when you join. 
Before you can prospect you must be a hang around for a week and wear a particular hangarounds patch whist we determine if you are good enough to prospect for us.
Before you join the Prospect manager and his assistants will do an interview with you over Xbox at a time you and him have arranged to determine if you have a place as a prospect and you are able to ask any questions you might have. 


Who to contact
I am the VP and temporary prospect manager of the MC so will be watching your progress as a prospect and help you to complete your achievements. The reason i am both VP and Prospect manager is because we are currently still looking for someone who knows how to do the interviews and keep up to date with prospects and the tasks they completed, as no body in the MC felt they were right for that rank. My KIK name is WCMC_Cola and my gamertag is FSMC Cola
The president of the Mother charter KIK name is WCMCpres also known as DEMC Alastair (Nat. Pres) and his Gamertag is DEMC Alastair
Youtube
Our old youtube channel is run by an old member who is no longer party= of the club so it has our old patch on it, we are currently in the process of creating a new video and channel with the new patch.
https://www.youtube.com/channel/UCSu5mu6c8GTvx38fqxMLi6w 
Our new Channel is run by a current member who now creates the video's, here is his channel, 
https://www.youtube....M_Y44kn7rTaaIma
Website
Our Website is moderated by our our Secretary, and is in the process of being updated by him.
http://demonicmcgta.wixsite.com/demc
Social Club-
Mother charter- https://socialclub.r...w/demonic_mc_vw
Nomads- 
https://socialclub.r...monic_mc_nomads
Prospect crew- https://socialclub.r...nic_mc_prospect
I hope to hear from you all soon and always remember, brains before bullets.
FSMC_Cola, Demonic MC Vinewood charter prospect manager and VP