In the first ever Steam Awards, which are voted for by the community of the PC gaming platform, Grand Theft Auto V has come out on top and won two more gongs to add to it's multiple accolades. It's also been announced that it finished within the top 12 of top selling games on Steam for 2016, giving it a platinum achievement. Considering it'll be 4 this year, I can't think of a time where this game hasn't been in the spotlight!

The trophies are pretty snazzy; that's one each for the Houser brothers. I wonder who is partial to a bit of pink?


 Source


 Source 2

The "Whoooaaaaaaa, dude!" Award
"Some games melt your face. Maybe it was a crazy plot twist. Maybe you just got your wisdom teeth removed. Either way, this game BLOWS YOUR MIND."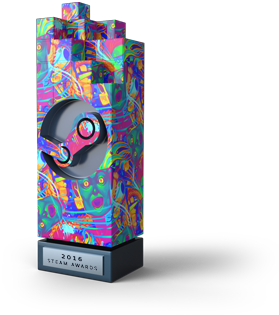 The "Game Within A Game" Award
"Kinder Eggs. Peanut Butter Cups. Jelly Donuts. All great things stuffed with other great things. Like a mighty turducken, this award celebrates the best mini game hidden within another game."