OpenIV Team presents Liberty City in GTA V
Today we are proud to announce the project we worked on since initial GTA V release. Liberty City is finally coming into GTA V in all its glory. We have a little teaser trailer for you:
The Liberty City will not replace Los Santos or Blaine County, but appears across the sea. Using the power of OpenIV and openFormats, we was able to bring Liberty City right into GTA V map. More details coming soon, as for now we have prepared short F.A.Q: 
F.A.Q
Q:
Why?
A:
Because, why not?
Q:
When it will be released?
A:
Spring 2017.
Q:
How can I get access to early preview or beta version?
A:
There is no private beta or something like this. As soon as mod will have proper state, it will be released to public.
Q:
The Liberty City is big, how much I must download?
A:
Because Liberty City takes a lot of space and we do not have rights to distribute it as our work, we decided to make this mod as an automatic convertor that converts Liberty City from your copy of GTA IV into your copy of GTA V.
Q:
Legal issues.
A:
See the answer above.
Q:
How this will work?
A:
You will need to download a convertor tool with some additional assets. This tool will convert Liberty City from your copy of GTA IV into GTA V.
The converter tool will create a single player DLC pack, which will be installed into your GTA V.
Q:
How long the conversion process will take?
A:
Depends on your hardware, we will provide more information with first release.
Q:
What are the requirements for convertor tool?
A:
First of all the convertor tool requires a lot of free space on your hard drive. The OpenIV is also required because the convertor tool uses it during conversion process.
Q:
Does Liberty City requires unofficial multiplayer clients?
A:
Of course, not.
Q:
Will this tool work with Episodes from Liberty City?
A:
Yes.
Q:
Can I play with this mod Online with my friends?
A:
No, you will not be able to play online because Rockstar Games does not allows mods in GTA Online.
Q:
Will I get banned in GTA Online with this mod?
A:
With a high probability, yes.
Q:
How can I help?
A:
In a future, we will need help with creating some arts, additional assets, testing etc. We will announce it separately.
Q:
Any other ways to help or give you motivation?
A:
As always, you can make a donation, but it is not mandatory. Also, follow us on social networks and watch our YouTube videos with disabled Ad Block.
Screenshots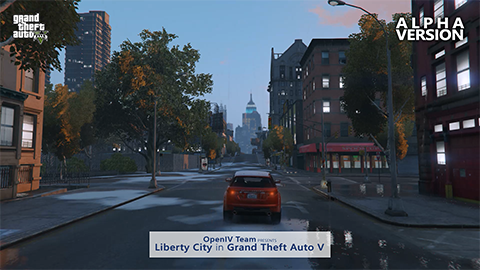 Links
***