Hi, as the title, I will show how today, converting objects, then: "roads, housing, neon, etc." from Vice City Stories / Liberty City Stories "PS2 / PSP" for GTA San Andreas.
- First we need to have these tools and programs:
1) 3DS Max - "I will use the version 2014" or Zmod2/1
2) Stories Map Converter v1.2
3)MeD "Map Editor" 0.21b
4)IMGTool or SparkSA or Alci'sSatIMG
5)Photoshop or GIMP "In this case only if you want to change the texture of objects"
6)Kam's Script
7)CollMaker "This will be useful if Kam's Script COLL IO we will not create a collision, then it serves ZMOD1 to go to create a .x extension "
8)CollEditor2
9)ISO GTA LCS/VCS "PS2 or PSP"
10) WinRar
__________________________________________________________________
1-
- Once obtained the ISO, you have to open it with WinRar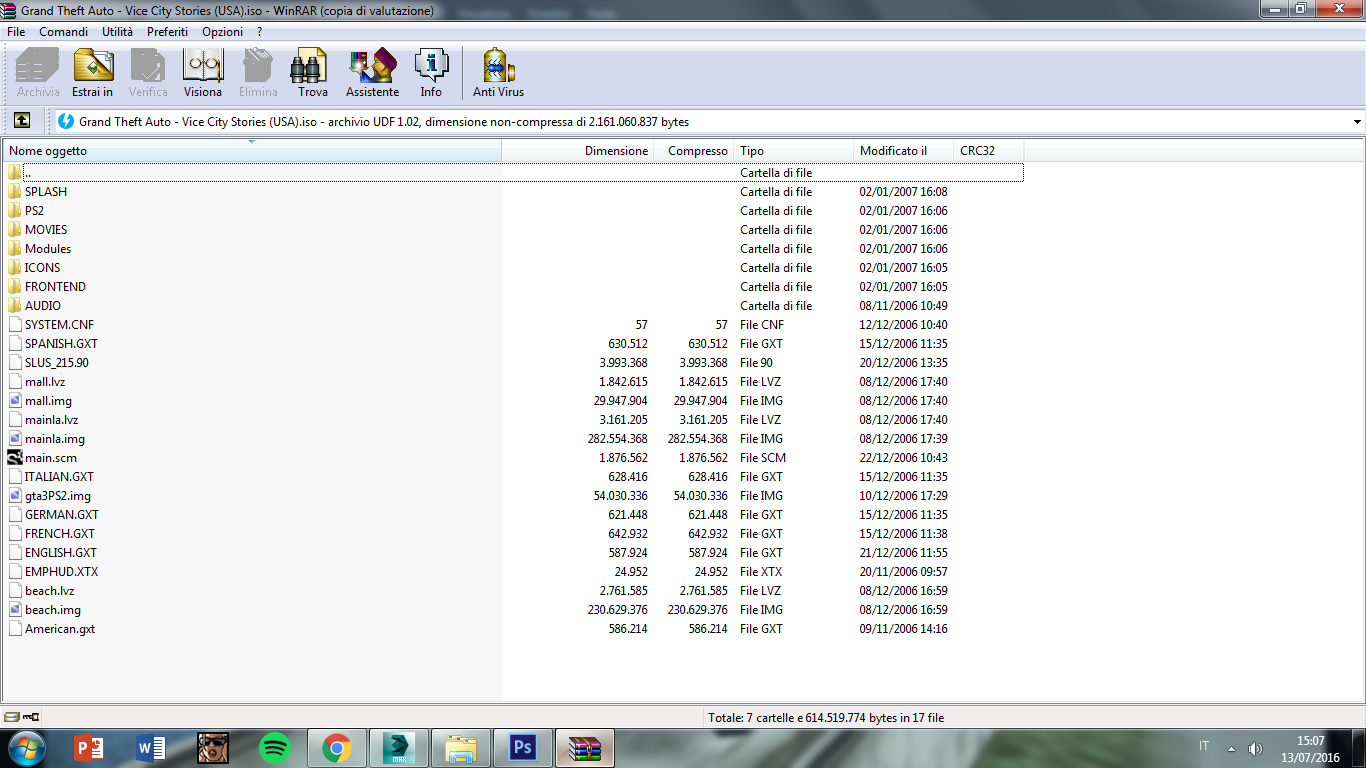 2-Extract the files and .LVZ .IMG, so in this case I'm going to take beach.lvz and beach.img files, and will drag them to the desktop or to a designated folder.
3-Now open the Stories Map Converter, Choose the version of your files and your GTA in this case I have GTA VCS PS2, then select that.
3-1 Output DFF version: selected GTA SA
3-2 TXD Options: Make TXD for every "1" model"s"
3-3 Generete IDE/IPL File " This part is important because thanks to this fact among millions of files through med we can go to find our model"
3-4 Check all the latest 5 boxes
3-5 Click Browse LVZ and selected your file .LVZ in my case i selected beach.LVZ
3-6Now you can press Convert!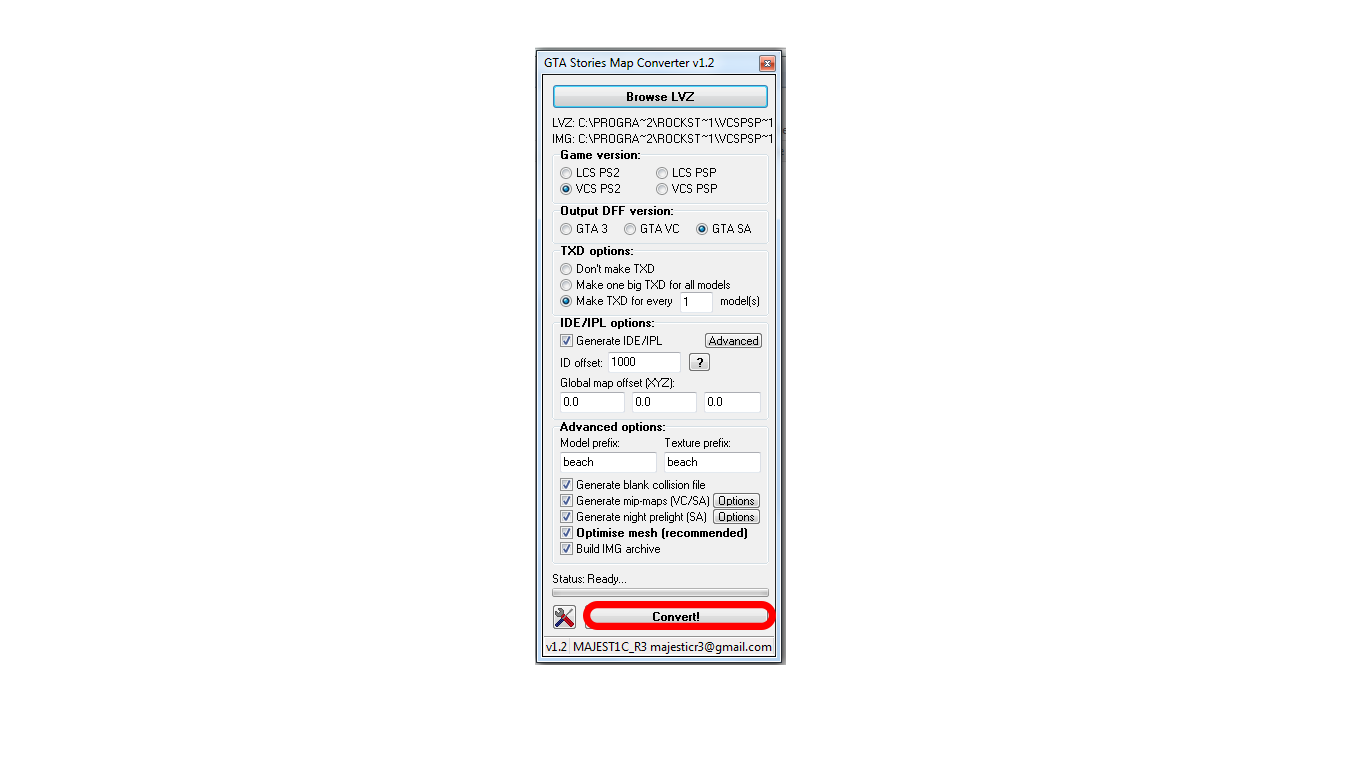 4- Now we will have a .IMG archive and two text file .IDE and .IPL
4-1 Take the 3 files, and take them in GTA San Andreas, and Go and put the subfolder Data / maps, and create a new folder with the name of your archive in my case beach.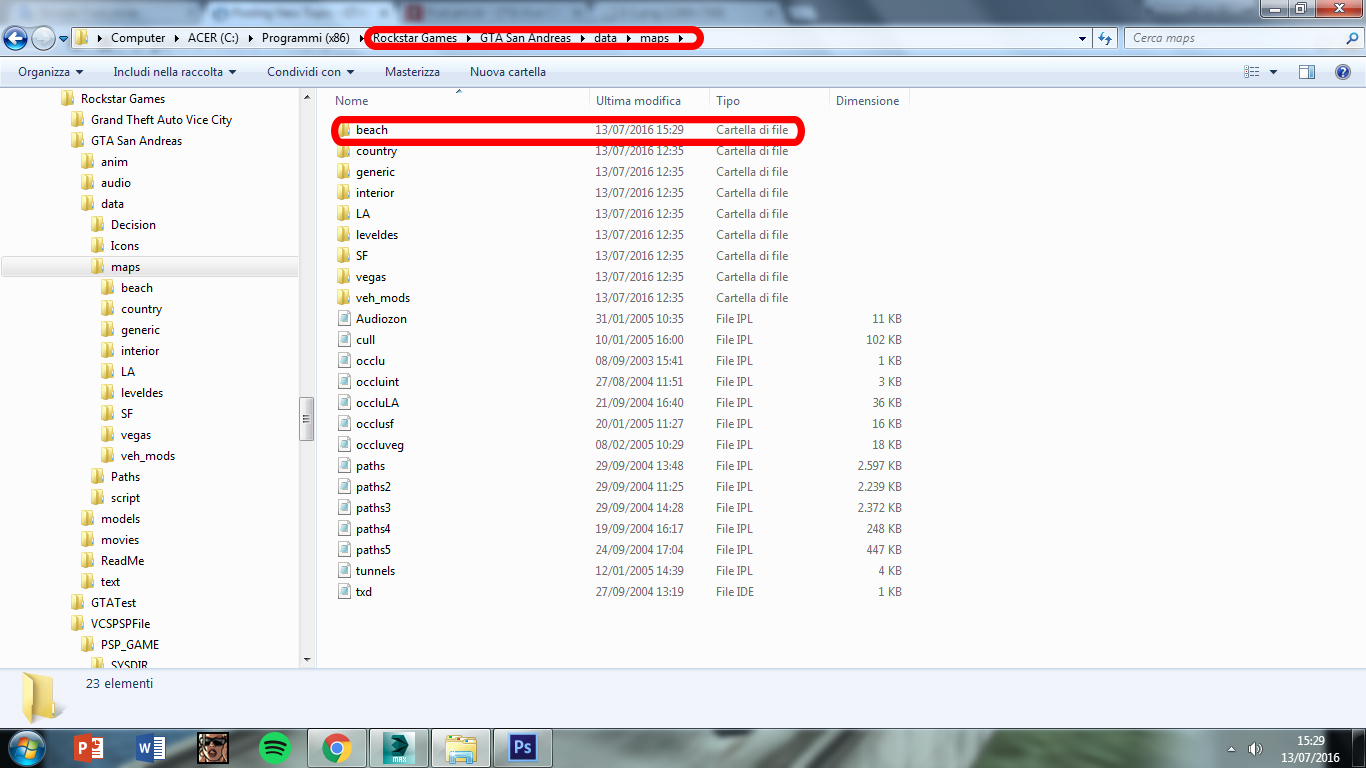 5-Now we go on the folder DATA and open the file GTA.dat with a notepad or Notepad ++
5-1Just opened we'll actually suffered the strings with 3 IMG files. Let's create a new string with the path of our .IMG files " in my case : IMG DATA\MAPS\beach\beach.IMG "
5-2Now we go down and do the same thing for .ide string, and for that .IPL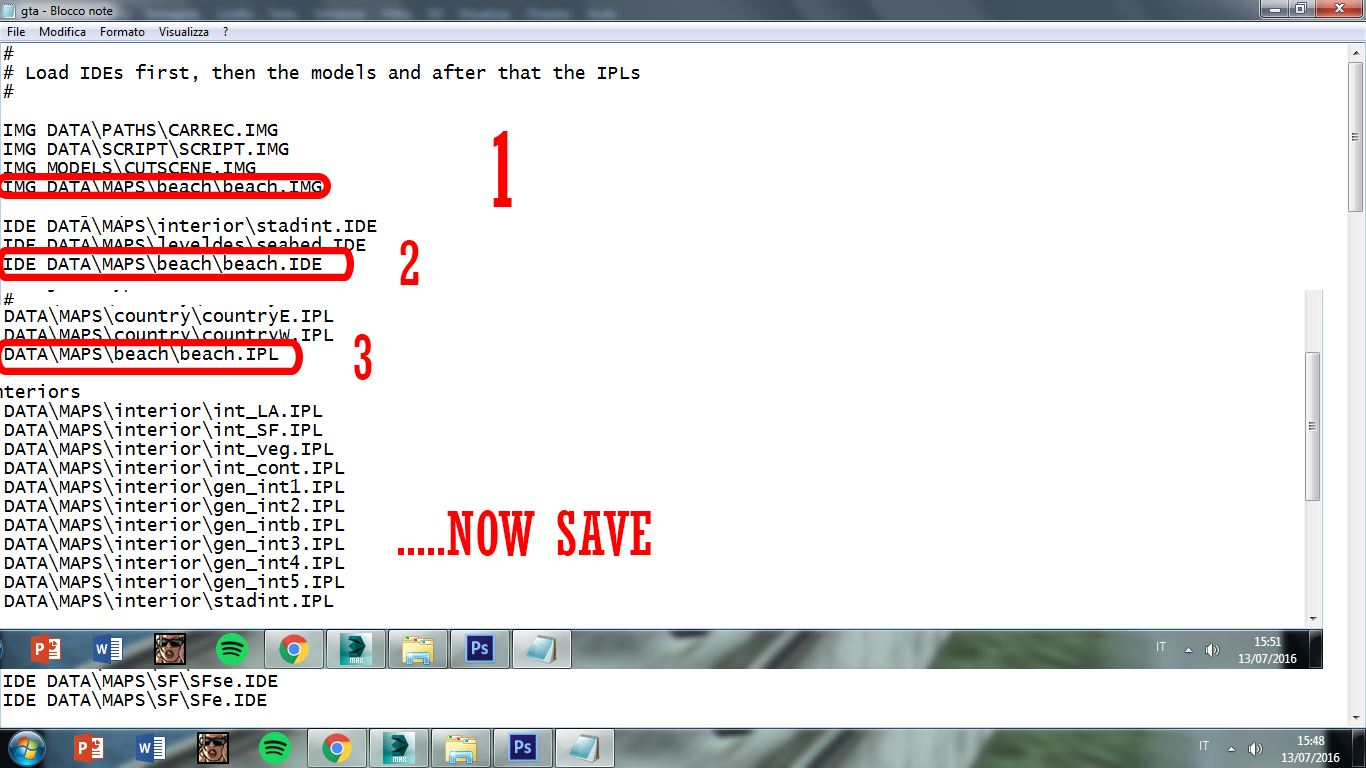 6-Now open MeD, and select the folder GTA SA
6-1 Go to Visible Files and search your file .IPL in my case "beach.IPL" and clic the box and click render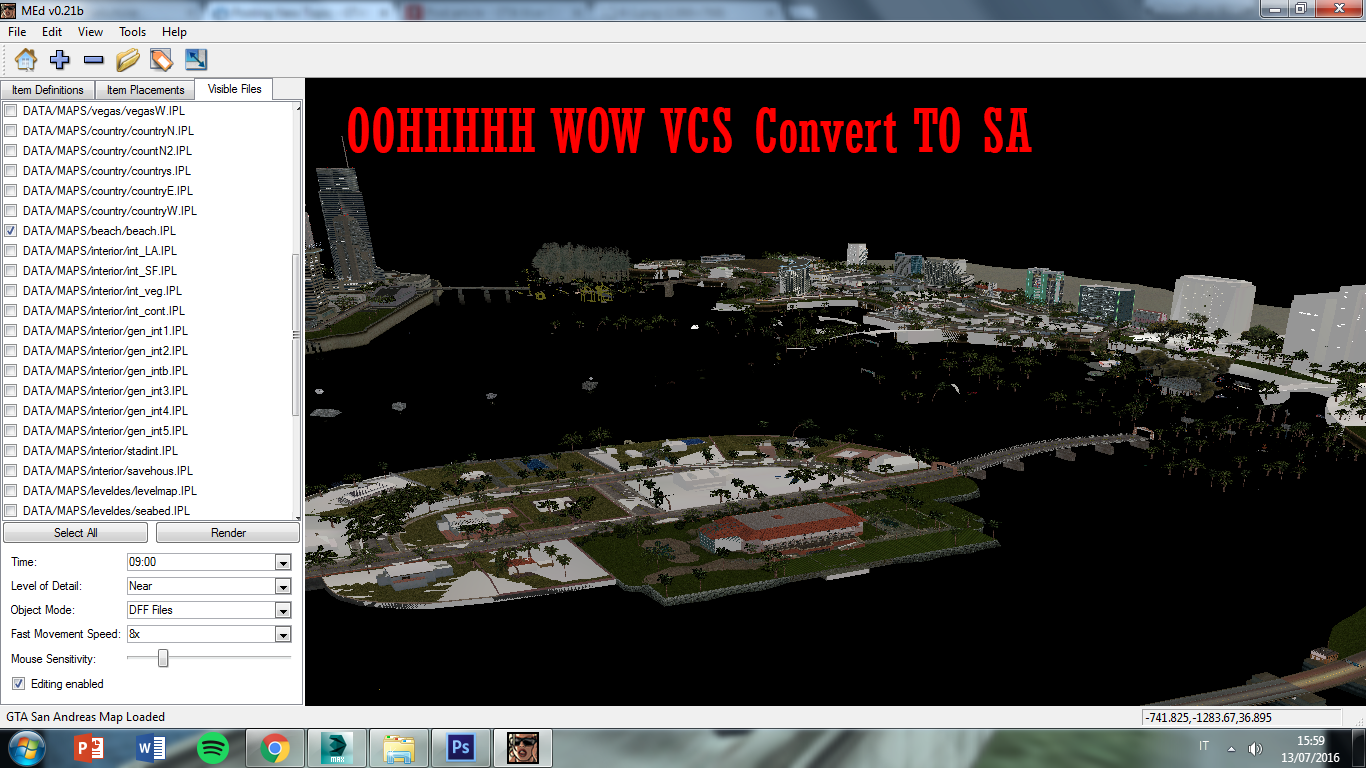 6-2Now move around the map and look for an object to be converted
6-3Once you find the object to be converted to click twice until you select it
6-4Click with the right mouse button, and go to properties
6-5Copy the name of the model and texture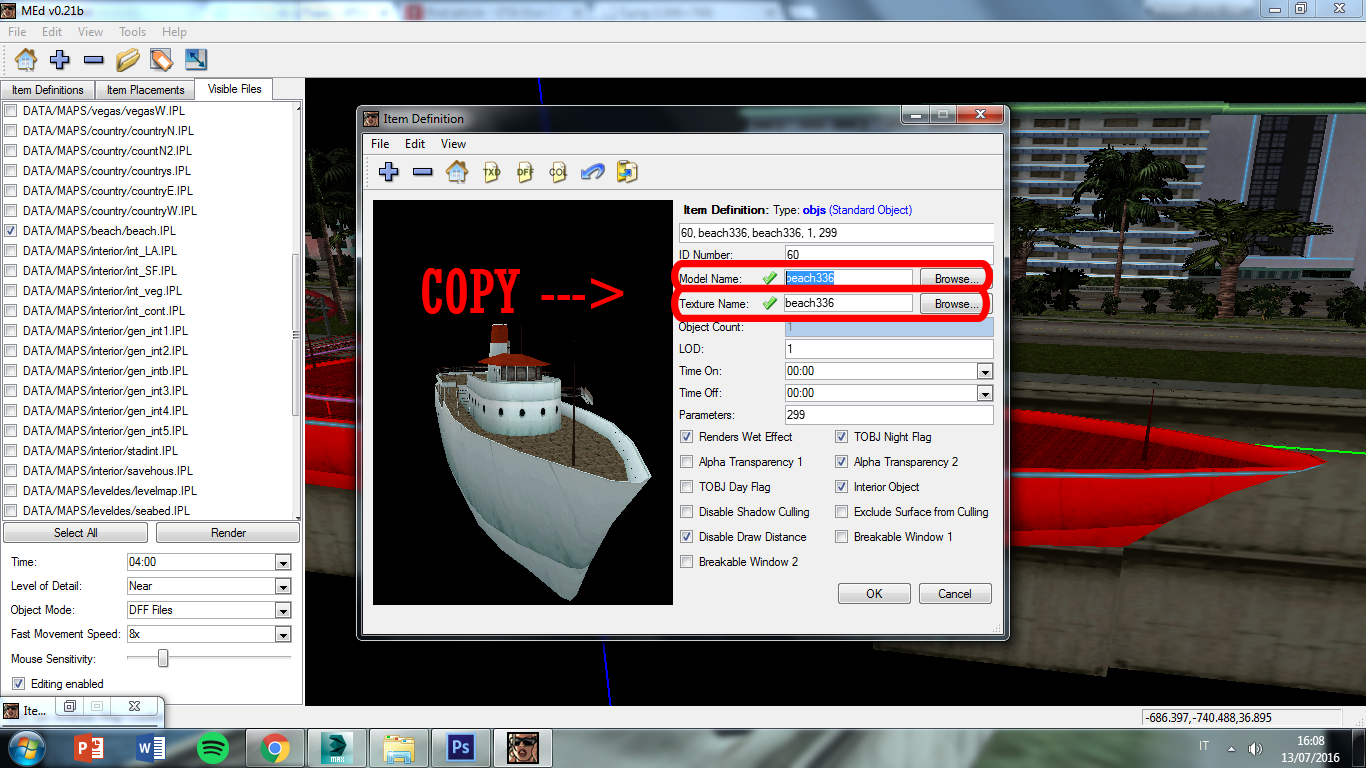 6-6Now Close Med, and open IMGTOOL or SparkSA or Alci'sSatIMG
6-7-Open File "beach".IMG and search your file model and texture "dff txd" and export in your favorite folder
7-Now Open 3DSMax and import with Kam's Script your model in my case "beach336.dff"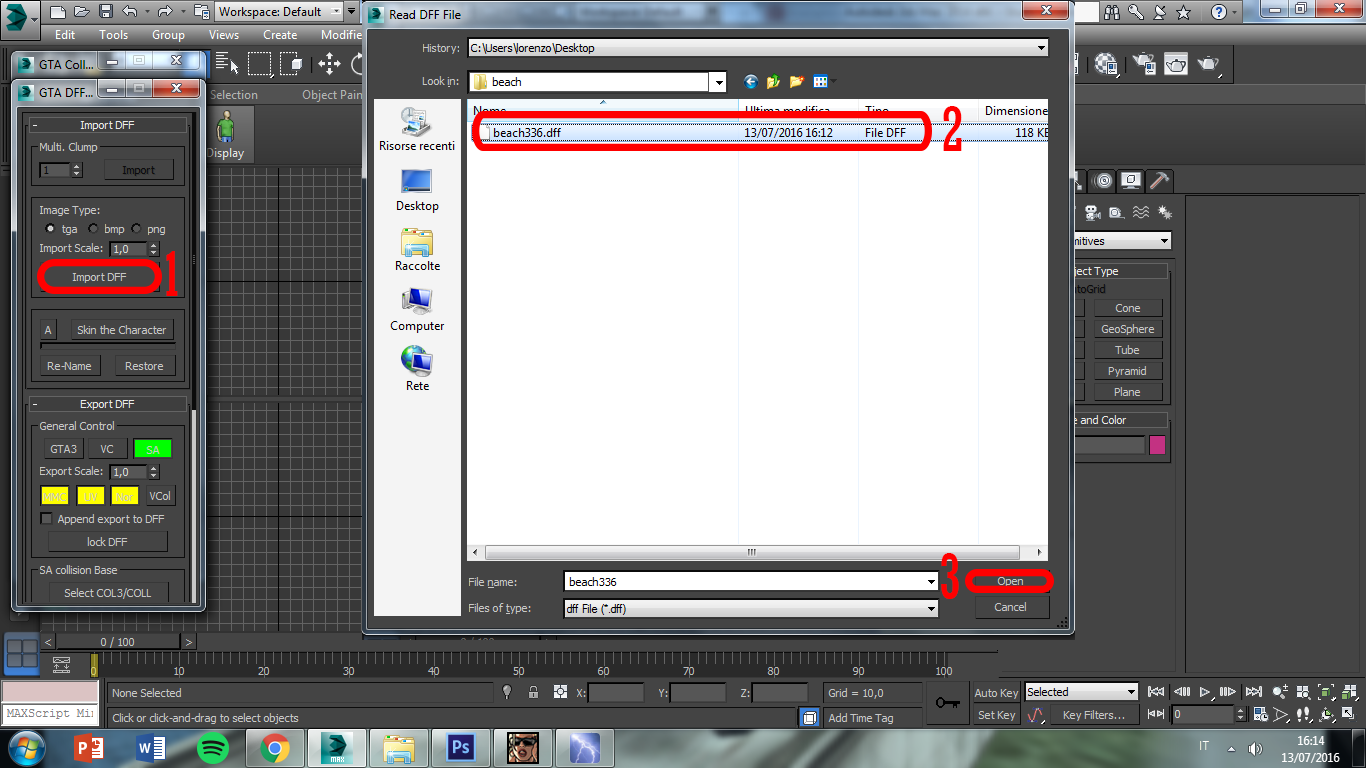 7-1 Now Click your model and click Hierarchy
7-2 And Click Affect Pivot Only
7-3 And click Center to Object - Align To Object - Align To World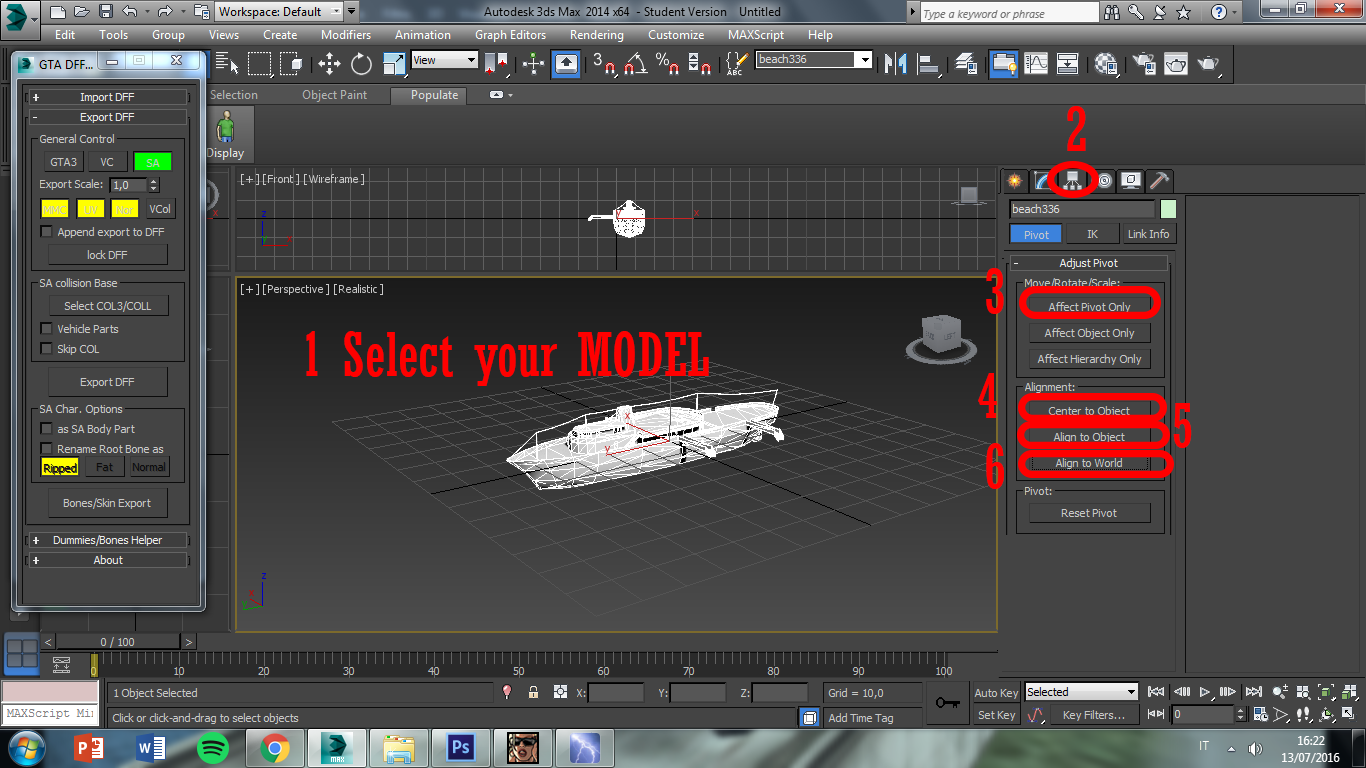 8-Open Kam's Script and Go to DFF IO
8-1 in General control set SA
8-2Export Scale 1,0
8-3In Sa collision Base "Click Skip COL"
8-4And now you can export your .dff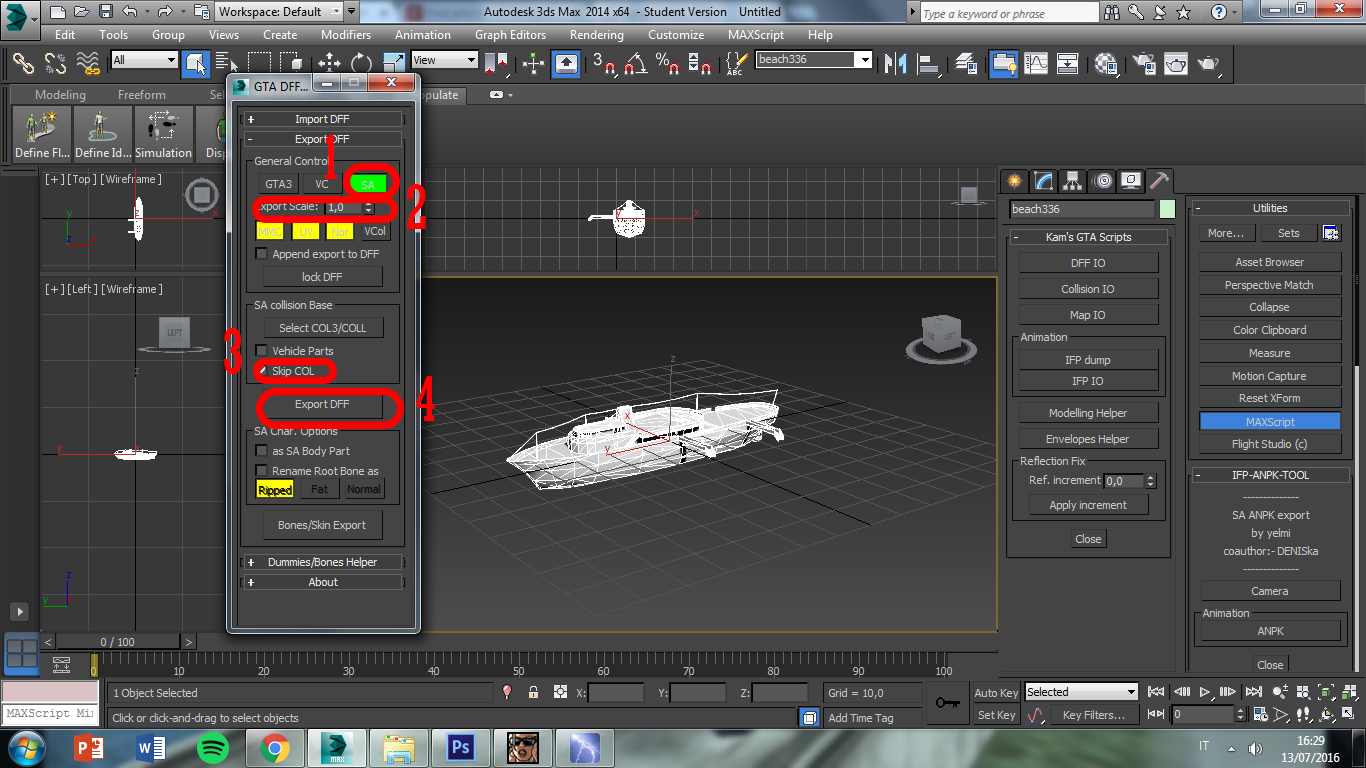 Now we have to create the file collision, as the one created with GTA Stories Exporter is useless.
9-Go to Kam's Script, and selected Collision IO
9-1Click your model and click Export Setting "COL3" 
9-2 Click Collision Mesh and Click Shadow Mesh
9-3Add a name in my case beach336 and click export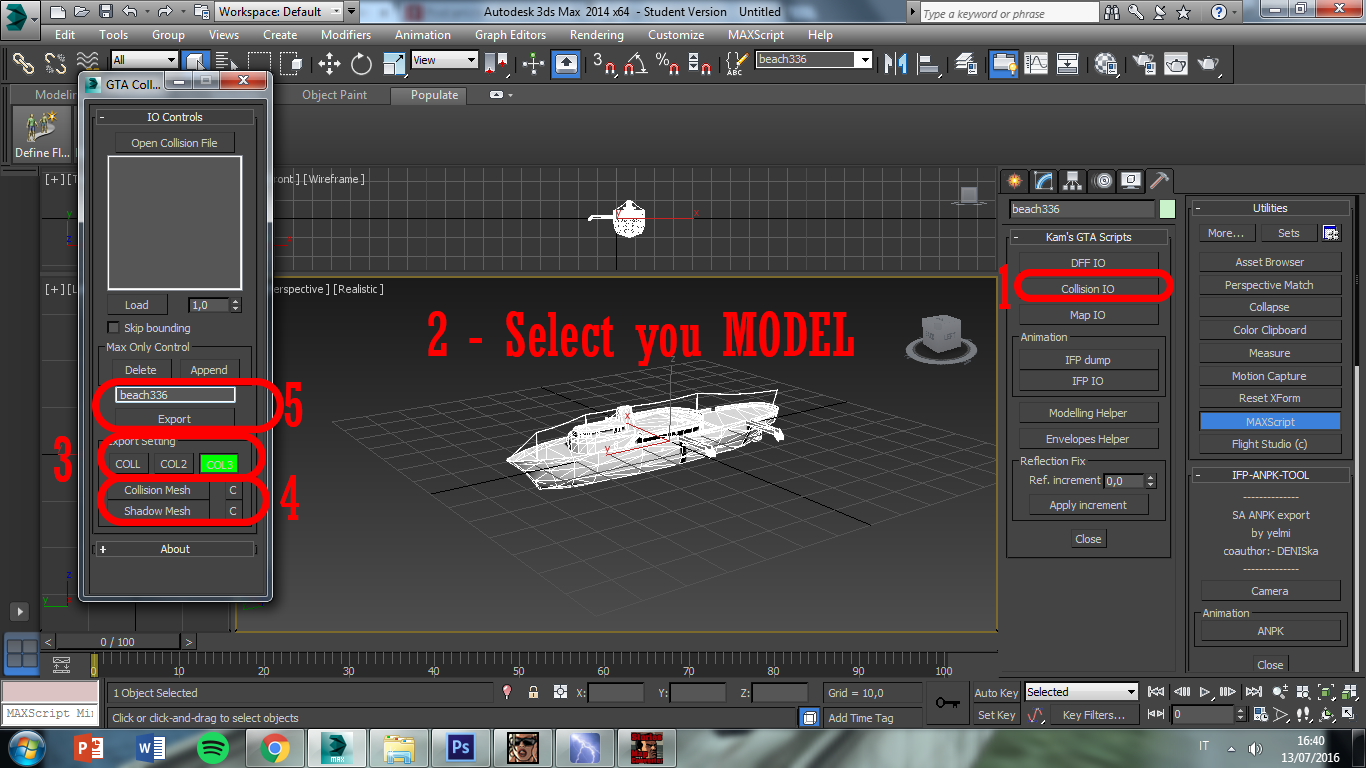 In my case now, I imported the COL file in CollEditor, however, no collision was detected, this does not always happen.
10- Open Zmod2 and import you file .dff
10-1On the left you will find your DFF files, next to a +
10-2If you click you will have your DFF files and another file by the name of the model
10-3Now Click Modify/Mirror And click your model, If you notice your model will be shot, this is because collmaker aumaticamente wheel model
10-4Now click beach 336, and drag up
10-5Now click with the right mouse button on "beach336" .dff and click delete, Until you have only the model
10-6Now click File and Export : Save with " beach336.3DS   "  
11-Now open Zmod1, and import your .3DS
11-1Now Click File Export, and Export With .x "DirectX File Meshes"
12-Now Open CollMaker
12-1 in Object name give a name of your model in my case "beach336"
12-2Go to file and click to load text, and click your "MODEL.x" in my case "beach336.x" and click make collision file... and wait. STANDARD SURFACE VALUE give 0.
13-Now Open CollEditor2 and import your model
13-1Click edit mode and go in face
13-2selected all and put on the maximum brightness and then generate and save.
14- Now import .dff .txd .col in your gta3.img with IMGTOOL  or SparkSA or Alci'sSAIMG
14-1Now go to GTA.DAT and delete "strings  IMG DATA\MAPS\beach\beach.IMG "  IDE/IPL DATA\MAPS\beach\beach.IPL/IDE "
15-Now open Med and add your model where you want, save and good work