I've been working on a dff importer (EDIT: and exporter) based on librw for 3ds max recently. I think I got to a point where I can release a first version. It should work with 3ds max 2009, 2010, 2011, 2012, 2014, 2015, 2016, 2017 and 2018.
I created a new material and provided a converter to Kam's material
as I don't have an exporter yet
. This material is a more or less accurate copy of the official RwMaterial.
Not all things are supported yet but you should be able to import pretty much any GTA dff from any platform. That does *not* include iOS LCS dffs (yet) as they're not proper dffs.
Note that models exported by Kam's script don't get different materials per mesh as Kam exports material IDs wrong. I will correct this in a future version but was too lazy to do it now.
EDIT: As of version 2.0 there is an exporter now as well. Not everything that is imported can be exported yet, but I wanted to get this thing out.
See the README for some more information.
Version 2.1a
Version 3.1c
- not tested a lot. please report bugs.
EDIT:
Just a comment on the "convert axes" option: In RenderWare the usual convention is for the y-axis to point up while in max z points up. Hence the official exporter rotates the hierarchy 90 deg around x. In skinned DFFs this seems to be exactly what we're observing but all other DFFs are not rotated. I don't know why that is, maybe R* wrote a custom version of the exporter that doesn't do this or something, really no idea. Anyway, I left it as an option to the user to convert the axis system back on import.
The "convert hierarchy" option should be left on. When exported in world space the official RW exporter rotates everything so max's z-up will match RW's y-up world. Models that were originally exported from max's biped objects are exported "lying down" when not exported in world space. This option rotates them so it'll look nicer. 
Import dialog: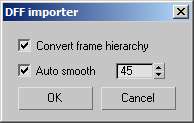 Export dialog: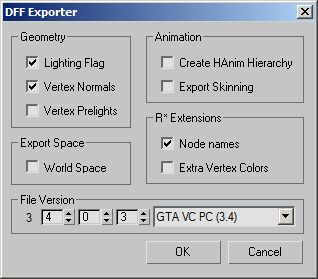 Material: