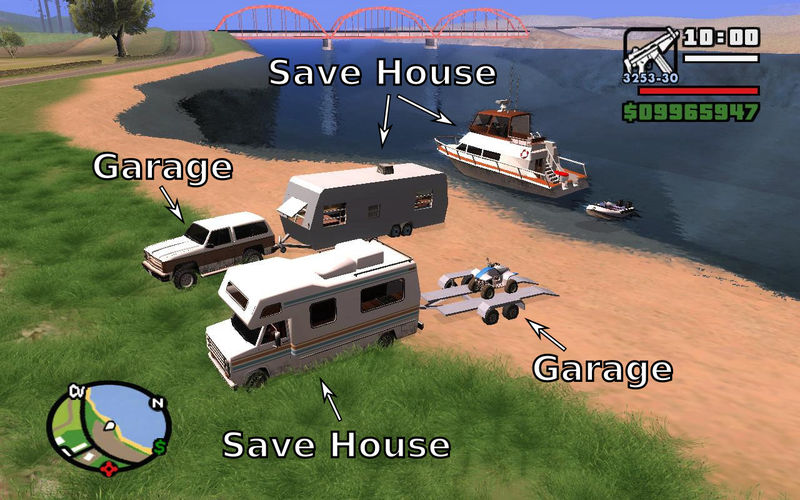 This is version 2.0 of my Camping Car Mobile Save House Mod
Author: GoodIdea82
Thanks to Automan for permission to use the camping trailer (Merit Camping)
Download link is in the description of the youtube video: (This is to create traffic on youtube and increase visibility of this mod outside this our community) :
 
Camping Mobile Save House 2.0a and Trailer Attach
Features:
Journey, Tropic, or a Camping Trailer can be used as mobile save houses.
Attach vehicle to a trailer
Attach trailer to a vehicle (other techniques (e.g. by Junior_Djjr) can be used alternatively if you like)
Combination of the two mods Mobile Save House and Trailer Attach results in a mobile garage (not a real garage, only coordinates and colors of vehicles are stored)
You can extend the mod with your own plugins. An example plugin is provided.
Additional scripts: side-door of the journey and the camping trailer opens automatically
Trailers are spawned at certain locations in San Andreas
New vehicle models: enterable Journey and Tropic created from the original models (these are not models you find on the internet); modified Merit Camping model (original model from Automan); created a new trailer.
Only CLEO scripts without memory manipulation, hence it should run with any version (even Android). I have tested it with CLEO 4.1 and 4.3
Once a savedisk has been activated on a vehicle, you can travel around San Andreas and when you come to the place where you left the vehicle, it will be respawned automatically.
Many ini-configuration options
Version 2.0a has a fix for CLEO 4.3, because originally the mod was developed for CLEO 4.1. CLEO 4.3 changed the behavior of some opcodes.