This thread's aim is to gather new information from PS4/XBONE/PC Secret's/Mystery's Hunters, discuss it and hopefully achieve some conclusions, mainly:
 
-Comparison of Mystery related clues Old Gen-New Gen (The Mural, Altruists, UFOs, Glyphs, etc.) and discussion of the differences found;
-Comparison of any related stuff that is now viewable but just too pixelated before (newspaper articles, Textile City Mural, etc.);
-Finding new clues and crosschecking it with OG (I'll keep both PS3 and PS4 games);
-NG Jetpack Hunt/Speculation;
-500k to bring to the docks (N/A on NG's Maps);
-Etc.
 
Please don't post stuff about the new Michael's Mystery (there's a specific a topic for this), the Monkey's Grafittis (there's a specific a topic for this) or any other specific new ig mission, unless it can somehow be linked to the whole mystery.
 
Please use http://gtaforums.com...gs/?hl=decoding for any Metaphor/Philosophy/Karma playing/Hidden meanings kinda stuff. 
 
If you don't think there's any more Secrets/Mysteries to be found, please don't post here!
There's a certain amount of give and take on the forums.
If you can't take the comments, don't give the people something to read (by lordflak).
 
If you're new to this Hunt on GTA V, the following topic was created in order to collect some of the early main posts from the Decoding the Mural V2 (the remaining were merged into the Metaphor's thread), I strongly recommend you to have a look on it: http://gtaforums.com...y-file-archive/
 
Also note some topics with a lot of info of what was already done since Sep 27th 2013, reading at least the OP's will help you a lot, using the search function too:
 
-Mystery Hunt for PS3/360 http://gtaforums.com...ic/?hl=decoding
-File Hunt on PS3/360 http://gtaforums.com...nt/?hl=decoding
-Easter Eggs http://gtaforums.com...-v-easter-eggs/
-500k to the Docks http://gtaforums.com...g-to-the-docks/
-Infinity 8 http://gtaforums.com...nite-8-mystery/
-Decoding Mt. Chilliad http://gtaforums.com...-chiliad-mural/
-I think I found something http://gtaforums.com...ing the mural
-Jetpack Hunt V2 http://gtaforums.com...ing the mural
-Mt Chilliad Conspiracy http://gtaforums.com...iracy-spoilers/
 
Remember, Google's search is a powerful tool, it's always better to try it first before posting.
 
Any doubts PM me, even if I don't promptly answer back, it will not be forgotten.
 
Happy Hunt!
 
Achievement Hunter's Map (though no epsilon tracts, peyote, monkey or murder mystery, but neither is needed for 100%): http://maps.achievem...ov/blainecounty
 
Mural (pretty much the same as before):


 
"Come back when your story is complete" (pretty much the same as before):


 
MC's UFO, pics &video by RockstarsPlayer:



SS UFO, pics &video by RockstarsPlayer:


 
FZ UFO, pics by RockstarsPlayer:

FZ's UFO seen from the top of Mt Josiah:
FZ's White Beam of Light (new, only on NG) & Bunker Green Light (already at OG), pics by RockstarsPlayer:


 
Textile City Mural (way more detailed then before):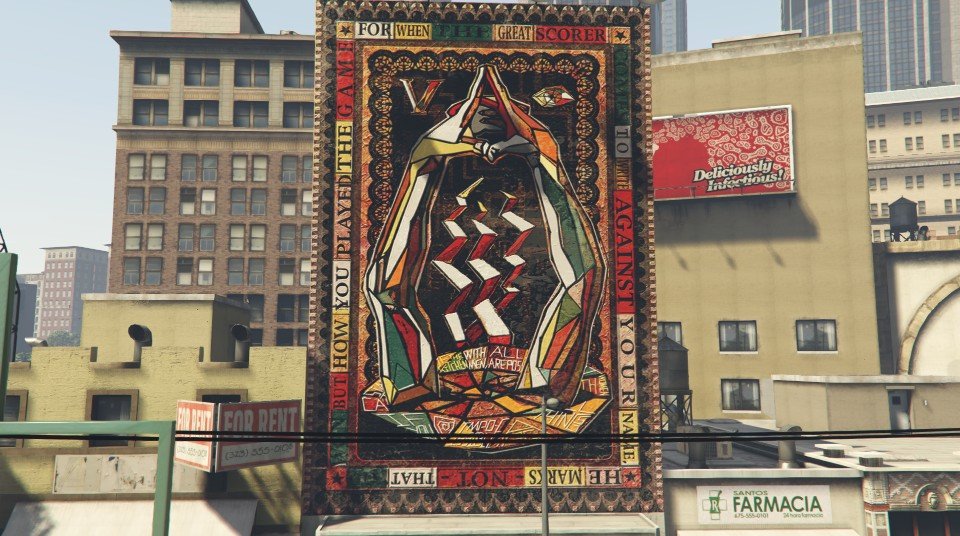 Face's Glyph on Mt. Chilliad changed (new - Huge Cock now
):

 
Alien on Ice (Prologue):

Alien on Ice (M's cemetery mission):
Underwater UFO (extra seaweed on and around it, but pretty much the same as before):


 
Probe Mountain (aka Hippy Camp), if anyone posts a better one I'll replace it (pretty much the same as before, though not thoroughly checked yet):


 
Mine - closed on OG (It's a part of the new Murder Mystery, thread is here http://gtaforums.com...earch-begins/):
http://www.youtube.c...h?v=KhuiRHae36s
 
Altruist's Cave (pretty much the same as before):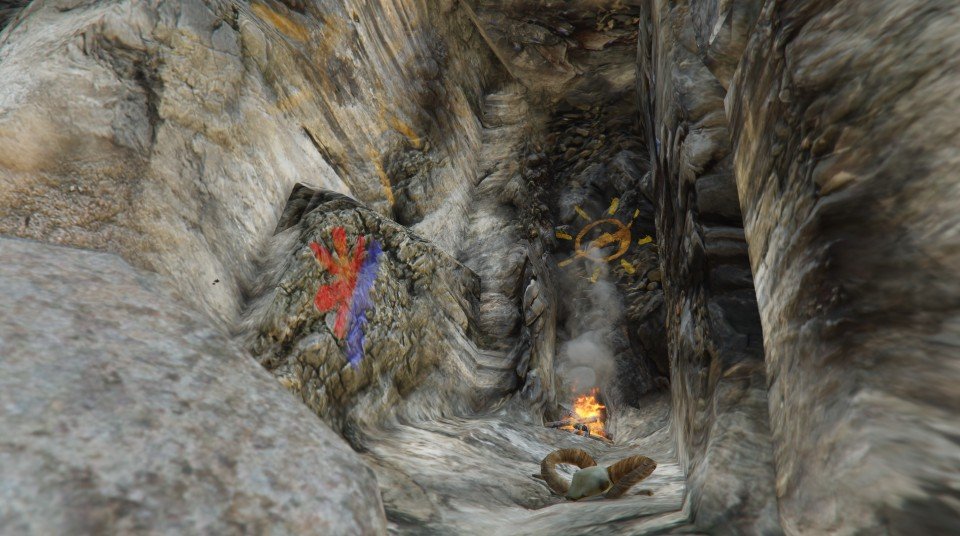 Spacedocker interior (no speedometer
), pic by RockstarsPlayer:


 
Sat Dishes (new - green glow at night), pic by RockstarsPlayer:
 


 
Jolene Cranley's Ghost (@Mt. Gordo, same as before), credit to Snozzcrumble: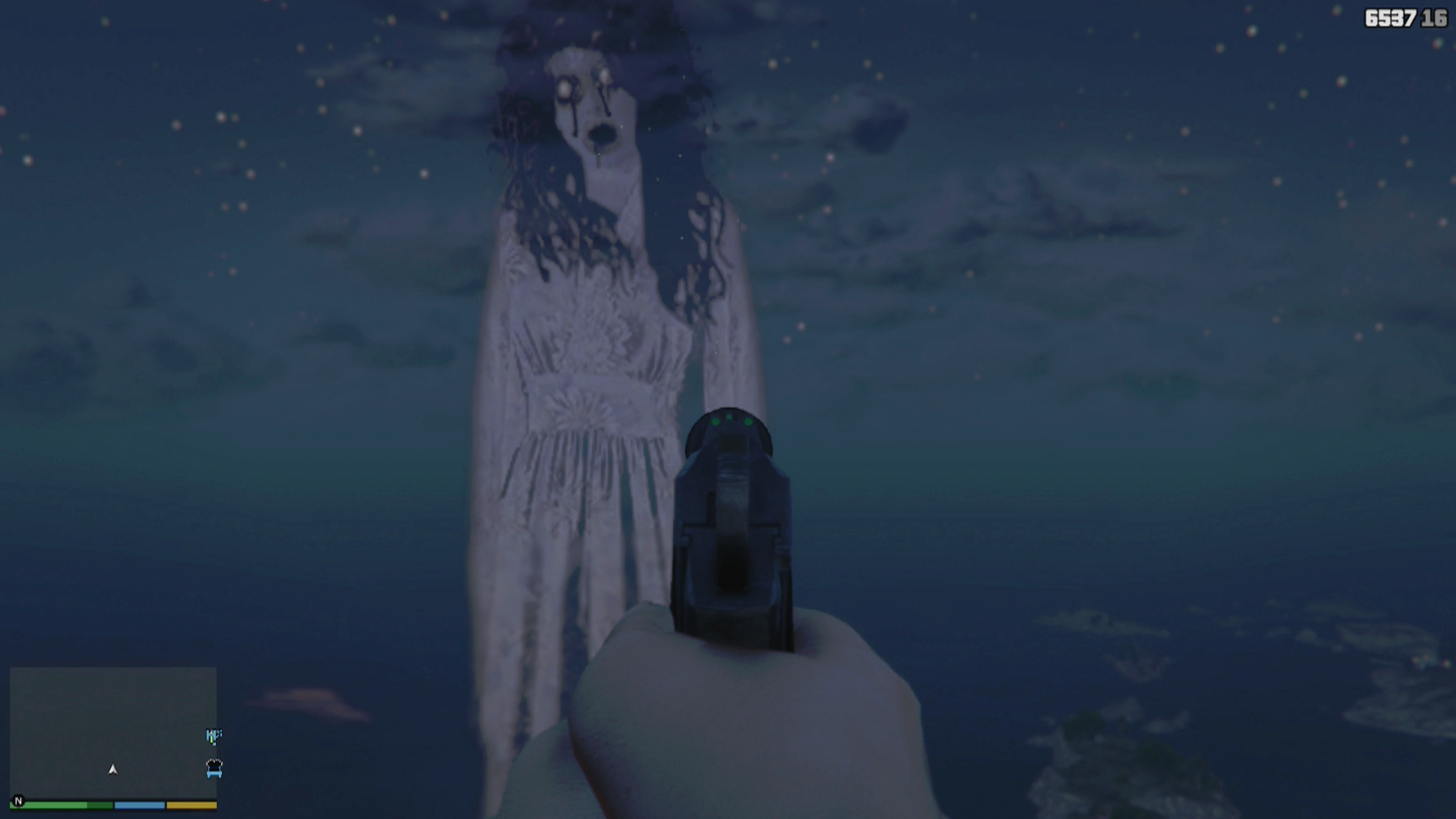 Altruist's Sacrificial Stone (with shadow): 
Scientists by the Sat Dishes (no FIB/IAA agents anymore):
Termal Camera Bigfoot's comparison:

Textures taken from PC files, credit to http://www.reddit.co.../the_monotonist
Sand Glyph (PC), credit to http://www.reddit.co.../the_monotonist
http://http://imgur.com/a/QrZVM#200
7 Gold (Bigfoot) Peyotes & The Beast (Teenwolf) walkthrough, posted by L0SS4NT0SK1LL3RV:
Dialing 1-999-367-3767 "unleashes" Black Cellphones + Explosion, video by Yan22: