We are currently recruiting for the PS4 version must be 18+
http://socialclub.ro...serpents_of_sin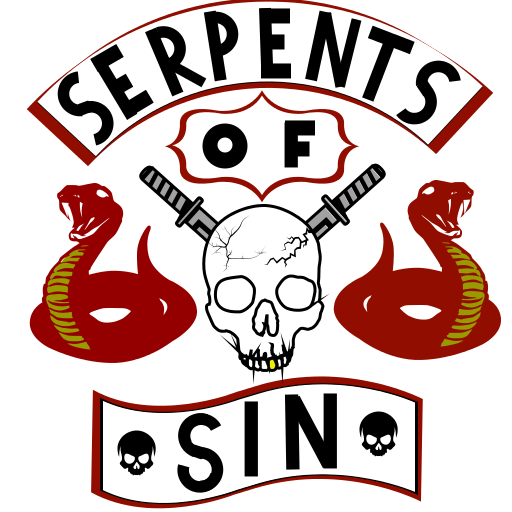 Backstory:
The Serpents of Sin were formed in the Paleto Bay area of Los Santos. This group of one percenters was brought together after reportedly being denied membership to the Lost MC for being far too aggressive.

Shortly after forming, the Sins all but wiped out the Lost MC in Los Santos, giving residents of Blaine County a brief respite. However, this was short lived. The Sins rapidly grew more aggressive than their counterparts and their criminal exploits expanded to new heights.

The Sins eventually branched out boasting chapters in England, Scotland, Austrailia, Canada, Sweden and America with more chapters being formed every day.

Led by their infamous President, Manway (AKA El Presidente), the Sins are open to all creeds and colours, only seeing law enforcement and other MCs as enemies.

The Los Santos Police Department has classified the Sins as a criminal enterprise, engaging in a host of illegal activities including gun running, drug trafficking, arson and indecent exposure.

The Serpents of Sins most recent notable incident came when they were hired as security for the Love Fist reunion show. 14 people were seriously injured after a sins member attempted to light his cigarette with an airstrike flare.

This motorcycle club are thought to be armed, dangerous and severly intoxicated. Approach with extreme caution.
 
We are currently recruiting.
 
 
 
Crew Vehicles
 


 
Western Daemon
 


 
Sabre Turbo
 


 
Albany Buccaneer
 


 
Hexer
 


 
Bagger



 
 
 
Crew Events
 

We will be holding 3 events a week:

Motorsport Mondays: A varied playlist of the crews and SC members races. 19:30BST start time every Monday.

S.O.S Slaughter Nights: A playlist of the best Deathmatches and Captures created by the crew and SC members. Every Thursday at 19:30BST

Serpents Of Sin Biker Night: A meet up with your crew vehicles, impromptu races, mini-games and a crew photo opportunity followed by a playlist of biker themed DMs, races, captures and general fun creations. Friday/Saturday at 19:30BST.

We also have casual hangouts through the week. Mission sessions, hunting other non S.O.S players down, cop killing, and general anarchy in a open lobby.

 

Guys and gals welcome, we dont run you through a prospect crew... Just join up, have fun, contribute and you will be promoted.
 
 
So If that sounds good to you, come join us!
 


 
 
http://socialclub.ro...serpents_of_sin
 
 
https://twitter.com/SerpentsOfSin