(Because we just don't have enough Vice City concepts already)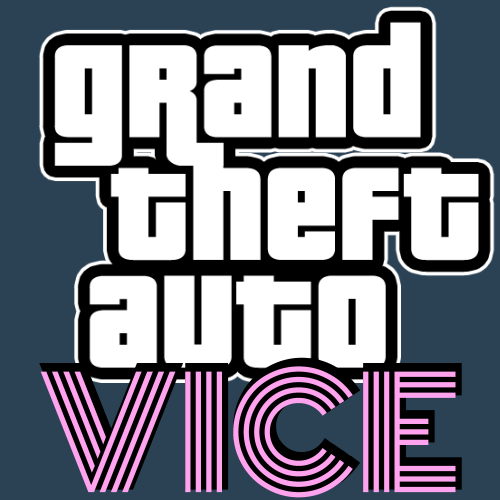 Vice City - Some things don't change. Tourists still come from all over the world, mixing the tropical climate with a culture they know from TV, immigrants flock here from pretty much everywhere farther south and drugs still arrive by the boatload fueling the multitude of gangs in the city. Every bit as popular, every bit as vibrant, every bit as dangerous as in the old days, Vice City is still very much alive.
Grand Theft Auto: VICE follows three inhabitants of Vice City, as their destinies unfold and interweave with each others. Experience life through the eyes of an ex-cop, an investment manager and an illegal Cuban immigrant, as they make their way through the Vice City underworld and try to come out of it alive - and hopefully a little richer.
Part #1 - Places and People
- Setting
- Map
- Features of theCity
- Outside the City
- Gangs
- Security
- Characters and Story
Part #2 - Gameplay and Stuff
- Gameplay Features
- Activites and Sidemissions
- Weapons
- Vehicles
Part #1: Places and People

The game is set in Vice City and surrounding area, including the wetlands, woods, farmlands and a string of islands stretching out into the ocean. The city itself is crisscrossed with waterways, some going far inland, making it very navigable by boat or other watercraft, which becomes useful when you need to leave the city in a hurry.
Some say its best days are behind it, but it would be hard to tell from all the money that continues to pour into the city - between tourism, corporations and organized crime, the economy is doing fine.
Half of Vice City's population was born elsewhere, many of them in other countries. Retirees, refugees and other assorted immigrants, all add to mixed culture of the city. The steady stream of immigrants doesn't just add to the culture though, it also supplies hungry, desperate and unscrupulous personnel to the many gangs of the city.
Vice City is a bit like a European woman; flat and overgrown, with a weird accent, but at the same time exotic and seductive - she attracts millions of people every year, who all to happily let her part them from their money.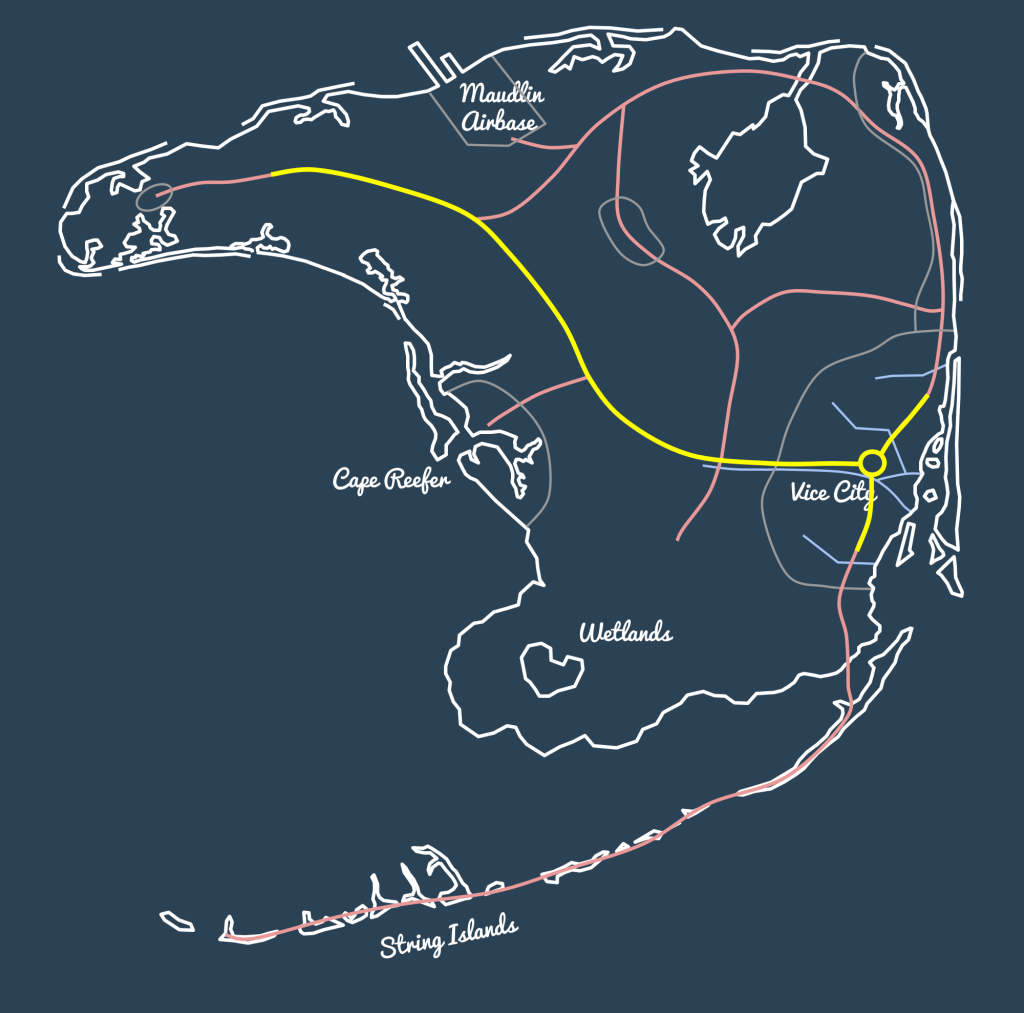 The city itself and the incorporated areas has a wealth of sights and other points of interest for visitors and residents alike.
- Two airports, the enormous Vice International and the smaller Escobar Airport. Here, through 'random' searches, overzealous security personnel and customs officials save the nation each day, keeping it safe from nailclippers, bottles of shampoo and brown people.
- Port Island, the harbor facility, berth to freighters and cruise ships alike. Shipping to and from most of South America, a wealth of cargo passes through here. Ridiculously extravagant cruiseships lay in here, before taking their passengers out to sea for sunshine, all-you-can-eat and overpriced drinks.
- Many smaller docks, jettys and marinas. Nearly everyone in VC owns some sorry excuse for a boat.
- A speedway, with a high speed oval and small course - Watch, bet and/or race yourself. All kinds of different races are held here, from stock cars, open-wheels, motorcycles and endurance racers to special events like stunt shows and monster trucks.
- A horseracing stadium and a houndracing track. - Bet on animals. With the right contacts, you may be able to influence the result, making yourself money while sending the losers to the glue factory.
- A professional football stadium, a ballpark and a basketball arena. Vice City is home to several championship teams, who regularly receive visitors from across the nation. Watch millionaire drug users throw, kick or hit various shapes of balls.
- One fullfledged countryclub, with tennis courts, golf course, skeet shooting range, bar and restaurant. Mingle with the rich and famous and talk about trust funds, politics and the entitled poor.
- Several tennis courts, basketball courts, shooting ranges and places of leisure.

- The Wetlands National Park - green, wet and full of alligators, what's not to like? Be warned, the alligators might not be the most dangeous natives there.
- String Islands - A seemingly endless row of small barely-islands, stretching far out into the sea. If you're looking for a scenic roadtrip, follow the causeway to the end. Expect to be sick of the color blue when you reach the end.
- Maudlin Airbase, home of the local National Guard. Somebody actually gave these people guns.
- Cape Reefer, a smaller city on the western coast... pretty much an old folks home. But it has a golf course, so it's got that going for it. Which is nice.
- The Ocean - The big, blue wet thing. Mainly water, may contain traces of shark. Also, the Golden Age of Piracy happened just off these shores - traders, pirates, warships and the famed Spanish treasure galleons - I'm not saying any of those are definitely down there, but there are a lot of people looking, so…
- Ships going to and from the Port, whether it be freighters or cruiseships (by the way: A bunch of drunk rich people on a boat with hardly any security… just saying).
- The Navy has sent an aircraft carrier to the area, due to some international grumblings that I'm not totally clear on. But it's there (and they don't much like visitors.)
- Oh, and there are some smaller towns out there, as well as a couple of airstrips and docks, but it's pretty boring out there.

Vice City has its fair share of gangs, many of with a background in the various diaspora. They exist on several levels, some just petty street gangs, others high level cartels - others are... something else altogether.

Vice City is of course protected, first and foremost, by the VCPD, which also cover the areas outside the city. With state of the art patrol cars, helicopters and an increased focus on less-than-lethal equipment, the VCPD has experienced a drastic drop in killings the last few years, which has made the locker-room scoreboards kinda boring. If need be, highly trained SWAT teams stand ready, as do detectives from the various special units of the VCPD.
A newly formed collaboration between several agencies and departments, the South-East Coastal Security Initiative, SECSCI, is spearheading the effort on both land and sea, to seek out and eliminate threats to the region's safety and stability. Although few in number, their funding rivals that of a small nation, with hi-tech, military-grade equipment and special mine-resistant vehicles... with all the IEDs in Vice City. Oh, and, like, a small warship out at sea.
The National Guard stands ready to respond, with enough minimally-trained warm bodies and slightly outdated, lowest-bidder equipment to safely contain any emergency. They also have jets now, God help us all.
And as mentioned, the Navy is in the area. They keep to themselves, unless provoked. Best not provoke them. They have some serious firepower.

The Main Characters - The Ex-Cop, the Investment Banker and the Illegal Immigrant
Francisca 'Frankie' Ventura - 29 years old, former VCPD patrol officer, was discharged after several incidents of using excessive force. At the time, she was also under investigation for corruption and aiding in the distribution of narcotics. She was also suspected of using narcotics herself. After her discharge, she's lived rough for a few years; alcohol, drugs, petty crime... until she finally went down and served 18 months for grand theft auto. Since then, she's been keeping clean, mostly, and working the bar at a strip club 'The Titty Kitty'.
Eric Williams-McNeal - 37 years old, working in investment in Vice City. Divorced, ex-wife and two kids are living in San Fierro. Since his divorce he's been dedicating himself to his job and he's subsequently been doing very well for himself. Sportscar in the driveway, boat out back, membership at the country club and he knows people in the better circles of Vice City - he made some of them a lot of money.
Manolo Garcia - 23 years old, Cuban immigrant, escaping a dangerous life in Cuba for a just as dangerous life in Vice City... but it's America, at least! Where everybody can make it and get rich, as long as you are willing to work for it. And Mano is nothing if not willing, no matter the work.
Missions
More to come...
Part #2 - Gameplay and Stuff

Character abilities
As in V, each character will have a unique ability, that improve them in one aspect of the game. The ablities can also be improved like in V, but now, they will not just improve by increasing the resource-pool. Instead, each ability has three levels. You start off at level 1 and each time you level up, you will have two choices of how you want to upgrade the ability (technically three, as you could also choose just not to upgrade)
As an example, I'll use the driving ability. At the basic level, it just slows time slightly. It lasts for a limited time, there is no handling bonus and you're not able to use a weapon during the effect. Then, as you upgrade, you could choose to either get the bonus handling or the ability to use a weapon. Both choices would be in addition to an increased slow-effect and extended duration. The choices branch out, allowing specialization, terminating in four different, top-tier abilities - per character.
Character Skills
Along with abilities, the player is also able to increase a number of common skills with each character, like Shooting, Driving, Sneaking, Lung Capacity and more. The increase dynamically as the player shoots, drives, sneaks, dives and so on. These are independent from the abilities and are passive. They can, as mentioned, be improved, but they can also degrade if ignored.
Vehicle Stealth
Stealth can now also be used in cars, to help them blend in with the traffic, for instance while evading law enforcement. When fleeing a wanted level, once they initially lose sight of you, you can try to use the stealth mode to not draw attention to yourself again. This works especially well after switching cars. While in stealth mode, your acceleration and topspeed is limited, in order to blend in. If you do get spotted and get an active wanted level again, the stealth will auto disengage, allowing you to power out of there. Stealth can also be used while tailing people or whenever trying not to draw attention. It works best in busy traffic and on commonly used roads - if you're all alone or go off-road, you'll get more attention.
Activites and hobbies
Vice City is the southern capital of entertainment. Whether you're out with friends on just on your own, there are plenty of options.
- Get your drink on in one of the many bars and nightclubs found throughout the county.
- Throw your hardearned dollars at halfnaked women at a strip club.
- Sharpen your hustle at a pool table.
- Whack some balls on the tennis courts.
- Get to the hole in fewest strokes at one of our golf courses.
- Let off some rounds at the shooting ranges
- Try your reflexes at the country club's clay pigeon range.
- Visit Vice City's many sporting venues:
- Watch as our home teams defend our honor in football or basketball, against teams from Liberty City, Los Santos or some other places nobody cares about.
- Hit the tracks and watch animals get whipped or chase a rag.
- Head to the famous Speedway and watch cars go around a circle really, really fast for an hour. Everybody comes for the crashes though.
- The countryside is home to a wealth of wildlife and if you secure the proper permits, you can go kill some of it.
- The ocean is of course full of life as well, so why not head out there and kill some of that as well. There are plenty of amateur 'captains' offering fishing tours.
Sidemissions
There are plenty of ways to earn a little extra on the side
- Arrr! Find that sunken booty! Put on your wetsuit and SCUBA gear or use a submarine and see what treasures have found a home on the ocean floor.
- The VCPD has begun outsourcing the apprehension of certain suspects, warrants can be picked up online or at any VCPD station
- The taxi company is always looking for part-time replacements. Customers appreciate a speedy driver.
- For people with nitrous flowing through their veins, there are several types of more or less legitimate races going on throughout the area. Whether you're into wheels, wings or waves, somebody out there is willing to bet money that they are faster than you. There's even an amateur league at the Speedway.
- Rumor has it, there's an underground fighting ring in the city.
- Somebody always wants somebody else dead. Some others are willing to facilitate such events.
... and of course:
Heists
Heists return in GTA: VICE, although slightly different. While there are a few heists in the main story, most of the heists are sidemissions and are done independently of the main story. Sidemission heists are unlocked either by completing certain story missions or just by finding the places on the map. Heists still have two possible approaches, generally a quiet and a loud one. The approach chosen decides the amount of setup required.
The crew is handled differently, however, as potential crew members no longer have a pre-defined role; instead, they are all ranked in a couple of different stats, like Shooting, Driving or Composure, and may possess one or more special skills, like Scuba, Explosives or Stealth. Certain approaches may require certain skills or may go more smoothly if crewmembers are ranked highly in certain stats. There are no perfect crewmembers, so some compromises may need to be made.

Weapon wheel no longer gives access to all weapons at any time; only one weapon per slot (Pistols, SMGs, Shotguns, Assault Rifles, Sniper Rifles, Heavy Weapons, Thrown and Melee) at a time. The wheel can be managed at the safehouse, where all purchased or found weapons will be stored.

Pistols are generally cheap and common, but best at shorter ranges. They are quick to draw, however, and useful in very close quarters.

The lower end submachineguns are basically pistols with automatic fire. The cheapest one actually starts out as semi-auto. Using the same ammo as pistols, their main advantage is quantity of fire, though the intense recoil can harm accurracy.

Shotguns are devastating at short range, but the spread and relatively small size of the pellets make them ineffective at longer ranges.

Rifles are usefull of mid/long range engagements, providing good accuracy, decent punch and automatic fire. Up close, however, they can be unwieldy and slow.

Long range and high damage, but slow rate of fire. Using scopes, it takes a little time to get a bead on the target, so best used when you they don't know where you are. In close quarters, they pretty useless.
More to come: Heavy Weapons, Thrown and Non-Lethal
Weapons Customization
Weapons cutomization returns from V in an expanded form.
Now there are three overarching types of mods: Cosmetics, accessories and conversions.
Cosmetic mods are just that: Looks only. They don't change how the weapons work or handle. This is mainly different color skins, but some also have different types of stocks and grips and other elements that can be changed for a little flavor. Some weapons have more of these available than others. For a few examples, you can choose between several different color skins like: Black with wood, Nickel with black, Hunting, Tan, Gold with pearl or many others. Other cosmetic mods include: Stubby barrel, Folding stock, Tactical handguard and many more.
Accessories are stuff like silencers, foregrips, scopes, flashlights, extended mags, etc. They slightly modify how a weapon performs. Most weapons have some available, some more than others.
Conversions are more drastic alterations to the weapon. Only a few weapons have conversions, one example being the double-barreled shotgun, which can be converted into a sawnoff, meaning it can be used with one hand, at a loss of accuracy. Other conversions may change a weapon from semi-auto to full-auto or give it special ammo.
Some mods may be mutually exclusive, others may be mutually dependent, even across categories (an accessory may require a cosmetic mod or look different when combined with a cosmetic mod. The sawnoff conversion of course excludes the use of the Fixed stock or Long barrel)
Some mods and weapons are only available once a certain contact has been unlocked and can't be obtained through Ammunation gunstores. All purchased mods and weapons are available through the safehouse weapons locker.
Modded weapons will also appear 'in the wild', but certain mods and weapons will of course be rarer than others and some will only be available through underground contacts.
Melee Combat & Weapons
Melee combat has been reworked to be a more engaging and useful part of gameplay. While only two proper melee weapons exist, which can be placed in your weapon wheel, there is a wealth of world objects that can be picked up and used as weapons. Most of these objects conform to one or more archetypes, like 'short bladed' or 'long blunt', to name a few.
These weapons can include lead pipes, fireaxes, 2x4s, golf clubs, meat cleavers, gaff hooks, bottles, wrenches and many others. There are also a few objects that have more unique properties, like chairs or trashcans.
While these can't be carried in the weapon wheel permanently, the player can hold on to most of them them and still use onehanded weapons (similar to how rifles were handled in MP3). Certain safehouses have some of the more special of these weapons lying around.
The unarmed melee system has been improved as well. Players are now able to learn several different styles, each with different combo sets.
Along with the basic 'brawling' style, styles that focus on either punching, kicking or grappling can be learned, as well as a mixed style. The styles will become available as the player progressed through the story and meets the appropriate contacts.
Along with this improved melee system, more missions and other gameplay will be tailored to allow the use of melee.

- Soon