Hello all, I'm new to the forums but a long time GTA fan with Vice city being my favorite. I've been longing for a sequel for years and while waiting I've come up with my own idea of the perfect vice city sequel. Ladies and Gentlemen I give you...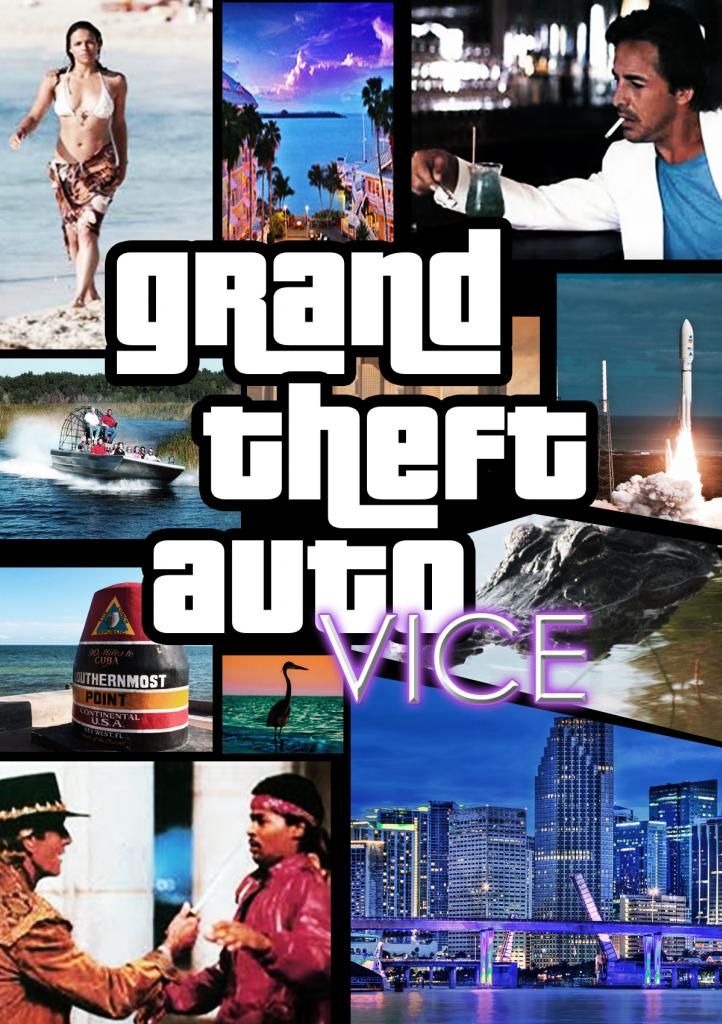 Grand Theft Auto: VICE
Plot
We revisit the 1980s in a reimagined Southern Florida in this next GTA title.  This game will portray the hey-day of the cocaine smuggling boom in Vice City.  The game will draw inspiration from such movies as Cocaine Cowboys and Blow.
 
Location
The newest iteration of GTA returns to the familiar Vice City but on a vastly grander scale It will be a scaled recreation of the state of Florida.  Locations include the Everglades and the Florida Keys.  The map will include landmarks from the state of Florida such as NASAs Cape Canaveral, a Disney World spin-off, and international locations such as a smaller version of the Bahamas, various small islands and part of Columbia (for a special smuggling mission, a la the movie Blow)
Character profiles (actual people pictured are in no way associated in this project and are intended as visual references of concept.)
Characters and Story
 
Again well see the ability to switch between 3 different protagonists.  Three new characters are introduced.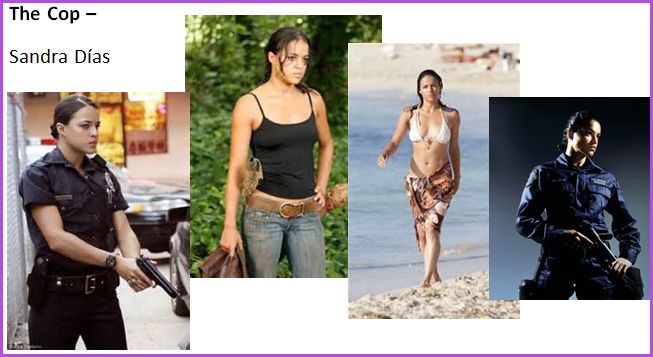 Sandra recently graduated from Vice City police officer academy and she is a 1st generation American born citizen of a Cuban family.  This will be a very different role as you play on the laws side for the very first time in a GTA game.  As a new recruit, Dias spends some time briefly as a patrol officer before being offered some SWAT work and eventually working alongside the DEA, she is offered an undercover job.  Your loyalty to the badge and your personal interests / morals conflict as you accept an undercover operation that puts you deep into Colombian Drug Empire.  Sandras main objective is to collect evidence to build a case against the Columbian Cartels drug lord (similar to Griselda Blanco of the Medellin Family Cocaine Cowboys movie).
In order to make a connection within the Columbian Cartel, Sandra needs to make a connection with an influential female Cartel soldier who is in a womens prison.  Sandra begins her undercover journey as she is arrested on marijuana smuggling charges and meets her contact in prison as they share a jail cell for a few months.  Here the player will have to perform some prison missions including fighting, selling drugs, helping someone escape, and participate in killing a target for the Cartel.  After earning trust you are eventually released from prison and your contact introduces you to high level Cartel soldiers and eventually you become close with the drug lord (aka similar to Griselda Blanco cocaine cowboys movie). 
 Sandras brothers complicate things as they continuously find themselves in trouble and jeopardize her cover from being blown.  How far will she go to save and protect her family and also keep herself alive?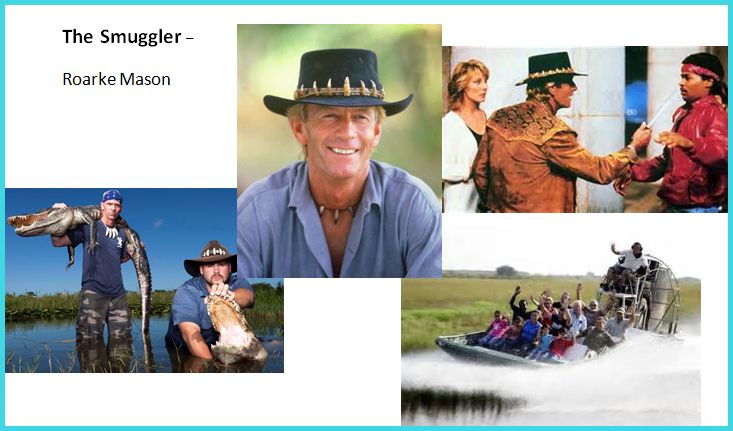 An Australian native, he moved to the states from the outback to escape some unsavory people whom he owes money.  Once served as a pilot in the Royal Air Force, he runs an alligator farm and reptile world in the everglades as a front for his smuggling operations. 
Hes a crafty lone wolf that cleverly plays whatever side he must to his own advantage.  Hes a macgyver-like survivalist and outdoorsman that happens to be a smuggler of various goods for the highest bidder.  He is remarkably charming (especially with ladies) but Double cross him and you might become his gators next feast. 
 
Roarke will be smuggling by plane / seaplane / heli / boat / airboat.  Expect some great vehicle missions, Scuba, hunting, and when dealing with the occasional problems Roarke takes care of - he likes to do it a bit messy with his bowie knife.  Now thats a KNIFE!
Roarke will be continuously harassed by bounty hunters from Australia looking to collect on Roarkes head or Roarke will need to convince them that he can double the bounty if he can buy time to earn more money by smuggling for the Columbian Cartel

.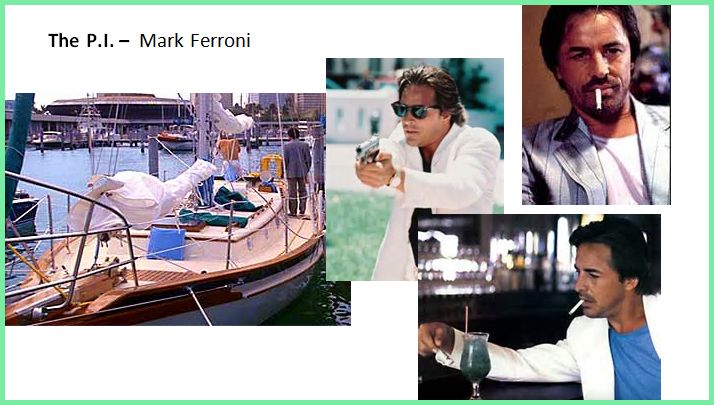 The main campaign will revolve around this character. 
 
Backstory: Mark had a successful career in the FIB for years, but his undercover work he performed in Liberty City ruined his life.  Marks undercover work got him into a well-known Mafia family (Think Donnie Brasco) and he earned their respect.  Things took a turn for the worse when he was forced by duty to inadvertently have another undercover cop (partner and friend) killed.  As a result, he served time in prison to keep his cover from being blown to protect his wife and son.  FIB regards him as a hero however, Mark turned in his badge after he was released from prison and now despises the bureau.
The game picks up and we see Mark is now washed up, divorced, and with a drinking problem.  He lives on a sailboat in the Florida Keys.  He runs his own low budget Private eye business.  But its not long before hes contacted by his old FIB boss to come out of retirement in order to once again infiltrate the Mafia and discover the source of Cocaine trafficking in Vice City. 
Mark cuts a deal with the FIB and agrees to go undercover one last time.  Mark reunites with his old Mafia friends to help them take up some territory in Florida and will partner with Roarke whos contracted by the Mafia to smuggle and distribute product into and out of Vice City.  Mark will be forced once again to commit unsavory acts in order to earn trust with the Mafia and the Cartel but, this time Mark has his own ulterior motives.
 
There is a lot of hidden story we will uncover as Mark tries to reconcile with his past and re-unite with his wife and son.  Mark will be pulled both ways between the FIB and the Mafia.  He has resentment for both sides and seeks revenge. 
Mark and Roarke cross paths with Sandra who has worked her way up in the Cartel undercover and is now posing as an upper level soldier and right hand of the female drug lord (aka Griselda Blanco aka La Madrina) in the Columbian Cartel.  Mark figures out that she is undercover.  Mark reveals that he is undercover to her. Roarke is caught in the middle but agrees to continue to work with the two because the FIB and DEA offer him a deal to keep the operation quiet.
 
Eventually, a war will erupt between Colombians and the Mafioso from Liberty City. The Cartel catches on that something is fishy and things heat up as the player is forced to choose who is revealed of their true identity.  This will either be a great benefit for the player (and possibly satisfy their ulterior motives) to let them die or choose to put themselves at risk to save the other protagonist and possibly lose the ability to serve your own motives.
Ulterior Motives Mechanic (good guy/bad guy)
 
This players decisions will revolve around each protagonists unique ulterior motive and the choice you make will affect the overall story arc. Protagonist will have a few opportunities to either, stay loyal to the FIB, or screw the FIBs investigation over by lying to the FIB, tampering with evidence, tossing/ hiding mics, video, etc.  The choices you make will affect the overall story arc as the Cartel calls out one of the 3 protagonist as a rat and decides to have them tortured/murdered.
Marks ulterior motive is to seek revenge on his old FIB bosses who screwed him over by allowing him to do prison time, get his partner killed and lose is family.
Sandras ulterior motive is to protect/save her brothers who run into trouble by becoming entangled in the Cartel criminal activities but she will need to break many rules and may lose trust of her superiors in the DEA.
Roarkes ulterior motive is to save his own ass at the expense of others and to get $$$ to pay back the dangerous people he owes money to and get the bounty off of his head.
Map: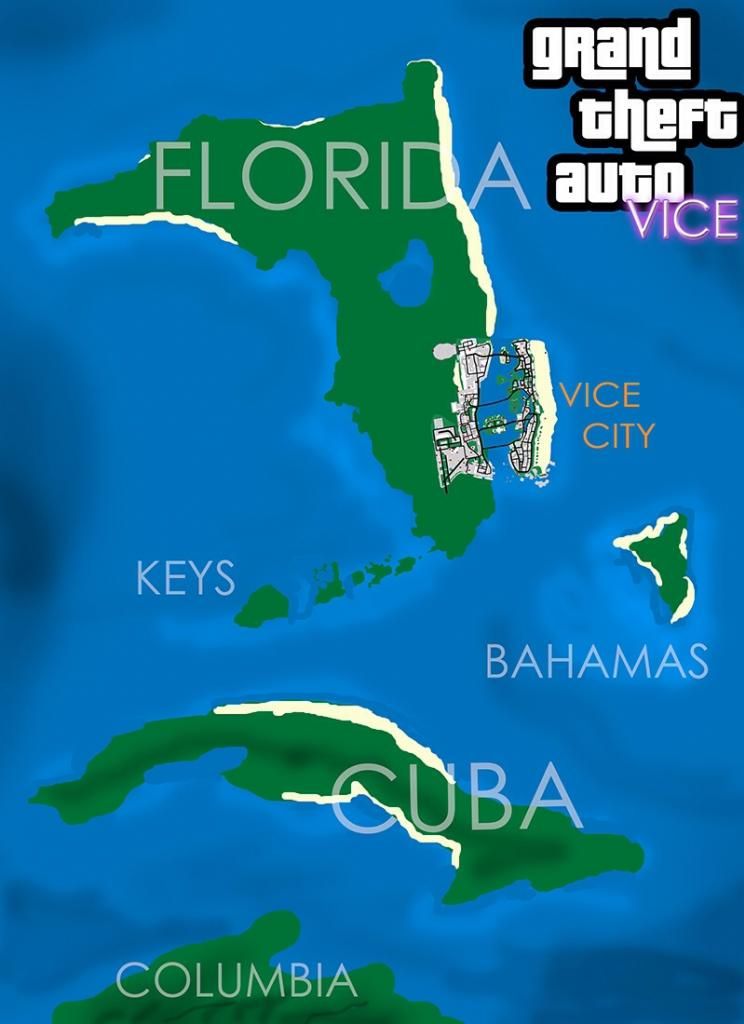 Teaser trailer now live on Youtube.
Music /  Radio Station list
GTA: VICE (Wave 103)
http://open.spotify....vElBvmDillfGT8d
Track Listing
Bronski Beat - Smalltown Boy
The Cars - Hello Again
Men at Work - Who can it be now
Missing Persons - Words
Pet Shop Boys - West End Girls
Pet Shop Boys - Opportunities
The Police - O My God
The Fixx - One Thing Leads to Another
The B52's - Private Idaho
The The - Uncertain Smile
The Smiths - Stop me if you Think you've heard this before
Simple Minds - Sanctify yourself
The Clash - Straight to Hell
The Romantics - Talking in your Sleep
INXS - What you need
Character Art