The I'm not a hipster update is now live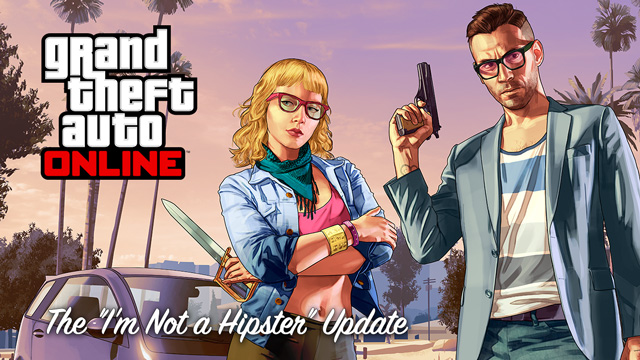 Top Changes:
Buffalo S (Franklins Buffalo) can be bought on Southern San Andreas
Obey Tailgater can too
1 new gun and 1 new knife
New Vehicles added: Lampadati Pigalle, Vapid Blade, Vulcar Warrener, Benefactor Glendale, Declasse Rhapsody, Benefactor Panto, 6x6 Dubsta (Warstock. Can still be modded and kept as a PV. Unlocked at Lvl 100)
 Los Santos Customs Additions:
New horns added to LSC
Gold Paint added
Pure Black window tint added to LSC
Aesthetic Additions
New masks added. (

Fox, Owl, Raccoon, Cat.  Each has 2 colors.)

New clothes 
New Gameplay additions
7 new actions. Air guitar, Wave, Surrender, Shush, Photography. DJ, AIr Synth
New Vehicles added to SSA: Cheval Picador,  Clean Rebel, Regina, BF Surfer, Youga, Primo, Buffalo, Franks Buffalo S, Tailgater, Hotrod Blazer
Coveted has been completely revamped to make it harder
Other Changes/Additions
By entering the blue marker at the back of your garage you  can now rearrange your vehicles
6x6 Dubsta unlocks at rank 100. This was done on Warstock in order to provide a reward for those who  have exceeded rank 100. Can still be kept and modified as a PV
Tanks now pay insurance
Broke people now pay insurance
Pressing Down on the D-pad twice gives you the players name next to their blip on the map
EXTENDED CLIPS NOW STAY OFF!
3 axel Dubsta
New vehicles, actions and Clothes. Benefactor Panto (Bottom right)
Declasse Rhapsody (Left). Vulcar Warrener (Right)