Hey guys, here is the way I add my cars to san andreas, I know there is already another tutorial but I though I share my way.
TOOLS
1.Open the folder of the car and rename the .txd and .dff to a new name. Then open the readme and put the new name in the vehicles.ide/carcols/carmods lines.

note:it's Id, dff name, txd name, type, handling data, game name, .....
So the 3rd car name is the handling which it uses. It's a muscle car so I used the handling of another muscle car. You can free up handlings for example you can make all trucks/trailers share the same handling so you have freed up 4 lines of handling which you can use on added cars.
2.Add the new line at the bottom of vehicles.ide like this.

3.Add the new line alphabetically in carcols and carmods
4.Open vehicleAudioSettings.cfg and pick the car you want to get the audio from. Copy the whole line and paste it at the bottom of the file in added cars. Rename it. It should look like this.

5.1SPAWN IT INGAME
Open CarSpawner.ini and go to [range 1] you should see a start=??/ and end=??? so edit it to say end=612. IMPORTANT the range can not skip numbers, if you next id skips an id number you need to make a [range 2] start=9999 end=9999, it can be the same number, but it CAN NOT SKIP A NUMBER!!! Make a new .fxt file called vehicles.fxt and put it into cleo text than type this 'ADDEDCARNAME INGAMECARNAME' and save it, now the car will appear as an option to spawn, otherwise it will be just blank space. Here's how mine looks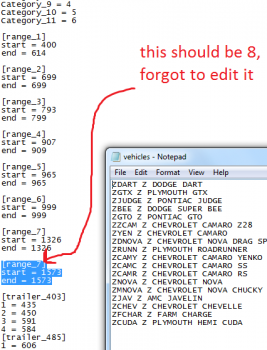 5.2
Use the alternative car spawner. Open hotkeys.lst and and type the following - Key:Car ID. Example - O:1573. Pressing CTRL+O will spawn the car.
6.Installment - Add the files in gta3.img (THIS IS NOT RECOMMENDED). I recommend you use modloader and make a folder called 'added cars' and put them there.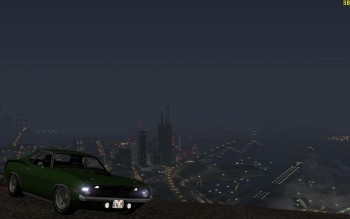 7. - OPTIONAL
Open cargrp and add the carname where you want in my case in cheat 1 (sh*t cars)
so the car will appear with the cheat "EVERYONEISPOOR"
[big]notes:[/big]
I didn't explain how to add the handlings because this causes game crashes and its waste of time to edit the handling to fir the adder. But if you still want i will explain.
Name your cars starting wtih a 'z' (or an 'a') as in zaddedcar, it is much easier to organize everything this way.
SOME OF THESE IDs MIGHT NOT WORK
[spoiler=FREE IDS]1-6,8,42,65,74,86,208,265-273,289,329,340 (???), 374-383, 398, 399, 612-614, 699, 793-799, 907-909, 965, 999, 1326, 1573, 1657-1659, 1661, 1699, 2883-2884, 3136-3166, 3179-3186, 3188-3192,3194-3213, 3222-3240, 3245, 3247, 3248, 3251, 3254, 3429, 3610-3611, 3784, 3870, 3871, 3889, 3974, 4542-4549, 4763-4805, 5010-5104, 5376-5389, 5683-5702, 6011-6034, 6258-6279, 6526-6862, 7206-7208, 7220-7222, 7226, 7230, 7278-7280, 7289-7290, 7331-7333, 7974-7977, 9194-9204, 9479-9481, 10311-10314, 10745-10749, 11418-11420, 11682-12799, 13563-13589, 13668-13671, 13891-14382, 14644-14649, 14658, 14659, 14729-14734, 14766-14769, 14904-15024, 15065-15999, 16791-16999, 18113-18199, 18631-1900х[/spoiler]