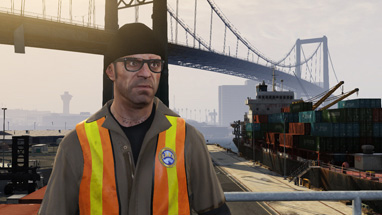 I've been wanting to see this come up on GTA V single player mode for a while. It's basically taking the Scouting the Port mission from Grand Theft Auto V, and implementing it into the game as a Sidequest PC mod, where it's only available for so long, where once the Cargo ship was emptied, it would disappear until a certain timeframe in the game.
I was thinking along the lines of unloading a cargo ship with the crane, using the HVY Dock Handler to load the containers onto a freight train (which would require a Drivable Train Mod) and delivering them to Davis Quarry, Palmer-Taylor Power Station, Paleto Bay etc.
Anyone else like to see this implemented into the game?
I would also like to see the Tram and Coach drivable too, akin to the old taxi driving missions from past Grand Theft Auto games, where you would make some extra cash delivering passengers to various places around the city.
Sorry about the fairly long post, but just putting this out there in hopes some clever people can implement these features as a future mod.