RESTLESS MC: Xbox 360, free aim.
RESTLESS MC WILL BE OFFICIALLY MOVING TO XBOX ONE ON 01/01/16
UNTIL THEN WE REMAIN FULLY ACTIVE ON THE 360
Our website link           Our Social Club link
 ABOUT US
 We run on the basis of a real 1% MC. We are a club who play very regularly together. Comradeship and brotherhood is encouraged,
and loyalty is held above all else. We do not let just anyone wear our patch. 
RLMC was formed by the six founding members out of the ashes of another MC.
If you are willing to put in the time, you will be part of a crew where everybody will back you up in battle and know your name.
We aren't in any rush to expand, and all new members will be expected to undergo a period of "prospecting".
This is a period of time (a minimum of 2 weeks of regular playing, ) where you see what the crew is all about and,
more importantly, interact with the other members who will ultimately vote in private whether they wish to offer you
a place among their ranks as a fully patched member of one of the closest-knit MCs in San Andreas.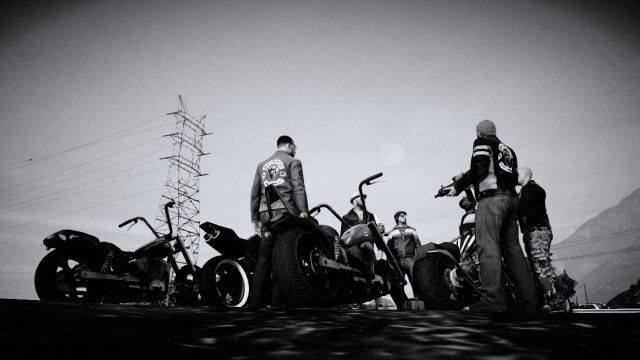 More things you should know:
We all get on well. Prospects only earn a patch if so.
We are small in number, 16 current full members.
ALL are regularly active.
We are not competitive, we're here to have fun.
Full members have a full say at chapel every week.
We ride any motorcycle.
We have our own very busy, bustling with content forum (full members).
We also have one for our Support crew & Prospects.
We have many really good created jobs.
Members help each other out with ranking up, money etc.
We started this MC after joining one that was not run well.
That's how we are one year on & still going strong.
RECRUITMENT
We have recently lightened up on our joining procedure.
It is now really simple. First I'll explain this: Restless MC has 3 social club crews, all under the name of Restless MC.
We have Restless MC Support, Restless MC Prospects & Restless MC - This gives us 3 different backpatches, but we're all Restless.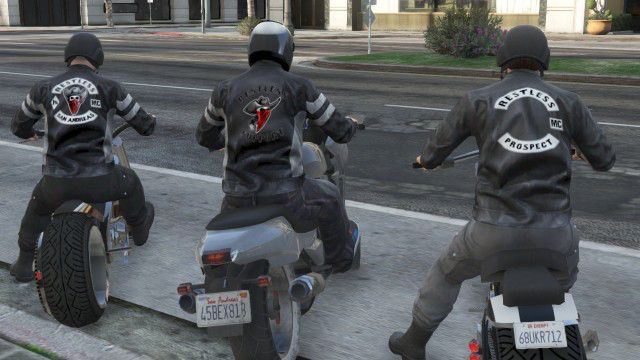 All newcomers (16+ with mic) go into Restless MC Support. This means you're in with us and will have a very nice backpatch.
This patch does not carry the MC or the 1% patches of a traditional MC. These must be earned.
If you are a casual player you can stay there if you like - plenty do.
If you wish to earn your full patch, and you are an active player, you may be invited to Restless MC Prospects.
As a Prospect you will get traditional 'Prospect rockers' (your patch) - This has the MC patch but again, no 1% diamond.
Prospecting takes a minimum of 2 weeks. If you were invited to prospects, you just have to keep up the good work, within the MC's rules. Basically it's min 2 weeks acting as a full patch member.
Then there's Restless MC itself - a 1% MC. There are many perks to being patched up, but you'd have to earn the patch to even find out.
Each of our full members would tell you it's worth getting.
It all depends on you, your activity, attitude, etc. etc.
Your rank, KD ratio and abilities do not matter to us - we all started low.
Whether Prospects or support, as long as you have Restless on your back you'd be welcome to join our new forum to help keep us in touch and informed. On it you'll find all the info you'll need and can interact with Restless members across our 3 crews. This is for members only.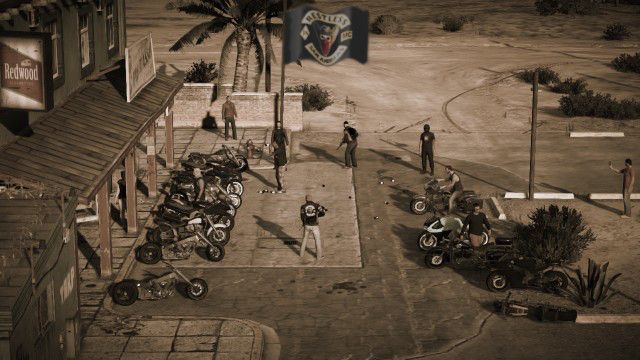 BIKE MEETS
We will be hosting regular bike meets from now on, every 1st Saturday of the month (10pm uk / 5pm EST etc).
The Saturday night meets are open to all and any motorcycles.
NO - the Faggio is a scooter, the Blazer is a quad!
PLEASE DO NOT REPLY HERE FOR THE BIKE MEETS AS THIS IS STRICTLY FOR RECRUITING. INSTEAD, USE THIS LINK
Here's a link to Restless Support Social Club. To join this crew you must contact one of us. 
We do not act on requests to join from social club unless you also contact us,
but having met - a request will make it easier to invite you.
From the Support Crew, once we know you and if you wish you can request a prospect placement.
IF ANYBODY IS INTERESTED IN MEETING US WITH A VIEW TO JOIN, FEEL FREE TO REPLY HERE.
 PLEASE NOTE THAT WE ARE SEEKING ACTIVE (PREF' DAILY), MATURE (16+, NO SQUEAKERS)
PLAYERS THAT USE MICROPHONES AND SPEAK ENGLISH.