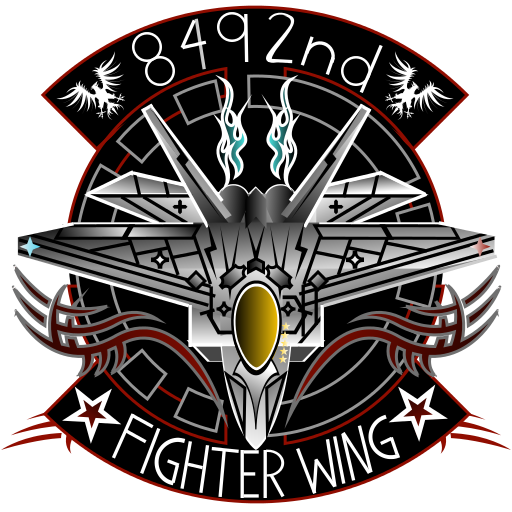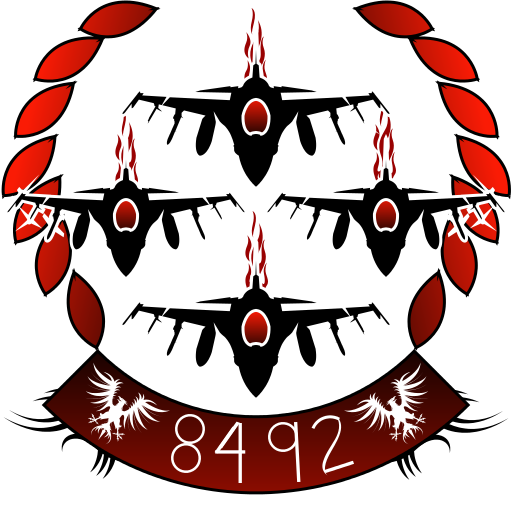 Welcome to the official crew page for the 8492nd Tactical Fighter Wing!(version 3.0)
 
Platform(s): ALL of them
Games:
Ace Combat(All of them)
Grand Theft Auto 4/5
Destiny
Minecraft
(US Central Time)
Open
Open
Open
Open
Open
Noon-1pm

Weekly Briefing/Recruitment Seminar
Noon-2pm

Training/Recruitment Seminar
5pm-10pm

Free Roam Sorties
5pm-10pm

Air to Air training
3pm-5pm 

Air to Air Training
5pm-10pm

Free Roam Sorties
5pm-10pm

Air to Air Training
5pm-10pm

Free Roam Sorties/Jet Tdms
5pm-10pm

Free Roam Sorties
5pm-10pm

Free Roam Sorties/Jet Tdms
3pm-Midnight

5pm-10pm

Free Roam Sorties/Jet tdms
5pm-Midnight

Free Roam Sorties
In order to apply for the fighter wing, please fill out the application on our recruitment thread. 
      The 8492nd Tactical Fighter Wing that you see now started off as just a single squadron. This squadron was originally comprised of approximately thirty pilots and was called the 8492nd Squadron(Named after the main antagonists from ace combat 5). In the summer of 2014 the 8492nd was featured on Rockstar's social club. When the crew was featured it caught a lot of us by surprise. At one point we have over five hundred people in the crew, however that wasn't our ambition. We made cuts to the crew. We continued to become more refined as pilots and as crew members. The 8492nd also ended up branching out to both consoles. It seems that with all the effort the crew has reached it's state of maturity and has blossomed into a very powerful and recognized force. While our participation on GTAForums is lacking, we are still extremely active and organized. Members of the Wing with the tag [8492] can be seen in the skies of Los Santos daily.
Jet TDMS
We regularly compete against each other and other crews in Lazer Team-Deathmatches. Any crew who wishes to challenge us respectfully may inquire on this thread. We have balanced maps set up for two teams, three teams, or even four teams.
Map Links:
Shattered Skies
Merge Dogfights
Our most competent pilots frequently face off against others in organized merge dogfights. Merge dog-fighting historically is used to establish who is the dominant pilot. These dogfights are formally recognized by every known pilot crew. If you are challenged to merge dogfight it is considered respectful to accept(except in times of war), otherwise you probably won't be considered a pilot.
Free Roam Sorties/Lobby Takeovers
If you see more than three of us in a lobby, and you're not considered a neutral or friendly party.. clear out. We are pilots, we typically don't show remorse to ground crews and we certainly don't consider ourselves one. The social norms that ground crews are based on are completely different from pilot crews. 
"That's never going to change though, pilots are the most dominant on every game so naturally, the most egotistical as well."
The Dark Funky

Extreme Agony 

Spring Breaking Bad

X1 Jet Matches 

 The "Devin Weston Jet Charter" hanger acts as home for the 8492nd Tactical Fighter Squadron. The shelter has enough space to house an entire wing of fighters + our automobiles. The break room inside is utilized frequently by our pilots, and the platforms inside the hanger are used for P-996 Lazer maintenance and mission briefing.

                                       Featured by Rockstar Games on their social club, twitter, and instagram.
Rockstargames Socialclub
 
Also featured on the "Pilot's Club website.
8492nd Fighter Wing Article
 
 
EpicFailApp's Badass Squadron Trailer..
Memorable Photos: 

Signatures: