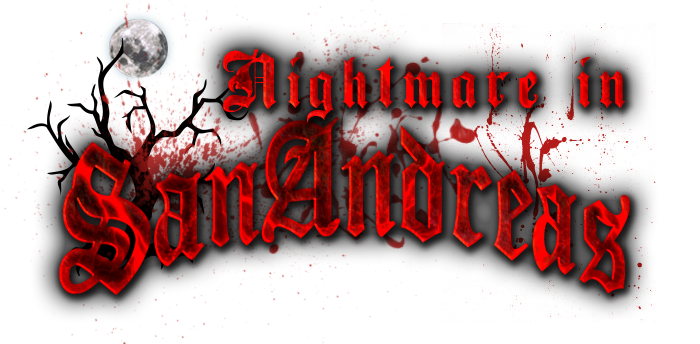 Nightmare in San Andreas
Yo guys, we must fight as we've never fought before!
-  Daryl Thompson
Hello guys, I'm going to remake this MP because I think the old one sucks and overrated. Don't worry, I'll do my best designing these missions and I'll try to improve everything such as grammars, quality of missions and much more. I hope all of you like these missions and trust me, you'll get satisfied after playing this MP and I will not lett all of you get dissapointed because of this MP
It takes story after the ending of original GTA San Andreas. In the late 1992, San Andreas turned into a massive nightmare. Everyone's dead, but not really dead. People are now fighting for their survival and now the world's nothing but full of bloodthirsty and cannibal human that got infected. Many people sacrificed themselves because they don't want to be one of them. This nightmare happened because of the evilness of a doctor that wants to destroy this world by creating a powerful project that infects all people. However, you and your friends must survive this nightmare and if possible, make the doctor pay for this nightmare.
Daryl Thompson, a young man who lives on San Fierro. He was a courier in San Fierro until the nightmare started. The bad thing is, he didn't stand a chance to save all of his families who died tragically. Now he must survive from this nightmare and leave his gloomy life.

Larry Johnson, also known as "LJ". He is a prisoner on Naval Base in San Fierro because of his dirty job. He is a drug trafficker. He survived after the incident at Naval Base when the infected people strikes. He didn't have any choice and he must escape from San Andreas or the death will come at him.
To be updated soon..
After chapter 1 done.
Chapter 0# - The Prologue
(This chapter is more focused on story and will not have a gameplay)
| | | |
| --- | --- | --- |
| MISSIONS | DOWNLOAD | PROGRESS |
| The Beginning | W.I.P | 12% |
| Early Life | N/A | 0% |
| An Unexpected Project | N/A | 0% |
| Dead End | N/A | 0% |
| The Lost Blood | N/A | 0% |
| End of Beginning | N/A | 0% |
Warning! Spoiler Alert!
Protagonist
| | | | | |
| --- | --- | --- | --- | --- |
| CHARACTER'S NAME | CHARACTER'S BACKGROUND | AGE | NATIONALITY | STATUS |
| Daryl Thompson | To be updated.. | 23 | Irish - American | Alive |
| Larry "LJ" Johnson | To be updated.. | 29 | Afro - American | Alive |
| Mercury Hong | To be updated.. | 34 | Chinese - American | Alive |