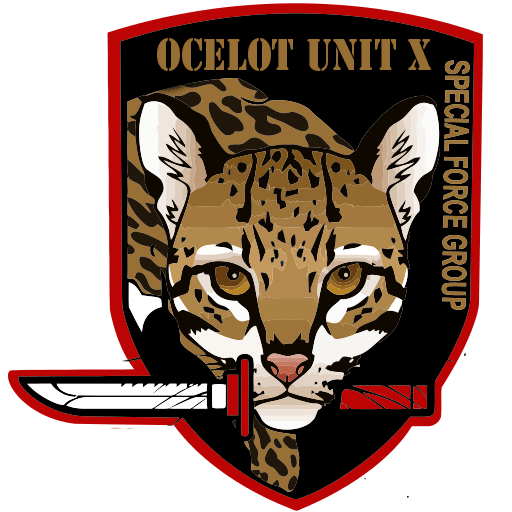 "The Ocelot Unit were an elite special-forces group of soldiers who worked in the Spetsnaz squadrons of the GRU and answered directly to Major Ocelot. They had a distinct style and attitude about them, and were extremely loyal to their commander. Whenever Ocelot made a specific cat noise, they would arrive and assume their positions. The members were hand-picked from the Spetsnaz squadrons to join the unit, and as such underwent more rigorous and intense training than even the Spetsnaz, and as such were better shots than the rest of GRU, and were often deemed legendary."
Crew/Gang Name: Ocelot Unit X (CATX)
About: Metal Gear Solid, is something we should all have in common, and tbh I'm totally fine of that's all we have in common lol but yes, MGS heads unite lol.
As of now, it's a completely empty roster, so I'm looking for a couple of good creative guys to fill my higher ranks. I would love to have some activities for the crew, that way it's
not just a bunch of randoms with the same tag
.... That's not what I want at all.
Right now it's pretty much full on recruitment phase lol.. Look forward to playing with you!
Leader Contact: PoisoNinja140_48 (PSN), or via the forums/social club.    
Social Club Crew Link:
http://socialclub.ro.../ocelot_unit_x_
Platform(s): PS4
Games: GTAO
Timezone: Pacific