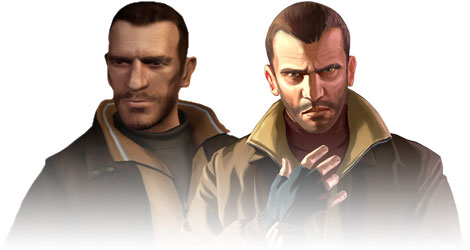 NIKO BELLIC
                                                                                          Voiced by Michael Hollick.
"Life is complicated. I killed people. Smuggled people. Sold people. Perhaps here, things will be different."
Grand Theft Auto IV's protagonist, Niko Bellic, is an ex-soldier from Eastern Europe who moved to Liberty City to escape his past and pursue the "American Dream." Niko was persuaded to move by his cousin Roman, who claimed to be living there with beautiful women, sports cars and lots of money. It soon becomes apparent, however, that Roman lied in order to cover up his own failures in life - the truth is he runs a failing taxi business, has mounting debts, and various criminals from Liberty City's underworld have put a price on his head. Niko also has other motivations for moving to Liberty City, which are revealed as the story unfolds
                                                                        ROMAN BELLIC

Roman is Niko's cousin, and has lived in Liberty City for fifteen years. He is an optimist, a fantasist, and a liar, and he brought Niko to Liberty City with false promises. At the beginning of the game, Roman serves as your only friend and as your only connection in the story. He runs a failing taxi business in a converted industrial garage in Broker. If you maintain a good relationship with Roman during the game, eventually he will provide a free taxi service for Niko.
                                                                          LITTLE JACOB

Little Jacob is a Jamaican arms dealer from Dukes, and one of Niko's many associates. He talks with a thick heavy Jamaican accent, and will provide discounted weapons to Niko for maintaining a good friendship. Jacob becomes a trusted friend of Niko's as the story progresses.
                                                                          BRUCIE KIBBUTZ

Fitness enthusiast, car nut, and self appointed VIP. Brucie thinks very highly of himself. He is a man brimming with confidence, who isn't afraid to make himself heard. He lives a lavish lifestyle, with nothing but the finest women, cars and lifestyle accessories. If you maintain a good friendship with Brucie, eventually he will offer a free helicopter service to Niko.
                                                                          MALLORIE BARDAS

Mallorie Bardas is dating Roman Bellic, Niko's cousin, but their relationship together is far from perfect - mainly due to Roman's incompetence. Mallorie grew up in Bohan, and there are suspicions early in the game that she could be having an affair with another character.
                                                                           VLADIMIR GLEBOV

Russian-born money lender, bully, top international businessman, and patron of the bar Comrades. Vlad sees himself as an intimidating character with a lot of influence over how the town is run, but the reality is he is a low level Russian criminal who is trying to win respect amongst the bigger boys in town. Vlad works for Mikhail Faustin.
                                                                            DIMITRI RASCALOV

Dimitri is one of the hardcore Eastern European characters that you encounter early in the game. He is an associate of Mikhail Faustin, and goes on to become one of the key figures in the storyline. Dimitri and Faustin "are like brothers" and have known each other for a long time, but Faustin's recent drug addiction (and subsequent paranoia) has soured their friendship.
These Are The Main Characters Which Are In GTA IV And I Hope You Will Enjot It Good Bye