I haven't seen many topics regarding what's currently happening in Venezuela. As a fellow South American I thought I'd do my bit to raise awareness and whatnot.
Basically, ever since Hugo Chavez died, things have gone from bad to worse.
This man, Nicolás Maduro has been put in charge of the country and he couldn't be doing a worse job. He's a former bus driver, and his level of ignorance and lack of common sense and knowledge is extremely disturbing. His government has literally been driving the country to the ground. There's material shortages throughout the entire country (some of my Venezuelan friends are saying it's extremely hard to find toilet paper and menstrual pads). There's also extreme repression against anyone who dares speak out against their government.
The economy couldn't be worse, and inflation levels are currently higher than 56%. Leopoldo López, the man responsible for the revolution, was imprisoned not too long ago and chargdr with murder, conspiracy, and terrorism. All false claims. In return, the people of Venezuela are desperate. Students have taken to rioting in the streets, and currently, there's a murder approximately every 21 minutes. It's insane because the people causing these murders are the police and armed forces, those who are meant to be protecting the people. Maduro also shut down Twitter and Facebook on the country (pictures don't show up on the site), as well as prohibited CNN and other news media outlets of showing the riots and what's happening in the country to the rest of the world. 
Gas bombs and tear gas are being thrown everywhere, many students are getting beat and many have died on these riots. It's seriously crazy. 
They make fire barriers to avoid the people from spreading the riots.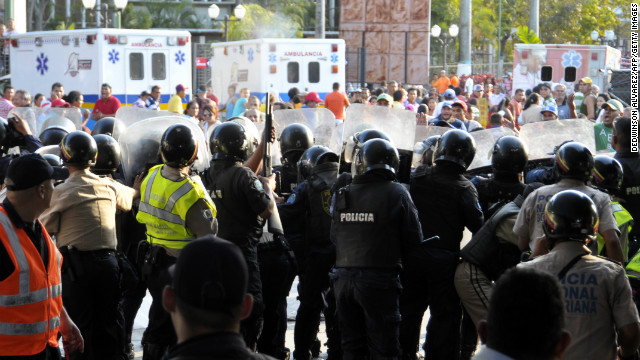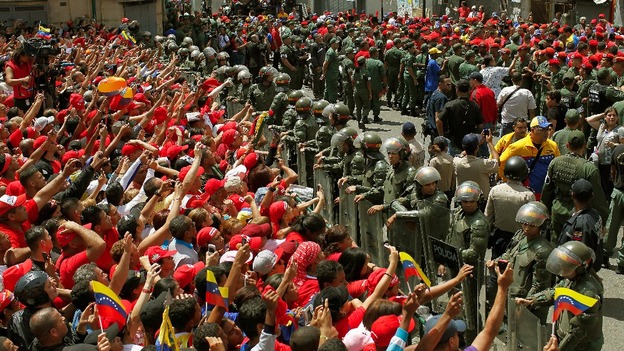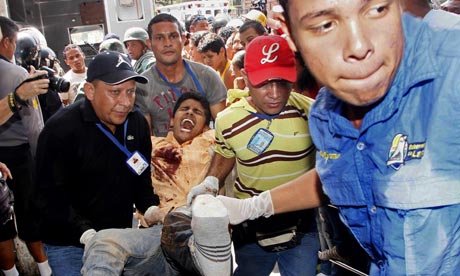 Student shot in the chest by police forces.
Army men beating a student for protesting peacefully (without violence).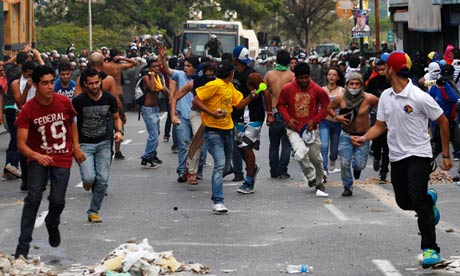 As outsiders, what can we do to help? Raise awareness. Let people know what's going on. China cut down it's 20 billion loan, so things are terrible in the country. It's also against the UN's humanitarian rights, just to get a glimpse of how f*cked up this entire situation is.