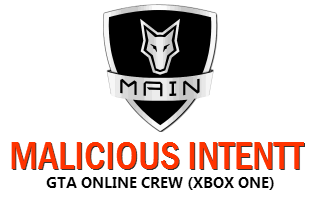 http://www.maliciousintentt.com/
HOST
CONCEPT
We are a multiple times Rockstar Games featured crew. Known for our involvement in GTA community and for excellent ability to host various events:
​The video footage from the most of these events is published on the following YouTube Channels GTAmaincrew ; GTAVGAT ; GR33N Tv
RULES
Don't Kill other people. Don't purposely ram other people's cars.

Enable "Passive Mode" as soon as you enter the session, preferably. (This rule is not mandatory, but it would be safe to have guns holstered);

You must have a working microphone and you must be in game chat. To avoid confusion please set your in-game chat setting to everyone so you could properly hear others; (That way the event will be easier to host).

If you got cops on you, commit suicide or call Lester IMMEDIATELY!

Respect other people's cars, so be careful not to hit another car when parking. Try to not run anyone over.

While cruising, please try to maintain a safe distance between your car and the car in front; (Not everybody has a stable and reliable internet connection + lag); No overtaking unless it's necessary.

Approximately 15 minutes before start of the event all participants will be invited into the crew-only session.

If someone will behave inappropriately they will be kicked. When a host announces that he is going to kick someone please kick that person within seconds. Please understand that the obligation to run any well organised event not only depends on the host, but it also depends on participants as well.

Please make sure you will join the event on time (set up a reminder on your phone or something), in case you cannot join - inform me in advance.

Nobody 17 and under. Sorry. If you sound a little too young we will ask you to leave.

Be constructive, respectful and respective.
DRAFT ​SCHEDULE
(which is subject to change)
We will run this event in 3 stages. As a permanent standard procedure "PSP" this is how every stage is going to proceed: Meetup at the designated location  → Somebody from our crew will take a few pictures of all vehicles  → Best looking vehicle Voting (you can't vote for your personal vehicle) → Winner gets exclusively pictured! → Everybody gets into their vehicles and prepares for a cruise  → Cruise → Special Event.
Stage 1 (Motorbikes)
Bring 1 of the Motorbikes from the list below → We will meetup at the  → "PSP" → Cruise from the meetup spot to the Quarry near Sandy Shores → Destruction Derby. General rules apply.
Stage 2 (Off-Roading)
Bring 1 of the Off-Road vehicles from the list below → We will meetup at the  → Off-roading on a designated route → Fight Club
Stage 3 (Car Show)
Bring 1 of the nicest cars you have from the list below → We will meetup at the  → "PSP" → Cruise from the meetup spot to...
HOW TO SIGN UP
To join this event you must be either a member of [MAIN] Malicious Intentt or from one of our affiliated crews which are ([BRTL]; [JUNK]; [AK47]; [ELTS]) and leave a comment with your gamertag on the according Bike & Car Festival event page of our website.
SIDE NOTE
Since I'm no longer the host of this event, all required information can be found - http://www.malicious...tival6483e66310