TIME & DATE: TBA
To find out at what time the event starts in your timezone here's the link to the convenient website: 
CONCEPT
 We are a well organized crew known for our involvement in GTA Community and for excellent ability to host various events:
• 22 Content Creators Events (Video footage from these events can be found on YouTube Channels GTAVGAT ; GTA Creations ; GR33N Tv)
• 7  Bike & Car Festivals recorded and published on Youtube; I've created our crew's official Bike & Car Festival playlist on YouTube. This playlist consists of video footage from all of our hosted Bike & Car Festivals (except the 2nd one). Every episode of the playlist contains maliciously warm atmosphere as well as some funny accidents. Link → http://bit.ly/1uHV04X
•  Multiple Crew Battles (If your crew would like to challenge us, message me)
•  Multiple Role Playing Events (game modes and rules)/(add. game-modes) (Video footage from these events can be found on YouTube Channel GTAVGAT)
•  Variously themed video shoots. (e.g. recorded "I'm on a Boat!" by GTAVGAT; recreated Calvin Harris' Summer music video by GR33N Tv; GTA Mythbusters series published on YouTube Channel GTAVGAT)
•  1 Golf Tournament
•  GTA 5000 Racing Championship. Here is the recap of Season 1 → http://bit.ly/1oMJeln. First Round of Season 2 starts on Saturday, September 13, 10am PDT/PST (19:00 CET/CEST) More information regarding the second season of the championship is found here.
•  Real Life Role-Play games (More information regarding these events can be found here → http://thefiftyseventh.ucoz.com/)
 If you want to participate in chill and laid-back atmosphere this Saturday with us you're welcome! The main point of this festival is to relax, communicate with other people, and make friends. So don't be shy
.
RULES
#1 Don't Kill other people. Don't purposely ram other people's cars.
#2 Enable "Passive Mode" as soon as you enter the session, preferably. (This rule is not mandatory, but it would be safe to have guns holstered);
#3 You must have a working microphone and you must be in game chat. To avoid confusion please set your in-game chat setting to everyone so you could properly hear others; (That way the event will be easier to host).
#4 If you got cops on you, commit suicide or call Lester IMMEDIATELY!
#5 Respect other people's cars, so be careful not to hit another car when parking. Try to not run anyone over.
#6 While cruising, please try to maintain a safe distance between your car and the car in front; (Not everybody has a stable and reliable internet connection + lag); No overtaking unless it's necessary.
#7 For each stage of the event bring 1 of the vehicles out of appointed vehicle list which are displayed at the bottom of this post. There you will find what vehicles are allowed and ones that are not.
#8 Approximately 15 minutes before start of the event all participants will be invited into invite-only session.
#9 If someone will behave inappropriately they will be kicked. When a host announces that he is going to kick someone please kick that person within seconds. Please understand that the obligation to run a well organised car meeting not only depends on the host, but it also depends on participants as well.
#10 Please make sure you will join the event on time (set up a reminder on your phone or something), in case you cannot join - inform me in advance.
#11 Nobody 15 and under. Sorry. If you sound a little too young we will ask you to leave.
PLANNED SCHEDULE
 We will run this event in 4 stages. As a permanent standard procedure "PSP" this is how every stage is going to proceed: Meetup at the designated location  → Somebody from our crew will take a few pictures of all bikes/cars  → Best looking Bike/Car Voting (you can't vote for your personal vehicle) → Winner gets exclusively pictured! → Everybody get on/in their bikes/cars and prepares for a cruise  → Cruise → Special Event.
Stage 1 (Motorbikes)
Bring 1 of the Motorbikes from the list below → We will meetup at the parking lot in Downtown Vinewood in North-East Los Santos (there's a image of the meet-up spot below) → "PSP" → Cruise to the Quarry → Destruction Derby (read the rules below)
When we get close to the quarry, you'll have to leave your vehicle and get any NPC vehicle from the freeway near the quarry. Get your vehicle inside the quarry, and you'll be ready for the Destruction Derby. The goal of this derby is to ram opposing cars until they blow up or can't move and remain the last standing with your vehicle intact. Here's the rules:
1) Vehicles that are not allowed: Personal Vehicles, Military Vehicles, Emergency Vehicles, Industrial Vehicles, Motorcycles. Tip: Before stealing NPC cars off the street call Lester and purchase "Cops Turn Blind Eye" for $5000 (at the bottom of the list). 
2) Make sure to have "Passive Mode" enabled before we start. (So that when you collide with someone, your character won't take any damage);
3) During the destruction derby you are not allowed to use any weapons or explosives.
4) You are not allowed to leave your car during the derby (if you do so, you'll be disqualified). If your vehicle gets so damaged that it can't move, or gets blown up, then you will be eliminated and you'll have to leave your vehicle.
5) Those who got eliminated are not allowed to use any weapons or explosives against others.
6) The Derby must be proceeded on the bottom level of the quarry.
.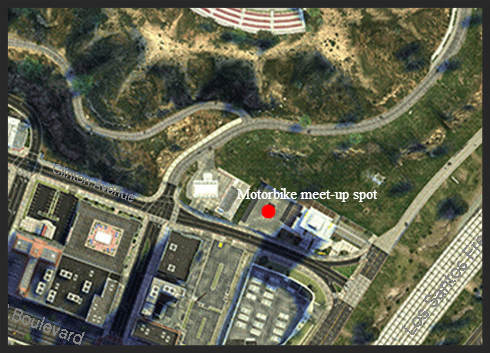 Stage 2 (Off-Roading)
 Bring 1 of the Off-Road vehicles from the list below → We will meetup at the parking lot near the Galileo Observatory (there's a image of the meet-up spot below) → "PSP" → Off-Roading on the designated route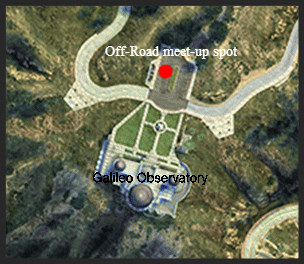 Stage 3 (Muscle & Classic cars)
 Bring 1 of the Muscle & Classic cars from the list below → We will meetup at the parking lot near the Los Santos International Airport in South Los Santos (there's a image of the meet-up spot below) → "PSP" → Cruise from the meet-up spot to the parking lot in West Vinewood → 1 vs 1 Fight Club single elimination knockout tournament (New Location!) → Winner gets pictured
Stage 4 (SUV's, Coupes, Sedans, Sports, Supers)
Bring 1 of the SUV, Coupes, Sedans, Sports, Super cars from the list below → We will meet-up at the parking lot in Downtown Vinewood, North-East Los Santos (there's a image of the meet-up spot below) → "PSP" → Cruise from meetup spot to the Beeker's Garage parking lot in Paleto Bay → I will host a custom created Team-Deathmatch "Royal Rumble (Panto Edit)", here's the link to the job: http://bit.ly/1pxbG9Q (read the rules below)
We will not play it as a Team Deathmatch. We'll play it as a sandbox/roleplay. As soon as you spawn you'll see many parked Panto's. Get into one and wait until everyone else is ready. When everyone is ready, the host gives a signal and everyone will try to push opposing Pantos off the helicopter landing pad. If you get pushed off then you're eliminated. Last Panto standing will be declared as a winner.
Additional information regarding Stage 4 - "You can bring any SUV, Coupe, Sedan, Sport, Super car you have as long it's from the list, but I would like to make it more interesting. I would prefer that for this stage you could bring ONLY the Topless/Convertible models. This includes some vehicles from Muscle & Classics vehicle category as well. All layers of these cars must be sprayed with our crew color and they must have our crew emblem. For those who are not in the crew - just respray your car to Orange color. Just a reminder: It's not a mandatory to bring a topless/convertible car but if you could we would really appreciate it."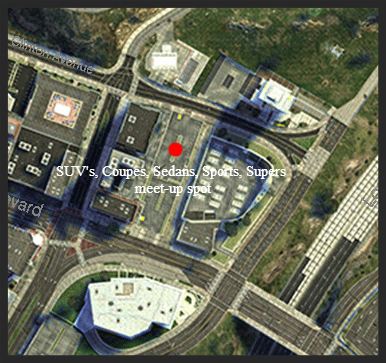 HOW TO SIGN UP
•  Post a reply on the thread with your gamertag and message Li0Nia on Xbox Live. (Click here and you'll be redirected to my Xbox Live Profile); Here's the reason why I ask people to message me on Xbox as well as posting their gamertags here: Instead of typing out name after name and finding out your offline, it makes things easier for you to send me a message so I can just select your profile and invite you. If I don't get a message, unfortunately for you, you won't be invited. Your attendance is reserved as long as YOU SHOW UP ON TIME. If you join late, your spot is no longer reserved and might be given to another person.
SIDE NOTE
We have a full week to prepare for this event, so you people have more than enough time to prepare all the vehicles required for the Bike&Car festival in terms of getting a car/bike for each car class. After the event all pictures will be put on display as a recap. I agree that sometimes people have a hard time pronouncing my gamertag correctly, so if you would like to ask me something just call me Lio. None of us are perfect, we all can use feedback to help us grow, so if you have any suggestions let us know. Keep in mind, if you see 16 potential participants in the list by Saturday still contact me anyway you prefer and I'll make a backup participant list because 9 times out of 10 not all people show up to events like these. I will be updating the participant list throughout the week.
Here's the spreadsheet for you to help understand what vehicle to which stage to bring: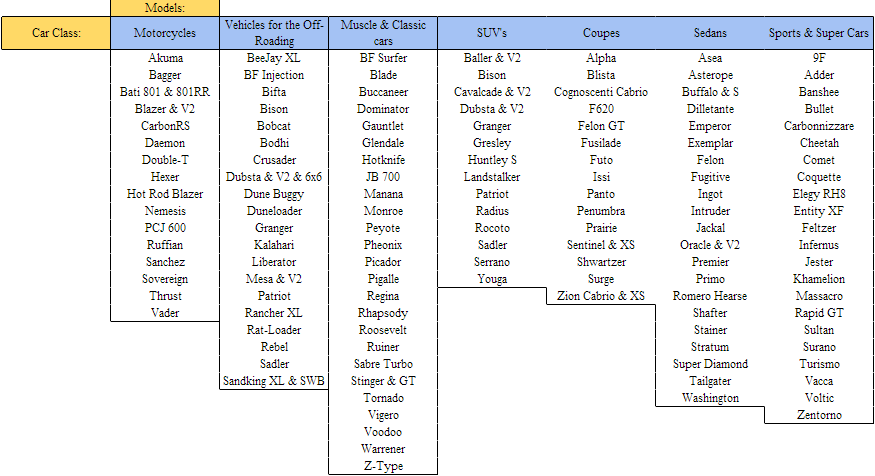 POTENTIAL PARTICIPANT LIST