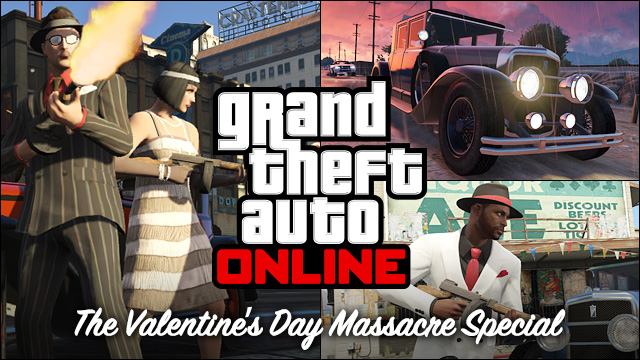 New GTA V Singleplayer content:
NEW WEAPON: GUSENBERG SWEEPER
Nothing says "I love you" quite like the warm wooden grip and cold steel barrel of a Gusenberg Sweeper machine gun. Get it from any Ammu-Nation location in GTA Online (in Story Mode, the Sweeper is automatically deposited into each character's weapon inventory with two full clips and additional ammo can be purchased at Ammu-Nation).
NEW VEHICLE: ALBANY ROOSEVELT
Paint the town red in the classically-inspired Albany Roosevelt. This armored 1920s limousine is perfect for gangsters and their molls. To properly run amok with the new Roosevelt, get in the driver's seat and let your friends or Crewmates hang off the side, firing and taking out your rivals as you pass them by. The Roosevelt can be accessed from any garage property in Story Mode and is available in GTA Online from the legendarymotorsport.net in-game
Read more: http://www.rockstarg...-s-Day-Massacre
Note for XBOX users.
The Xbox System update does not include the Valentine's Day Massacre Pack, it has to be downloaded separately from the XBOX Games Store.