Cover credits to DMThePro123
Firstly, if anyone can find a better name for this topic, send it to me.
 
Now lets begin: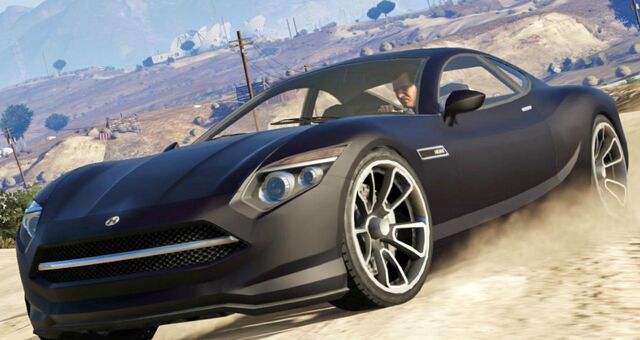 We've all seen this picture of the Hijak Khameleon driven by Michael DeSanta/ Townley. Now most of you are probably thinking to yourself: "KARMA KARMA KARMA KARMA CHAMELEON!" Whereas the smarter people here are thinking "Ok the Khameleon was in SP but got cut, so what? This has been brought up before"
 
EXACTLY, it has, but the real question is... what else has been cut. It's an honest question.
 
Ok, follow me for a second: everybody knows finger-less gloves were cut in GTA IV, but did you know what else was cut? MP5s, MP3 players, Silencers, revolvers, pool cues, a minigun, Dashounds, a 3rd runway at FIA, A large piece of grass land in north-west Alderney, and a possible fighter jet. But the interesting thing is that some of the motorcycles such as the Zombie and Hexer that were cut from IV were instead reintroduced in TLAD. 
 
My point is that's a lot of cut content, every GTA has cut lots, and GTA V is no different. This topic is dedicated to finding everything- every little detail, every vehicle re-design, mission difference, and every  little cut, addition and relocation. I want to find out, what was changed.
 
If there is one thing this forum good at, its observation (and Steak threads). We were the forum that knew the map layout months before it was leaked. We were the forum that stuffed over 10 pages of small details nobody noticed. And now its time to relive the past, lets look back, study our observations we made when we broke down every released screen-shot and trailer. Lets find out what Rockstar Games cut, and what they added.
 
Hopefully we can try to guess what will be added in DLC similar to the choppers TLAD revived from IV's cutting board. My first prediction: The Hunter Heli, and the off-road ATV
 


 
Good luck and happy Beta hunting boys.  

The topic will updated for every major find and prediction we make
GTA V: BETA DATABASE
GAMEPLAY
Mechanic Skill (Probably merged with Driving skill)
Players would be able to go through Drive-Thrus at Up'n'Atom (seen in Up'n'Atom Commercial)
Players were able to order Tacos at the Taco Van
CHARACTERS
Michael looked much older and had more wrinkles and grayer hair
Franklin had lighter skin and looked a bit different
Tracy had a another outfit (seen in the artwork Tracy and Jimmy) 
MISSIONS (SPOILERS)
The Mission Caidie Libre was originally called Vinewood Babylon
The Mission Caidie Libre would have had Franklin chasing down the crashing plane instead of Trevor
There would have been an extra heist involving the 3 protagonists robbing a rich guys mansion dressed as clowns or mimes stealing artwork and  kidnapping his wife (probably merged with the Madrazo sub-plot)
There was possibly another heist involving a 'Heat'-style bank robbery where the 3 protagonists dressed in suits and balaclavas had a massive shoot-out with the LSPD in the  LS downtown core (Probably removed due to similarities with the GTA IV mission 3 Leaf Clover- A screenshot with Michael in a white suit not available in the game and numerous artworks with the 3 protagonists dressed in suits and balaclavas can be found)
The Heat styled heist was possibly a beta version of the Big Score: Loud approach 
The mission Pack Man took place in the Davis Strawberry area instead of Paleto Bay (seen in screenshots and the second trailer)
The mission Minor Turbulence had Trevor driving a Canis Crusader out of the cargo plane not a Merry Weather Mesa. Possibly in the beta it was a Military jet he robbed not a Merry Weather (Seen in second trailer)
A mission involving Michael DeSanta stealing a fighter jet for Solomon. 
Michael originally used the normal pistol during the mission Three's Company
Three's Company originally called The Extraction 
A Mission involving the use of a forklift was cut
A mission that including a appearance of Brucie Kibbutz was cut (fully modeled for GTA V- voice appearance in GTA: Online) 
SIDE MISSIONS & ACTIVITIES
Vigilante Missions removed
Drug Dealing was removed
Pimping was removed
Mini-Games like basketball, air hockey, pool, weightlifting, stealing/ exporting were cut
The hunting side mission originally had a different HUD
Michael had a 2 cut random encounters, both with a lady called Magenta
Franklin had 2 more sets of random encounters, 2 for a guy called Dale, and 5 between 2 fighting neighbors
ANIMALS
Chop wore just a plain brown collier
There were more dog breeds (eg. Huskies)
Horses were in the  game (removed for unknown reasons, as files would have been similar to Red Dead Redemption)
WEAPONS
ARTWORK WEAPONS ARE NOT CONSIDERED BETA UNTIL FILES AND SCREENS ARE FOUND
The Glock was removed for unknown reasons (LSPD officers can be seen with fully modeled Glocks in their holsters)
The Fire Extinguisher was removed (seen in the Pisswasser commercial)
The Monkey-Wrench was removed (seen in Rehab Island commercial- same model as in By The Book- most likely removed to stop compilation videos of people beating up peds with the wrench overplayed with the song " Don't wanna be a Monkey Wrench" By the Foo Fighters
Some weapons had the Green tint by default
Some weapons had an older more realistic wood-cast model (probably removed due to copy-right reasons
The M9 had a darker skin
Laser sights were cut
There was a shovel removed
An assault sniper rifle was cut (Seen in leaked DLC screens, possible DLC return)
VEHICLES
The Skimmer Plane was removed (sigh)
The Hunter attack-helicopter was removed, that was available to buy through WARSTOCK (double-sigh)
A VTOL Jet, possibly the Hydra was cut/ merged with the Lazer
The Blista Compact was removed and replaced with the Dinka Blista (some wrecks of the car can be seen around the map)
The Crop-duster originally had a cleaner, less rusty paint job
The Crop-duster could also spray crop dust (pesticides)
A military Patriot-flatbed ATV crossover was removed also available to buy through WARSTOCK
A green Shamal paint-job was cut/removed 
The ambulance's light bar was identical to IV's  
The Bodhi and the Cabrio were both civilian cars and could be seen regularly (first trailer)
The lazer's exhaust flame was orange, not purple also had shock diamonds 
The Marbelle was cut
The Rhapsody was cut 
The Uranus was cut
Some vehicles names from the Max Payne 3 vehicle handling files: Bobsled, snowmobile, Winky, Napalm, Skamp, and Autogyro.
BUILDINGS
Martin Madrazo's mistress' mansion was originally much more detailed, had a detailed interior and was enterable (seen in Trailer 1- possibly a safehouse)
The Dan Houser Birthday house was much more detailed and possibly a safehouse due to a window being open as seen in Trailer 1 (also known as the 2405 house)
Tequila-La was originally open all the time and possibly a functioning club like in TBOGT (interior seen in a Trevor Stranger and Freaks mission for the British people)
 Franklin's second safe house had a different layout
The Statue of Happiness was originally called the Statue of Freedom (Not GTA V beta but still interesting Trivia)
As seen in the Gameplay Trailer when Michael dives there was a boathouse/ Safe house on the eastern coast of the map, possibly in Cape Catfish (Would  have made nuclear barrel collecting less of a bitch, I can tell you that)
RADIO
CLOTHING
Trevor  could wear a green bandanna (identical to Franklin's)
There were different options to undershirt's besides white for Franklin's casual jackets
Michael owned a white suit (seen in the screenshot of the "Heat"-styled Heist)
Flippers were used when scuba diving 
MAP
POLICE
Police originally drove the Vapid Stanier, much like the real LSPD, but was instead replaced with the interceptor (though Staniers can be seen at various  police stations in LS)
Police could arrest people not just shoot them
The police Stanier was modeled more like the GTA IV Stanier. 
Lots of Outfit changes (Just look for Officer Robinson's posts, he words it better than I) 
Prison Security had a different Uniform
Cops originally used the Stun-Gun and the Baton as a non-lethal use of arrest against the player.