Remember the good old days? When you could lose a star by simply running through a police bribe?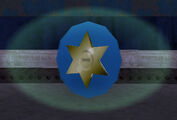 I feel like adding this into GTA 5 would be pretty cool, I always find myself wishing I could run into one of these and make losing my wanted level just a tad easier, especially when I have helicopters up my ass.
What features from older GTA games do you guys miss and or would have liked to see make a comeback for GTA 5, if any?