I've always felt Turkey is my second home, so I'll show some places there:
One of the areas historically associated with crime is Tarlabaşı in Istanbul. It is a very old, run down area and it has a well known stigma for being filled with drugs, gangs, prostitution and is also a refuge for people considered outside society like gays, transexuals, mentally ill and political activists. It also has a large number of immigrants from the Middle East and Africa and Kurdish migrants from the rural east. It's been pretty gentrified but it's still a dodgy place:
https://www.youtube....h?v=vEJgOsoEi9k
https://www.youtube....h?v=gXz5Z89U9yY
A common sight in all major Turkish cities is the Gecekondu, which means something like "built overnight", they are essentially slums. They are normally constructed by Kurdish migrants who arrive in the city from the rural East. These areas are very poor and probably not safe for outsiders, there is also often a Kurdish separatist sentiment in these areas which can lead to conflicts.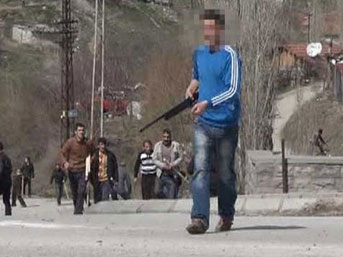 Turkey's worst areas are in the East where there is a high level of poverty and a strong anti-government sentiment in the Kurdish communities. Aside from regular conflicts between PKK guerrillas and the military, Mafia bosses run the underworld and Turkish and Kurdish crime families smuggle most of the heroin that enters Europe. These groups have links with the Taliban who smuggle raw opium into Turkey where it is made into heroin in the mountains of the Eastern Provinces, then transported by Mafia groups throughout Europe, these Mafias also have politicians, soldiers and police in their pockets. My granddad was a gangster in Gaziantep, a city in the East. He ran several gambling dens and owned many guns until hi business was shut down in a coup. Honour crimes also are also prevalent in the East, particularly in rural, religious communities. 
Gangs aren't the same as in America, there's no famous street gangs like the Bloods or Crips, but there are street gangs present in all cities involved in everything from drugs to guns. Teen gang members are also often used as hitmen for Mafia groups and political assassinations. Gypsy gangs are also quite prevalent, as are other ethnic groups like Laz and Bulgarians. The Mafias are general organised crime groups and are one of the ost influential crime groups in the world, active in most European countries, the Baybaşin clan is a notable Mafia family.
Here are some related videos:
https://www.youtube....h?v=h227wczvjE0
https://www.youtube....h?v=q47XBFcz9Lc
https://www.youtube....h?v=3EDMwY3ggJ4