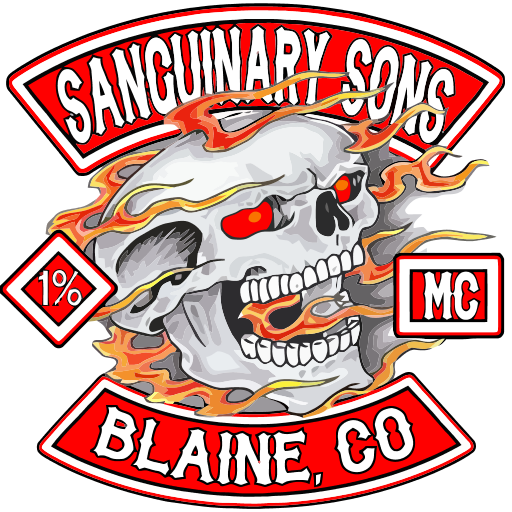 NEWS
01/08/13
- Congrats to the new members!
- Broke 20 members!
- Good job Jay for earning your patch!
- Updated Hierarchy, check it out!
Click here for our Social Club
http://sanguinarysonsmc.proboards.com
**This page is just so guys not in the MC can get a feel for us**
Our unofficial mascot "Sanguinary Sandy" or "Sandy"
Updated 12/29/13
The SSMC Doesnt believe in claiming the entire map without validity, so instead we are claiming what is attached to our founding. Expect hell if you claim half the map and we happen to be in there (like most of the other crews) 
We claim North Chumash, specifically the area surrounding Hookies, using Hookies as our clubhouse.
Allies:
Do not shoot these guys, no matter what. If they shoot, tell the staff and we will do something about it.
[GBMC] Grim Basterds MC]
Friendlies:
The guys on this list are only to be shot if shot at first. Try to keep civil
[TPMC] The Pirates MC
[BRMC] Booze Riders MC
[DRMC] Devils Rejects MC
[TFMC] The Forsaken MC
Enemies:
Anyone that offends our crew/harasses our members will become an enemy, and all on this list have officially been claimed "shoot on sight"
[TLMC] True Lost MC
[RSMC] Red Star MC
[ABWO] Diamond Tooth Gang
[SSMC] Satans Souls MC
[SONS] SonsofAnarchy MC2
Enemies Resolved:
[SRMC] Soul Reapers MC: Inactive/disbanded
ROSTER
Updated: 1/08/13
President - KOPP3S
V. President - OminousPortents (Person4194)
Secretary - FhM Pestilence
SGT at Arms - ripped condom (SYCOEYEZ)
Road Captain - buggy2825 (LuckyShotUp)
Tail Gunner - FhM VVar
Recruiting Officer - TH3 J3CK3L
Patch Members: 5
Prospects: 9
FOUNDING
EVENTS
Weekly
FIGHT CLUB
We have fight club every week with church. Our allies are always welcomed. If you'd like to participate, please message us!
We want to get this going as a weekly MC tournament so if MCs want to join please do.
RIDE ALONG
We like to do multi-MC ride alongs through Los Santos to keep up our relationships. If you'd like to participate, please message us!
If we get enough together we will be doing a sturgis type event. (Chainsoar is MIA last I heard)
Vespucci Drag Racing
We are going to start doing a weekly drag, this will be our first event that will take place at Vespucci Beach Pier
We may add more so stay updated!
Future Events
The Sanguinary Sons are entered into "GTA Conquest", a game of strategy and skill. The game resembles the classic "Risk", in that you have to strategize your crews forces on territories and smaller sections called hoods/turfs. If you want to check it out please do.
http://gtaforums.com...territory-game/

The Sanguinary Sons support the LSMC Biker Bash. We had a great turn out last time, and we are looking forward to doing it again. These guys are some like minded individuals who believe that there should be equal ground to the MCs. No fighting (unless its fair), just cruise and dink around with some other crews, get a feel for them. Anyways if you are interested, please visit the GTAF page below.
http://gtaforums.com...ll-mcs-welcome/
Photo of the Week goes to DannyFitz96! He took a really interesting picture and makes you feel the open road.
Job of the Week
Once again Lucky Brings us a great race! This has been on for 9 days and already has 55 players giving it 75 likes!
He is definitely gifted when it comes to making races, so you should check it out ASAP.
Alta Street Road Circuit
Description:
A close quarters high speed drive through two parking lots. A skilled drivers delight, 
however the tight space and many drivers provide an exceptional challenge. 
The weak will wreck