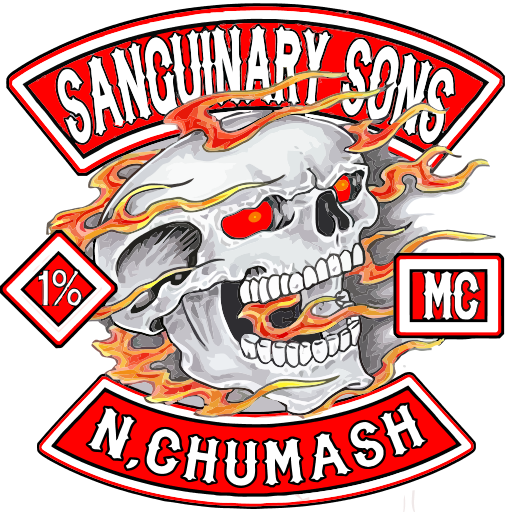 Sanguinary Sons MC
Our GTAF Crew Page (check here for founding and relationships):
http://gtaforums.com...uinary-sons-mc/
Social Club:
http://socialclub.ro...guinary_sons_mc
Our Member Forum:
http://sanguinarysonsmc.proboards.com/
Staff:
President: KOPP3S
V. President: OminousPortents (XBL: Person4194)
Secretary: FhM Pestilence
SGT At Arms: ripped condom (XBL:SYCOEYEZ)
Road Captain: buggy2825 (XBL: LuckyShotUp)
Tail Gunner: FhM VVar
Recruiting Officer: TH3 J3CK3L
Patch Members: 11
Prospects: 4
How to Join:
Post your gamertag and socialclub here. You should be contacted by our recruitment officer. He will do a prescreening ride along to see what kind of attitude you have/your personality. If he believes you are a good fit he will prospect you. When you become a prospect, keep updated with our web page. You will have to register, and we ask you use your gamertag if possible, or as close to it as possible.
http://sanguinarysonsmc.proboards.com
FAQ:
Spoiler
Prospect Vs. Patch Members
Thse uniforms will be worn at scheduled crew events. Church/MCTW/CvC/RideAlong
Prospect Uniform:
The prospects will wear any sort of shirt with the patch small on the front, no large patch, no leather jackets.
Patch Uniform
Patch members will wear black leather jackets with the full patch on the back. If wearing a T shirt, it will be black and patch will be worn on the back. No red leather jackets.
First 6 Uniform
Red Leather Jackets
What we expect:
Active players (To our discretion, some players are more active than others and thats ok)
We are the only MC you are in. (Racing crews and other non-combat affiliated crews are fine)
Weekly Events:
FIGHT CLUB
We have fight club every week with church. Our allies are always welcomed. If you'd like to participate, please message us!
We want to get this going as a weekly MC tournament so if MCs want to join please do.
RIDE ALONG
We like to do multi-MC ride alongs through Los Santos to keep up our relationships. If you'd like to participate, please message us!
Future Events:
We will be contending in a Risk based game that is going to put 12 crews against each other. You can get all the info here.
http://gtaforums.com...territory-game/

We just had a biker bash not too long ago with LSMC, but we are going to continue doing this. Its all based on respect between MCs. We do TDM, Ride Alongs, Mayhem, whatever we want at the time lol. Check it out here.