All right everyone, sit back and enjoy another afternoon with the Showroom; the Declasse Sabre Turbo
Background/Design
GTA V decided to give us the Sabre Turbo, which is the better one out of the three… even though the GT was pretty much the same thing. Nonetheless still a good addition to the GTA V vehicle list, because I'm pretty sure nobody wanted the Sabre Turbo design gone since SA
.  The last time we saw the Sabre Turbo was pretty much in the Vice City universe, and was considered as a rare unique vehicle in VC. Not to mention it also shares the same design as the famous Green Sabre from SA. The design is inspired by the first or second generation cutlass supreme, and is placed in the Muscle category in GTA V.
The Sabre Turbo also has a lot of customization options, and not to mention having a racing strip giving a secondary colour.
·         Seats 2 Passengers
Let's take a look at how it looked like back then (VC & VCS)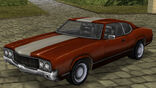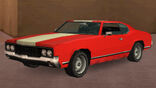 Speed – 8.0
The Sabre Turbo gives exceptional speed, with a pretty decent acceleration. What I've noticed is that the time between gear shifts are actually longer than usual. Which I believe would be a weakness when going through short road cornered tracks. But when on freeways, it's amazing to see such an old school car be in par with Gauntlets and Dominators.
Handling – 7.0
The Sabre Turbo doesn't have the best handling but it definitely has one of the most fun type of performances in the game. And even though it has really nice suspensions, they're just so soft that it makes chases through the city a big challenge.
Overall Rating – 8.5
I absolutely love the Sabre turbo, ever since the days when it was handled by good ol Hilary King. And then after that it made another appearance in the storyline with Grove Street's Green Sabre. You can really tell that Rockstar had a soft spot for this specific car, and it did the same to me. From the engine noise, to the thick tires that screech every time you slam that throttle. .. the Sabre Turbo is definitely something that you can depend on. The only real down part is the really messy handling that it has, but with enough practice it'll definitely improve your experience.
So what do you guys think of the Declasse Sabre Turbo?
And if you happen to own one, make sure to post pictures!
Monkey Toes
arziben
makeyourself187
Malibu454
Edub_1234
MelloHello
Zack the Folf
Lykan
Shiftmx
Scoobroid
DS Monkfish
xboxlive
arziben
dannybohy
CaptainBackwoods
Elemental716
zippyhybrid
Mr. Piff 724
jbarb78
CaliMeatWagon