"Ruling the Underworld with dark powers, The Diablos shall rise and reign over all. Nothing will overcome our objective... Diablos 4 Life"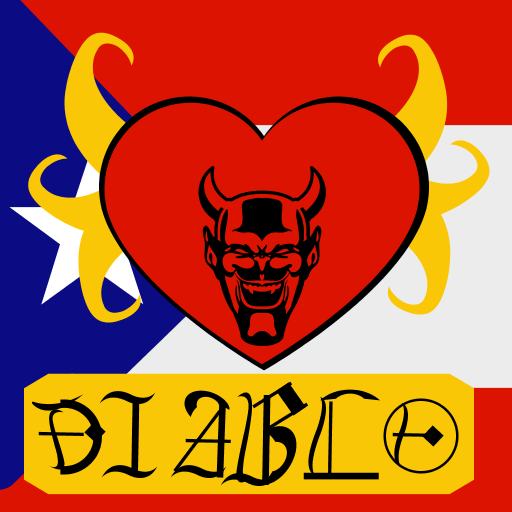 Social Club: http://socialclub.rockstargames.com/crew/the_diablo_army
The Diablos were formed in 1978 by Alberto Mejia, a.k.a. El Burro in Cerveza Heights.
Bringing the Puerto Ricans residing in Liberty City together to become a brotherhood for their people who were struggling, taking abuse from the Caucasian and the African-Americans, working back-breaking jobs, not making enough money to make ends meet.
El Burro formed The Diablos in hopes to upbring his peoples hopes of living a good American life.
El Burro started to make money selling pornography in the mid-80s and soon distributing drugs such as Cocaine and Marijuana. That continued until 1998 when The Diablos were losing their business and had no other choice to do some muscle work for the Mafia. It didn't make them much money but they did it until 2001 when SPANK came to the streets and The Diablos were back in business.
After the assassination of a powerful mob boss occurred, The Diablos were blamed and were in a slight war with the Mafia which lasted about a year. After both factions were critically injured due to the war, it was time to call a truce which the Mafia gladly agreed to. The Diablos and the Mafia were on neutral ground for five years until a fatal night in Cerveza Heights.
The year was 2006 when the founder and leader of The Diablos was assassinated by the Mafia on his home turf. Instead of retaliating The Diablos backed down and were crippled by this attack. Everyone was convinces that The Diablos were over with but they were wrong.
In 2009, El Burro's nephew, Hector Trapagua, a.k.a. King Trap, took over as leader and rebuilt The Diablos from the bottom up. Now The Diablos are back in action once again and this time, will not let anyone bring them down.
RANKS
King - DIABLO_KingTrap - DIABLO-KingTrap
Advisor - 
Prince - 
Warlord - 
Hitman - 
Treasurer -
Bookkeeper - 
Trustee - 
Recruiter - 
Street Soldier - 
Runner - 
Spotter -
TURF
(Please note that the turf shows the sets of the gang in Liberty City, Vice City, and San Andreas)
LIBERTY CITY FACTION
Cerveza Heights Diablos
Hove Beach Red Mob
Steinway Pyros
North Algonquin Guerillas
South Bohan Spades
ALDERNEY
Berchem Saints
VICE CITY FACTION
Prawn Island Demons
LOS SANTOS FACTION
El Burro Heights Duece
Murrieta Heights 17's
Mirror Park Angels
BLAINE COUNTY FACTION
Paleto Bay Rydaz
GAMES
GTA V  -  GTA IV  -  Max Payne 3
INTERESTED?
Post blow your age, rank in GTA IV and V, if you have a mic or not, Social Club name, your gang history, and your PS3 username.
I hope to see some good qualifiers.
Also note that we are going to a registered gang here on GTAForums.com as soon as I have maybe about 3 to 5 members.