Many people around the globe, know Barcelona as being host to one of the biggest football teams in Europe. However, many people don't know that the Province of Barcelona has actually many teams. If you are an English citizen, it's most likely you have never heard of my team unless you are a Bristol Rovers fan. Welcome to a journey to one of the best teams Barcelona had in years. Welcome to CE SABADELL
Centre d'Esports Sabadell (In English: Sabadell Sports Center) or also known as CE Sabadell is a team from the Catalonia region in Spain from the city of Sabadell founded in 1903 that plays in Second Division A. Sabadell is located north from Barcelona at a 15 minute drive. Although Barcelona has two teams that play in first division (FC Barcelona and RCD Espanyol) Sabadell did play in first division of Spain for many years especially in the 70's. Back in the 1970's Sabadell qualified to play in official European matches and although the team didn't succeed in winning any competition, it was a good success for the team get to play in European matches.
Stadium:
The stadium is located in the Creu Alta (High Cross) district of Sabadell and the stadium is Called Nova Creu Alta (New High Cross). It has a capacity of 11,000 people and it was opened in 1967. The stadium was used in matched in Barcelona's 1992 Olympic games. Here are some Pictures:
1967:
Years ago:
2013:
Major Rivals:
The major rivals are Terrassa FC. Terrassa is a city that borders Sabadell and plays in Third division.
Jersey (2013/2014 kit):
The jersey is built by Spanish Sport Company "KELME". The blue and white is the "Home kit" "Black and red" are the "Away Kit" and the Black and Yellow are the "Alternative kit"
Famous players:
Raul Tamudo Actually plays for Sabadell and he is a very well known stricker in Spain, he played for Espanyol many years.
Juvenal Edjogo Owono: Played for Sabadell until last season. He is currently the captain of Ecuatorial Guinea.

Isaac Cuenca: FC Barcelona young football player on loan to Ajax played for Sabadell before getting hired for Barcelona.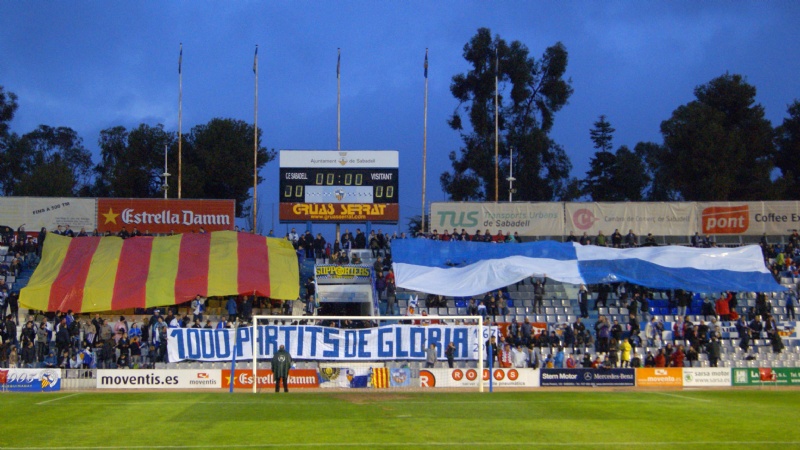 You can find the complete history if you wish here: http://en.wikipedia..../CE_Sabadell_FC