Hello users from GTAforums!
Please apologize for my English, I am from Germany (Bavaria, Nuremberg).
I've been reading here for a very long time (since GTA IV I think) and now I decided to join this community. Love all these threads where you discuss every single detail about this wonderful game.
First I want to say, I think GTA V is a masterpiece. It's not the game of the decade to me, but it's great and worth every single dollar/euro/etc you pay. It's not flawless, but I still love it. Especially the graphics are breathtaking to me, I mean... for the size and detail-richness of GTA V... it's amazing. The sunsets in the desert, wow.
But in my first post/thread I want to criticize one thing: The map. Although it is very big with tons of details, I personally miss that "wilderness" and "isolated" feeling in the countryside. I've seen a lot of threads like that here, but they don't mention the places I miss.
I miss areas like Shady Creeks, Back O' Beyond and whole Flint County. Those big forest and farm areas like you had them in San Andreas. San Andreas itself was small, I know, I just want to talk about those specific areas.
Those dense and mysterious areas. I think you don't have them in V. You never feel lost, I think that's kinda sad. Don't get me wrong, not a SA fanboy or something like that. But when R* promised us a large and diverse map, I thought we get isolated areas like that back.
When I was in Angel Pine the first time I played the game, I felt lost and alone. And after I travelled through Back o Beyond, Shady Creeks and all those "creepy" areas (especially at night), I really thought I'm in the middle of nowhere.
GTA V's map shape does not allow that. It's sorrounded by huge mountains and a flat, big desert + a lake in the middle. You can see nearly every area by turning around in the middle of the map. You never feel lost or isolated, neither on Mount Chiliad, nor in Paleto Forest, which is not a forest at all to me. More some kind of.. woods on a hill.. or so.
Still a great map of course! But it lacks variety and.. isolation in my opinion. Like this: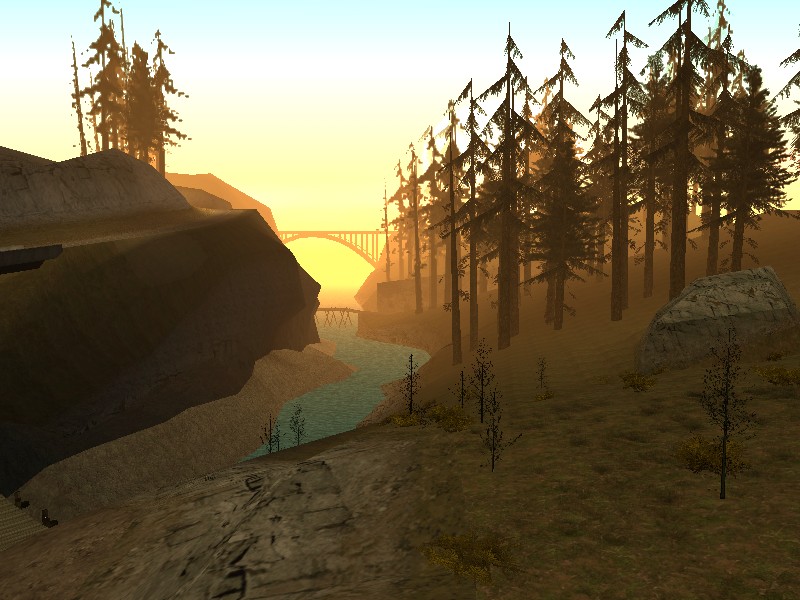 I would have loved to get areas like that back in GTA V, but - like I said - I'm still happy with the game. It's not SA 2.0.
What's your opinion guys? Do/did you feel the same sometimes?
Greetings
Mintal