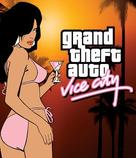 There is so many things to do in GTA Vice City, so let's come with 2000 things to do.
1. Don't repeat the same point.
2. All points must go in order. Do not go off the track.
3. Don't say the point that's possible to do only with the cheats or trainers.
4. Don't say something that's impossible to do (example: Force Tommy to swim).
1. Complete last mission if you completed everything before (99% completion).
2. Drive a car around Vice City.
3. Complete a game without getting busted.
4. Complete a game without getting wasted.
5. Complete Hyman Memorial Stadium missions before last mission.
6. Get busted.
7. Waste.
8. Complete PCJ Playground before first mission.
9. Get 100 Hidden Packages before first mission.
10. Kill 200 peoples in 3 minutes.
So the next person who wants to quote points to do should begin with 11, 12, 13 etc.