Hi guys;
So I'm trying to place some railway crossing models (traincross1, traincross2) by the train tracks down by Binco and LS Gym on the LAe/LAe2 border .
Click on the pic to open it up in fullscreen. You can see the barrier(s) to the left there @ the end of the bridge, but the post itself has disappeared/breaks.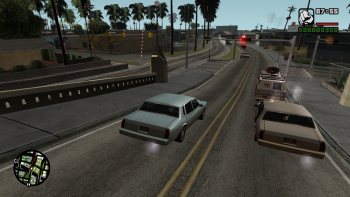 The reason the posts disappeared, is because where my car is on the left hand side of the screen there, seems to be two 'invisible objects' that I'm hitting, and then both of the posts disappear (there is traincross1 and traincross2 on both sides of the track.) NPC's can also hit this invisible object, and make the posts disappear.
The barriers are still up, because the train has just gone the other way (towards the tunnel in the LS Hills)
Here goes an image from MEd, you can see I've placed the objects correctly:
http://gyazo.com/035...49aa5091e9337d3
The barrier is down in MEd, just like the other barriers in LAs2.ipl.
And here is a collision model view of the scene as well:
http://gyazo.com/dc2...0e33ae2e9f3e414
Now these are default textures/models/col files for the traincross1 and traincross2.
Here is the entries from dynamic2.ide

1373, traincross1, traincross, 100, 2097280
1374, traincross2, traincross, 100, 2097280
Does anyone have any ideas/solution that could help me?