How to get the BF Dune Buggy Online
!Do not PM me for a dupe! I've duped this for about 25 people already and i'm pretty tired of duping.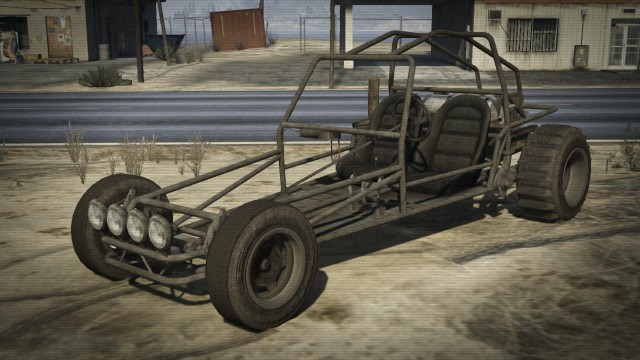 These are all known ways to get the BF Dune Buggy and how to insure it. 
==================================================
Some things to note before we begin
The Bad...
-No Customization
-No Upgrades
-Must use glitch to store it, so get it now or never before they patch!
-No you can't buy it from the online store stop saying that (you know who i'm talking to)
-2 Wheel drive
The Meh...
+\- Online version has the front metal plates on it preventing some bullets but overall it is a fairly open vehicle and it is fairly easy to get shot.
+\- 2 passengers
The Good...
+ $850 to replace from mmi
+ Different Handling config from sp. Vehicle seems lighter and takes less damage.
+ I was able to keep up with a pagassi vacca in an impromptu no traffic race around the prison and in a straight away half mile. Tested about 20 times with a friend. 
+Able to drive over obstacles vehicles usually can;t such as low hedges and medium curbs that the merryweather mesa would have trouble with. 
IGN/Ingame on left_____My estimated stats on right
Speed----7.0____________8.0
Brake-----2.0____________3.0
Accel------6.0____________7.0
Handle----6.5____________6.5
==================================================
4 Ways of getting it
1. Chopper Tail Mission (lvl 70+). Once you get the buggy in the mission go straight to your garage and Glitch it in. Notice to get Chopper tail you must finish a few missions from other people. You get this mission from Trevor NOT Ron. Trevor is not a contact in your phone he will randomly send you a txt msg to do the mission. This is 100% working every time. 
2. Dirt Road Mission (any lvl it's a job you can host). Not as reliable but multiple people have said they've found it while driving Trevor's truck in this mission. It spawns 3/5 down the dirt road on the left side. I have not confirmed this and this is all I know. 
3. Random Spawn directly north of Beekers Garage/Construction site in Paleto Bay on the Beach. Also spawns south east about .25k from Sandy Shores AF (look on the map for a golf club shaped road not to far south of the airfield it spawns at the shack at the loop at the end of the road).  These are very rare spawn chance literally less than 0.5% chance. Note being lvl 65+ and driving a tractor or bf injection got me mine. 
4. Find someone to dupe it for you. Official Dupe/Trade or I'll post some willing volunteers up later. 
Note: It spawns in the center of the beach to the right of the pier for the paleto bay spawn.
==================================================
Best way to glitch it in your garage. 
1. Follow SXXH's guide on how to glitch the dune buggy in and be sure to like the video!
http://www.youtube.c...h?v=QmLKVCOG11E
How to insure it.
To insure the vehicle once the above is done:
1. Get any other vehicle that can be insured.
2: Insure that vehicle, and put it in your garage.
3: Take the insured vehicle out of your garage, and blow it up.
4: Go back into your garage, and get in the car you want to insure. DONT DRIVE IT OUT YET
5: Dial Mors Mutual insurance, and keep it at the menu where you can select the car.
6: Drive out of your garage now, but don't close the mors mutual menu.
7 :During the cutscene as soon as the screen goes black spam A button on xbox or X on PS3.
8: That should be it. I suggest swapping to single player and then swapping back. 
If you're willing to dupe for other people PM me your GT or PSN and I'll post it up saying your willing to dupe. 
More coming soon just wanted to get this up asap.