Introduction
This thread is to keep track of my mission to find GTA 5's unique vehicles. A vehicle can be classed as unique if it has any of the following attributes:
- Rare vehicle
- Unique Appearence
- Bulletproof
- Fireproof
- Tip-proof
- Damage-proof
If you find any vehicle that has one or more of the above attributes then please provide as much evidence as you can so it can be put into the list.
Any "vehicles" such as the UFO's are not to be considered as unique vehicles as they are not enterable at this time.
This thread will not contain North Yankton vehicles as they cannot be taken to Los Santos.
This thread is under construction so please note any additions if you find them.
Rare Vehicles
Space Docker
The Space Docker is available after collecting 50 spaceship parts from Omega. You must go to him before that for the parts to appear. Once collected Omega gives this car as a gift which is in this garage. It only appears once so get it straight after the mission.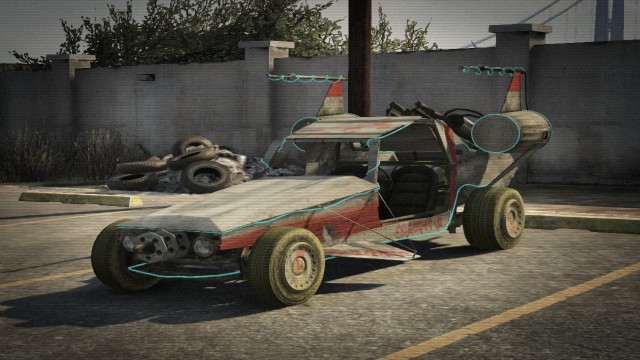 Canis "Merryweather" Off-road
This vehicle is owned by Merryweather Security and appears in 2 missions which you can obtain it from after completion, The first being "Wrap Up" where you can use it as a getaway car and in "Meltdown" Merryweather guards arrive in  these jeeps trying to kill Michael, you can get two in this mission.
Canis Bodhi
Although it is Trevor's truck technically it is unique as his is the only one in the game therefore it is on the list. Simply unlock Trevor to have it in your collection. After Trevor moves out of Wade's cousin's apartment a small teddy bear named Mr Strawberry Jam is taped to the front bumper.
Asea
This vehicle is only available at the end of one mission. When you collect all the packages for Abigail you can kill her, she drives an Asea. The vehicle is also available in North Yankton therefore you cannot get it legitimately at this moment in time.
Skylift
This helicopter is only available for the obvious Union Depository heist as you use it to steal a train car. You can just take it to your heli-pad and fail the mission. We would like someone to confirm if the magnet can be used outside of the mission.
Prison Bus
This vehicle only spawns inside Belingbroke Penitentiary and does never appear in traffic even if you are driving one. The best way is to pick it up via Cargobob if you are a good enough pilot.
 Franklin's Buffalo
Like the Canis Bodhi this is the only one of its kind in the whole game and it is owned by Franklin. It differs because there are certain stock changes such as the wheels and parts of the body. It has more modification options than the normal one.
JB 700
The JB 700 has weapons which cannot be used outside of missions but this car never spawns in traffic which means it is a unique vehicle. You must buy it off the in game website for 475.000$.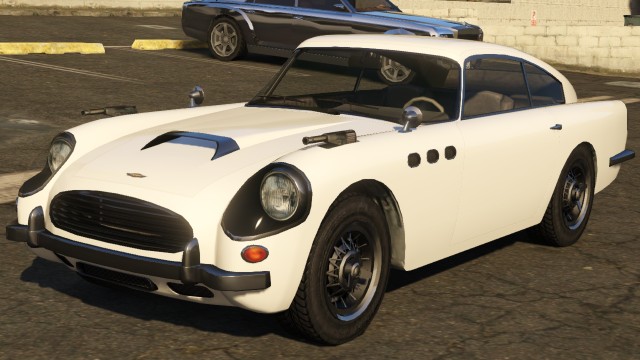 Vapid Cruiser (Undercover)
This vehicle can only be found while in the Grass Roots mission playing as Franklin where you have to lose them in a pursuit, they also rarely spawn in Strawberry. This car can be found in Grey, Black, Red and blue.
FIB Buffalo
Find this at the satellite dishes at 11:00am 1:00PM
Z-Type
The 10 million dollar car that Devin Weston asks you to steal for him. Unique as it doesn't spawn in traffic (Weston himself says that only 10 exist). Buy it online from the in game internet.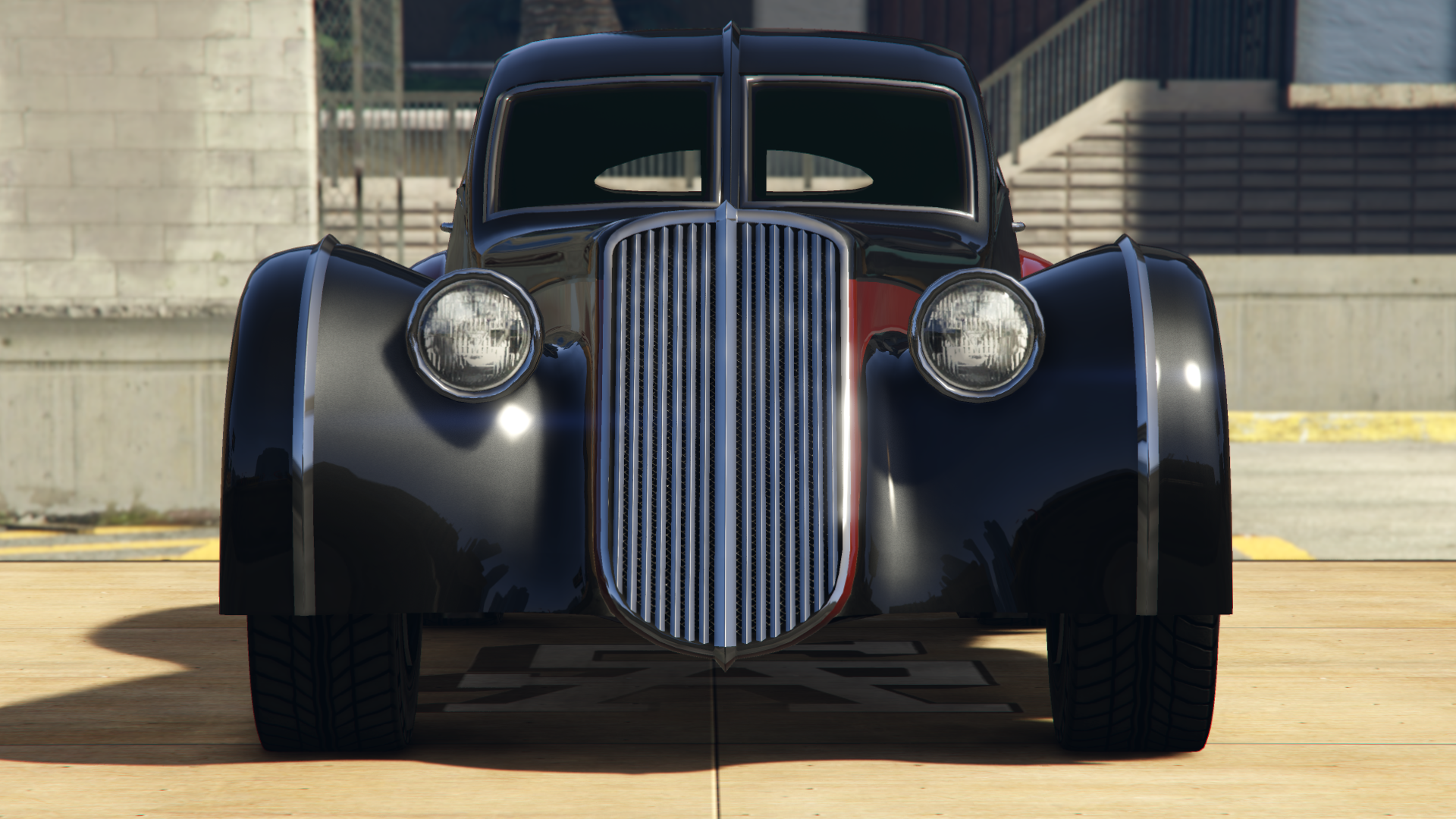 Unique Appearance Changes
Epsilon Velum
The Epsilon program's colour is light blue. In one of the missions for them you must fly a Velum to an airfield for them. The aircraft is light blue. Unconfirmed if you can take into hanger.
Hot-rod Nagasaki Blazer
After finishing the story missions Ron gives Trevor a uniquely modified quad bike which also drives much faster than a stock model. You cannot modify a blazer.
Amanda's Sentinel
This is a very small example of a unique vehicle as the only thing different is the number plate that reads KRYSTAL instead of the random SA plates on other vehicles. This spawns in the driveway instead of the Issi.
Tracey's Issi
Tracey's Mini Cooper clone has a unique number plate which reads PERSEUS. Tracey's car spawns in the driveway in Michaels's house instead of the Sentinel.
Mariachi Tornado
This convertible variant of the Tornado that is owned by a Mexican band has some hats and guitars in the back. Just steal it after the Minute Men mission.
Epsilon Obey Tailgater
This version of the car has the unique Epsilon light blue colour scheme but with the number plate that reads KIFFLOM at both ends of the vehicle.
Yellow/Green Frogger
This Frogger variant always spawns in the sky and never lands meaning you must make it land and use a glitch to save it.
IV Characters Albany Emporer
When a random encounter happens you must kill the lost MC. These are on 2 of the plates of the cars there.
Luis Lopez Hexer
On the same random encounter as the above you may find this on one of the Hexer's plates.
Poppy's Enus
Available after the Paparazzi mission where you must follow Poppy in a police chase. Her car hits a tree and you can get the car after taking the pic and sending to Beverly. This car has a custom
plate.
Air Ambulance Maverick
This is counted as a rare paintjob as it is still registered in the game as "Police Maverick". Get this on the helipad on top of Davis hospital.
Parachute Jump Maverick
These come in 3 two-tone colour options, the green/white is shown, red/white and blue/white. Get this by shooting the pilot while the engines are running.
Vinewood Stretch
Get this in the Meltdown mission instead of a Vacca. Don't store it in the mission as it will disappear. Fail the mission then store.
Smoke On The Water Van
Get this during any Smoke On The Water pick up. Store the van then kill yourself to complete.
Lamar Van
Get this in the Chop mission near the start. Kill Lamar or complete the mission, your choice.