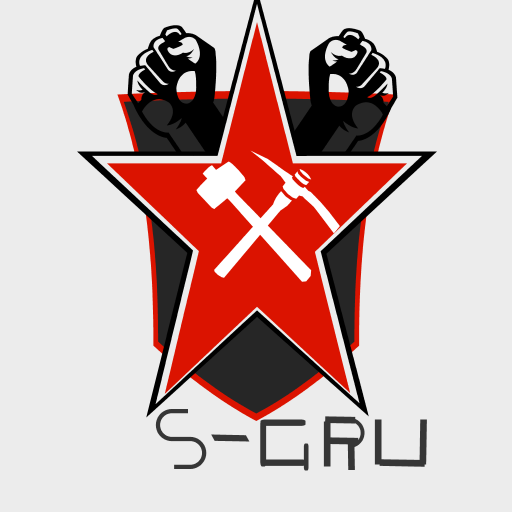 "Mending the path and building a Future!"
S-GRU MERCENARIES was formed after the fall of S-GRU clan. We seek to dominate all who oppose us, we attack by ambushing, road block, and helicopter drops and etc. we shall raise to the former strength and glory we once held and bring honor to our fallen comrades. And to teach others of the glory Joseph Stalin brought! S-GRU stands for sovereign Main Intelligence Directorate. If there are any SPETSNAZ, KGB, or other USSR based clans please pm for meet up and later a truce to bring back the motherland!
~ S-GRU services are free unless notified, services that do not fall under free are gang wars, deathmatches, and convoys. Don't panic prices are cheap!~
Jobs:
Escorting- non crew affiliated players will be escorted from locations, the player must NOT die but may suffer minor to sever damage. The player will enter an S-GRU vehicle and must set a waypoint. Failure to set waypoint will result in the termination of the escort.
Gang war reinforcement- if your in a bloody gang war players may recruit help just send a txt via ingame, add location of enemy crew
Defend- we will defend what ever position, vehicle, store your robbing, street and any other thing you may think of
Capture and hold- S-GRU members will need to preform communication and teamwork diligently on this, a contract sent via in game txt locating targeted building or street. The contractor may die and contract stays affective till either enemy crew or players leave.
Convoy- convoy is almost the same as an escort but the hiring player or players use their own vehicles and the location is across map, ie. downtown to blain county.
Third party protection- if two rival crews meet up to descuse peace turns in game, one party may hire third party protection to insure NEATHER side attacks the other.
Cost of non free jobs:
Gang war- $2000 per player
Deathmatch- 50%
Convoys- $1500
There are different types of solders in S-GRU MERCENARIES and are listed below along with description

Basic solder- is the arm of the crew and attacks in groups

Special ops- solders that are dropped via aircraft, primary weapon is assault rifle.consists of four players

Tank- is the heavy class and gives support or assistance to basic solders and special ops

Sniper- snipers not only snips but also relays information about incoming threats and hostile movement. Team must be expert marksman, consist of two players, snipers guard and the sniper it's self
Pilots- the pilots must be able to maneuver the aircraft in a controllable manor
Driver- must be able to evade prusuers and remain calm in difficult situations

Team captain- commands a small group of basic solders and must practice strategic thinking skills
Other classes have yet to be decided and will be published in the future. If you are intrested in joining links will be provided below.
Recruitment thread:
http://gtaforums.com...-tread-xbox360/
Crew page:
http://socialclub.ro...ru_mercenaries_
Link to crew:
http://socialclub.ro...ru_mercenaries_
Crew forum:
http://w11.zetaboard...CENARIES/index/
Please look at recruitment thread before applying, it contains further information on crew and recruitment requierations.
S-GRU MERCENARIES thank you for your time.