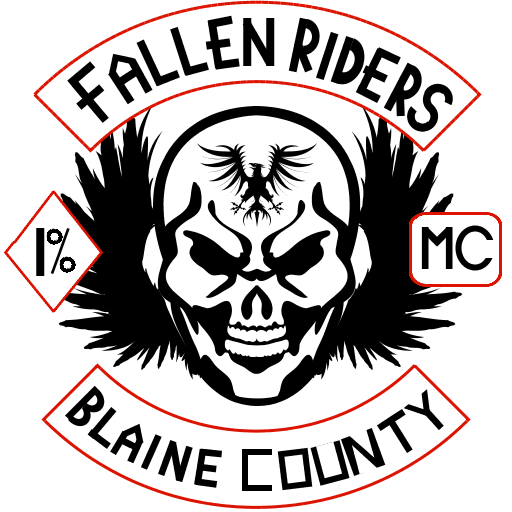 Brief History:
       After the Fall of "The Lost" Johnny Klebitz and His club migrated to Los Santos in the hope of ridding themselves of the memories of Liberty City and everything that had happened there.
       Unfortunately all they found was expensive high rise apartments and a drug riddled desert. The crew soon fell apart as more and more members started hitting the ice hard and those few who weren't drug addled left to find a new start. A few clubs sprung up as a result of this break but none truly found their stride. Eventually some of these "Fallen" members regrouped and formed "The Fallen Riders." Now operating out of Harmony, The Fallen have claimed Blaine County as their own, shunning the bright lights of Los Santos for the open mountain roads and sparce policing further north. Their clubhouse is rumoured to be at a garage near route 68

      Although it has never been confirmed by officials, it is said that the club runs guns and other illicit material across San Andreas, but all members continue to deny knowledge of any criminal activity.
Rules and Regulations:
The rules of the club will be strictly enforced. If anyone breaks them, Sgt-At-Arms will deal them with. If these rules and regulations are broken, it could mean either immediate dismissal or suspension, whatever the executive board sees fit.
Breaking any of the following Rules will be reason for immediately kick-out from club
Failure to pay his dues according to the section dealing with the paying of dues.

If you're doing a personal job, you don't do it as a club member, you don't wear your colors, you don't wear your club T-shirts (Automatic kick-out from club).

There will be no stealing among members. Anyone caught will get an ass kicking and be kicked out of the club (Automatic kick-out from club).

If a patch holder or prospect throws his colors or quits, colors are pulled (Automatic kick-out from club).

Members cannot belong to any other clubs.

If a group or individual attacks any member, the whole club shall stand behind him and fight if necessary. If, however, the member is drunk and aggressive and purposely starts an argument, the rest of the members will escort him away, or step between before trouble starts.

No member will disgrace the club by being yellow.

No member will destroy club property purposely.

No member will take the attitude that he doesn't have to help other members and other members don't have to help him

No member will go against anything the club has voted for and passed.

No member will get together on their own and plan something for themselves on club rides. It will be brought up to the whole club and the whole club will participate in anything that is decided upon.
Joining (AKA Prospecting):
Prospects must be at least level 15

Prospects must have a motorcycle as a personal vehicle

Prospects must show a sincere interest in club and bikes.

Prospects on the road must have bike equipped for the road.

Prospect must be sponsored by one member who will assume reaponsibility for said prospect

Sponsor is responsible for prospect.

Sponsor can pull a prospect's rockers at his discretion.

Prospects must attend all meetings and club functions.

Prospects must do anything another member tells him to do, that a member has done or would be willing to do himself.

Prospect will stand behind club and members.

No stealing from prospects.

Prospect must ride his bike to meeting at time of being voted into club.

Prospect must pay that day for his colours and a $500 joining fee to show solidarity

Prospect members must be voted in.

Prospective member's prospecting period is at the discretion of sponsor and the club. Directorship shall decide when vote is necessary.

Every patch holder online must vote for prospect to make center patch. Vote must be at least 80% positive

No prospect will be voted for center-patch with outstanding loan.

Only the sponsor or an officer may hand out a patch to a prospect. This will be done after the vote by the sponsor.

The prospecting period will be two weeks
Duties of Officers:
President:
The executive duties of the president are as follows:
Preside over meetings of both the Executive Board and the club as a whole.

Judge items not covered in the constitution or in the rules regulations

Directorship gives the president authority to judge items not in the constitution.

Act as the personal representative of the club in the area of public relations; as a liaison between the Fallen Riders and other outlaw motorcycle clubs.

Represent the club in any club business contacts and to supervise major economic transactions.

Assist OMC officers in the interpretation of their club responsibilities, and to promote club life among members in general.
Vice President:
The executive duties of the vice president are to assume the responsibilities of the presidency when the president is unable to do so.
Sergeant-At-Arms:
The executive duties of the president are as follows:
Maintain order at club meetings in particular, and club activities in general.

Ensure that members adhere to club rulings, policies, and expected models of conduct when dealing with other members or outsiders.

Defend club members, property, or territory from outside threats.
Secretary-Treasurer:
The executive duties of the secretary are as follows:
Record and safeguard the minutes of the club meetings.

Maintain the Club Constitution, recording any additions, deletions, or modifications.

Handle any club correspondence.
The executive duties of the treasurer are as follows:
Monitor and record the club's income and expenditures.

Collect the dues and fines owing by members.
Roster(XBL Gamertage/Forum name:
President: Br1ng1ngSxEBack/EliasGrozny
Vice President: BlueHawk616/BlueHawk616
Sgt-At-Arms: CON MUFC 2K11/NA
Secretary-Treasurer: faust3x/NA
Patch Holders:
A7XCurbstomp/NA
XxUKx J0K3RzZ xX/NA
THEBIGPHIL90/NA
xxBaconStewxx/NA
Prospects:
Misc Info:
System: Xbox360
R* Social Club: http://socialclub.ro...allen_riders_mc
Recruitment is done on a more personal business, to prospect with us just f/r one of the individuals above and request to be sponsored and if they say yes then request to join the Club on the Social Club. If we like playing with you seem like you're a serious applicant then we will vote on giving you a patch.