ITS COMING NOVEMBER 19TH! ROCKSTAR HAS PREACHED TO US!
http://www.rockstarg...pons-vehi.html/
"Hi all, for those with questions about other future content in the works for GTA Online, please stay tuned and we'll have more news soon. The free Beach Bum update next week is the first of many new content updates you can expect in the weeks and months ahead including Capture the Flag, The Content Creator, Heists and more to be announced.
For those with suggestions, ideas and wishlists for future GTA Online content or changes, a reminder to please send them to GTAOnline@rockstargames.com where our dev team is reviewing direct player feedback for consideration. Thank you."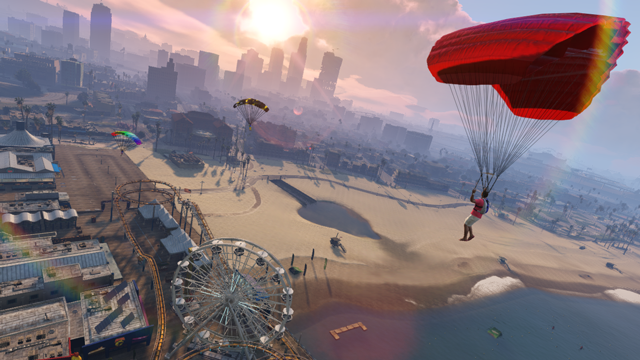 Get ready to tear up the coast and kick up some sand with the free Grand Theft Auto Online Beach Bum update that will be coming next week Tuesday November 19th. All the new Beach Bum content will be added automatically to GTA Online through our next title update (1.06), and will include two new weapons, a quartet of rugged and fun new vehicles for land and sea, lots of new action-packed Jobs, plus a wide variety of suitably rad new apparel, hairstyle and tattoo customization options. Read on for more details.
New Jobs
The Beach Bum update will bring a slew of new action-packed Jobs to GTA Online next week. These include new beach-themed Races, Deathmatches, Parachutes, Last Team Standings, Survivals as well as Gang Attacks for those who enjoy a good territorial skirmish.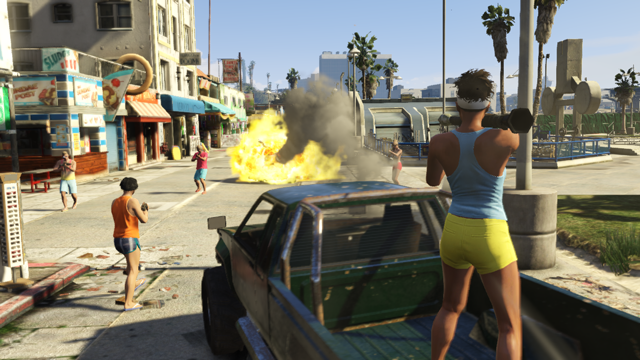 Better not kick sand in the wrong face. Beach blankets may run red by the time the sun sets on Vespucci.
Here are just a few of our favorite new ones that are on the way:
"Grass Route II" (Race): In this sequel to the original popular Grass Route Race, go off-road in an epic heat starting on the North bank of the Zancudo River through the treacherous wetlands with a triumphant finish on the beach in North Chumash.
"Survival on Del Perro Pier" (Survival): Skip the ferris wheel for a deadlier kind of thrill ride as you take on waves of relentless enemies at this beachfront attraction.
"View of Vespucci" (Parachuting): This leap sends you from 2,980 feet, down towards Vespucci Beach, weaving through palm trees to land on the basketball courts of the rec center. If you've got skills, it's possible to freefall through the first few checkpoints before even opening your chute.
"Paleto Beach" (Team Deathmatch): The locals complain that not a lot happens in this sleepy town, so do them a favor and wake 'em up with a barrage of gunfire exchanged between you and a rival team. This Team Deathmatch takes place right on the romantic shoreline for 4-8 players.
"Sundae Driving" (Bike Race): Sure to be a new fan-favorite motorbike race, menace Vespucci Beach on your two-wheel rocket, taking breakneck corners as you try and best the competition.
Expect these and lots more Jobs to be added to Grand Theft Auto Online next week.
New Vehicles
Hit the shore with four sand-and-surf-ready vehicles perfect to take on the all new Beach Bum Races and Vehicle Deathmatches: the BF Bifta dune buggy, the rugged Canis Kalahari off-road truck, the Bravado Paradise beach camper van and making a special return to the GTA series, the fast and stylish Speeder speedboat. All four vehicles will be available at no in-game cost, with the land-based vehicles accessible from the southernsanandreassuperautos.com website and the Speeder available via docktease.com on your in-game phone (call Pegasus for delivery). These vehicles are also available in Story Mode for Michael, Trevor and Franklin to enjoy - to access them, visit your garage property and the Marina property for the vehicles and the boat respectively.
Take to the seas and waterways in the classic, nimble Speeder.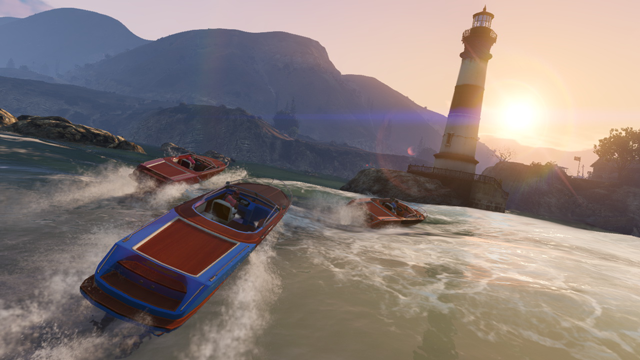 New Weapons
Expand your arsenal with two new free weapons - the compact yet deadly SNS Pistol and the brutal new Broken Bottle melee weapon which is quite effective at delivering the appropriate message in up close and personal encounters. Each weapon will be available gratis from any Ammu-Nation location in GTA Online and will be added straight into each of the three characters' inventory in Story Mode.
Beach bums with attitude. Hit the coast with all new customization options to style up your GTA Online character.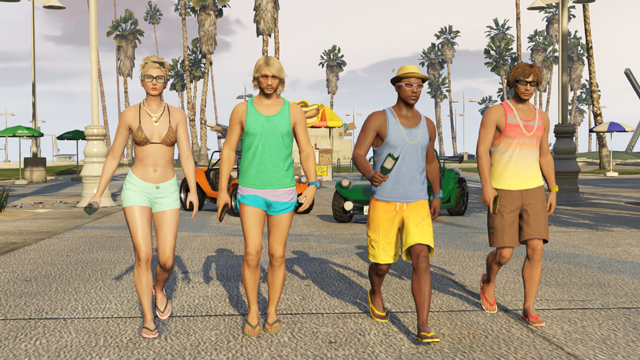 New Customization Options
You'll be able to deck out your GTA Online character with all new beach-ready customization options including stylish board shorts, neon surfer attire, wild tribal tattoos, shaggy hair for that West Coast laissez-faire vibe and more...
This is just the first of many new content updates we're working on for Grand Theft Auto Online in the weeks and months ahead. Please stay tuned here at the Newswire for word on the forthcoming Content Creator, full on cooperative Heists, and GTA Online's take on Capture the Flag - plus info on some exciting new Story Mode updates as well. We'll have new info to share on all of this very soon.
--------------------------------------------------------------------------
Update Nov 1st
"Update (Nov 1): Currently, we expect the next title update (1.05) addressing player progress loss issues to be available sometime early next week. Following that, we hope to deliver everyone's GTA$ Stimulus Package before the end of next week. A big thank you to GTA Online players worldwide for your continued patience and understanding and we will continue to keep you all updated."
Rockstar has spoken!
http://www.rockstarg...ine-update.html
---------------------------------------------------------------------------------------
Thank you to everyone for joining in GTA Online throughout this first month of its release, for all of your awesome Online Snapmatic pics and Crew videos that we've spotted, for your patience and understanding as we've been working through the initial teething issues of launching an online experience like this, and for your excellent feedback to the official GTAOnline@rockstargames.com email address. Please keep it coming as it is really helping us plan for the future of the game. Here's a quick update for all Grand Theft Auto Online players worldwide on what's in store in the immediate future.

 

THE GTA$ STIMULUS PACKAGE

We know many of you are anxiously waiting for us to show you the GTA$ Stimulus Package money we announced a couple weeks back. As mentioned in that post, we of course want to ensure that game progress loss issues are sufficiently sorted before distributing the GTA$ to everyone. We have a few more tweaks and fixes to make in a new title update that will hit sometime next week and then we will distribute the cash.

 

THE BEACH BUM PACK

Coming in early November will be the first add-on content update, the Beach Bum Pack which will bring all-new beach themed vehicles and new weaponry that you'll be able to use in both GTA Online and Story Mode. Plus new customization options for your GTA Online character including new tats, hairstyles and more. We'll also be adding lots of brand new action-packed Jobs to play with Gang Attacks, Survivals, Last Team Standings, Parachutes, Deathmatches and Races that will have you bloodying up the waters and coastlines of the finest beach resorts across Los Santos and Blaine County.

 

THE CONTENT CREATOR

We are also working to bring you the debut of the first part of the GTA Online Content Creator this fall – giving players the ability to craft, publish, rate and play custom-made Deathmatch and Race Jobs. We'll be keeping our eye open for exceptional ones that we'll be stamping as 'Rockstar Verified' and will be featuring them here at the Newswire and as part of forthcoming GTA Online Social Club Events. Both the Content Creator and the Beach Bum Pack are free.

 

SOCIAL CLUB EVENT WEEKENDS

Starting in November will be the first Grand Theft Auto Online Social Club Event weekends which will bring special rewards and bonuses ranging from limited-edition in-game Event Crate Drops to in-game discount specials and even a special new GTA Online live-stream show hosted by Rockstar at the Social Club Events page and Rockstar Games Twitch page – plus prize pack giveaways of hard to find GTAV gear and more.

 

Stay tuned as we hope to have more information with more details and specific timings on these content updates as well as on GTA Online Heists and the new GTA Online Capture the Flag mode to share with you next week. We will also have initial details on more additional content coming for both Story Mode and GTA Online in the next few weeks.