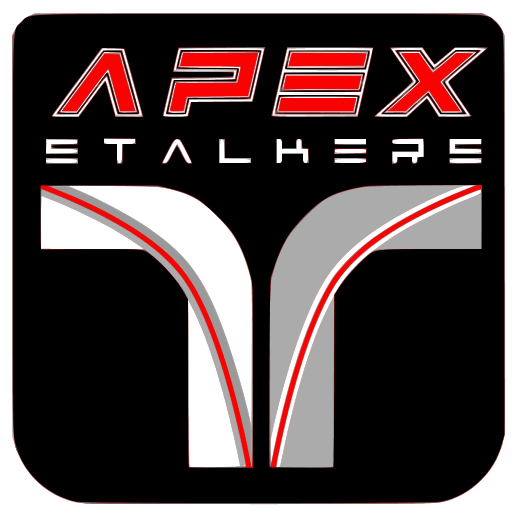 Apex Stalkers are a crew with a strong dedication to clean racing, constantly battling to keep lap times down. The crew was formed by yours truly after getting too much grief online from idiotic racers playing bumper cars, I tried searching for a crew that enjoyed clean racing like myself but to no real avail. After making a bunch of friends from the forum here with similar interests, I realized that it is indeed possible to have some good races online! So with the aim of broadening that network of clean racers, i decided to go ahead and create a crew myself. The end goal is for us to be able to hop online anytime and be able to easily jump into a race lobby with like-minded individuals and keep the grief to a minimum.
Apex Stalkers are on both platforms
PS3: Apex Stalkers
Xbox360: Apex Stalkers XB
We have our own forum as well to discuss crew business, it is a much cleaner setup then trying to organize everything on this one thread. We highly encourage activity on our forum and to monitor it from time to time for announcements and events.
FORUM
http://apexstalkers.enjin.com
Please use this as a place to centralize our chats and collate ideas to improve and expand the crew.
Any clean racers out there are encouraged to join! Just note that we will be watching for dirty drivers , crew killers, and general trouble making. Promotions are also handed out for instances of helping team mates, clean racing, good performances, and most of all, activity on the official forum.
PS3
http://socialclub.ro...w/apex_stalkers
XBox
http://socialclub.ro...pex_stalkers_xb
Just a brief summary
Rules: Just try to respect your fellow racers, we all know the occasional scrape can be fun when under pressure but no deliberate ramming 
Games: Primarily racing, please guys, avoid grinding criminal records and such... It's not a rule but I'm sure we're not here to grind
We do also love other game modes, all in the name of fun, for example, proximity skydiving is a bit of a trend atm
RECRUITMENT
PS3
We have recently switched to invite only so that we only get the most active and dedicated members.
The process to join is:
Sign up on our forum (link in this post)
Post a request to join in the recruitment section
We will organise to run some races with you there to see if your a good fit for the crew 
If you are a good fit, then we invite you!
XBOX
Open at the moment, but may go the way of invite only when numbers get big, this is to ensure we only have active members taking up our spots