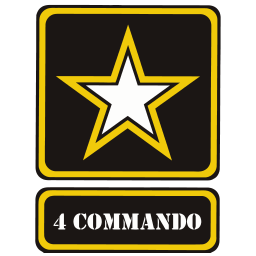 Your "friendly" local Militia.
4 Commando is a militia orientated faction in the way that we roll in heavy numbers, with heavy arms and military vehicles.
We're a tight knit group of friends however we're looking to expand and bring in like-minded players.
We're a very active crew, with members on at most times of the day and night in all timezones, we're a international crew with members from the UK, US, Netherlands, France and more.
We don't take the whole military thing too seriously like some, it's nothing but a theme. We won't have you running training drills etc, haha!
We play all gamemodes, including minigames. We mainly play Deathmatch, Race and Survival although we tend to go on freeroam "rampages" of which consist of destruction of anything and anyone in our path.
We're currently boasting: 22 Members
Our Fleet:
4x Rhino
3x Barracks
3x Crusader
2x Titan
3x Buzzard
2x Annihalator 
The requirements are that;
You're on PS3
You can speak and understand English
____________________________________________________
Join the group at the following link.
http://socialclub.ro...crew/4_commando
- Mack.