The UFO Investigation
The saucer, the egg and the jetpack
Introduction
This topic is about a well-known easter egg about a UFO scheme Rockstar put in the game (GTA V ofcourse).
Due to an old topic being closed upon the OP's request, I opened this topic to continue the old one.
Assuming more topics were already submitted after the original one being closed, I decided to make my own topic about the Investigation - I promise to keep the main post (topic's first post) as updated as possible with detailed pictures.
The main reason behind this topic is to avoid power tripping and trolls.
The topic will be updated massively in the next days, as the topic is yet to be finished.
Reply with more information to help this topic grow again.
 
This section will be removed after 72 hours have passed since the topic was submitted, enjoy discovering!
I. The Main Glyph
The whole Investigation started by a weird looking map on top of the Mt. Chiliad that marks 5 possible locations or incidents that lead to 3 main objectives: A Space Saucer, An (easter) Egg and a Jetpack.
It's currently unknown if the Jetpack actually exists and it will remain unknown until a proper proof is given.
The following picture represents the map we are talking about.
Under the map, the following text can be seen writen:
"come back once your story is complete"
Hinting us that the completion of the story / 100% progress is required to complete the investigation of the easter egg.
II. The Dead Alien
In the Prologue mission, after robbing the back and entering the car you will need to drive over a bridge in order to continue the mission, if you go under the bridge instead you may spot a dead frozen Alien under the water. It's unknown how the Alien got there but it got the same model as the model seen in the missions 'Did somebody say Yoga?' and Barry's drug mission with Michael.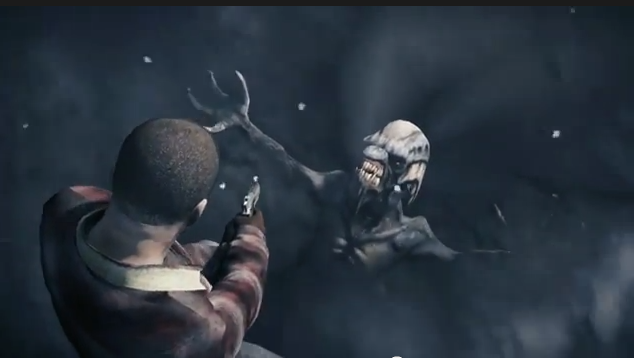 III. The Altruist Cult
Under the Mt. Chiliad you may find a fort with naked and half-naked people (You may find some penis there) with heavy guns, you may pick up some money briefcases, RPG, Assault Shotgun and Armors.
Trevors refer them sometimes as 'friends in the mountain'.
The Cult seems to be a group of cannibals that are relying on Morse code to communicate with each other. A Morse code can be found in their website, which states their actual intentions and reasons.
The translated code from Morse to English can be found below.
 

THE INDUSTRIAL REVOLUTION HAS BEEN A DISASTER TO THE STABILITY OF THE HUMAN RACE.

 

ALMOST ALL WOULD AGREE THAT CONTINUED FOCUS ON THE SUPERIORITY OF THE SUB 40 YOUNGER GENERATION WILL RESULT IN THE CATASTROPHIC AND TRAGIC END TO OUR CIVILIZATION.

 

MAN IS A NOCTURNAL ANIMAL BY NATURE.

 

THOSE WHO EXIST IN THE INDUSTRIAL-TECHNOLOGICAL SOCIETY, BATHING IN SUNLIGHT AND ELECTRONICS, SUFFER FROM PSYCHOLOGICAL PROBLEMS.

 

HYPERVITAMINOSIS D CAUSES ABNORMALLY HIGH CONCENTRATIONS OF CALCIUM, WHICH CAN CAUSE HARM TO THE HEART, KIDNEYS AND BONES. TOXIC CONCENTRATIONS ARE A DIRECT RESULT OF EXPOSURE TO THE SUN.

 

CROWDING CAUSES STRESS AND AGGRESSION.

 

PRIMITIVE SOCIETIES, ONES WHERE CLOTHES AND TOOLS OF THE INDUSTRIAL REVOLUTION WERE NOT NEEDED, PROVIDED A STABLE FRAMEWORK FOR THE FUNCTION OF SOCIETY.

 

ONE CANNOT COMPLAIN ABOUT THE DECAY OF TRADITIONAL VALUES YET EMBRACE TECHNOLOGY.

 

A MAN AS AN INDIVIDUAL, WORKING WITH AN AUTONOMOUS GROUP OF INDIVIDUALS, ALL OF WHOM ARE NAKED IN SPIRIT AND IN THE CLOTH, REMAINS HEALTHY TO HIMSELF AND OTHERS.

 

SUB 40S ONLY EXIST AS SUBSISTENCE TO THE ALTRUISTIC MAN AND GAINS LIFE FROM CONSUMING THEM.

 

BAN CLOTHES. BAN LIES. BAN DECEIT. EAT OF THE FLESH. DRINK OF THE BLOOD. WE SHALL BE FREE ONCE MORE. BECAUSE WE KNOW. ALTRUISM. THE GREATEST GOOD, FOR THE GREATEST GENERATION. WE SHALL BOOM AGAIN.
Near the Cult's Fort and the surrounding desert weird paintings and graffiti related to our investigation can be found, it must be related to the Aliens.
(To be updated with more screenies!)
IV. The Hatches
There is a hatch at the bottom of the east sea. This hatch is a reference to the movie LOST. Upon reaching the Hatch while diving (w/ or w/o scuba gear) the player will lose health after 5 seconds until he dies as he finds himself under-pressure (Low sea level results in over-pressure on an object e.g human body). The Hatch got a window with light popping out of it, though it cannot be entered.
V. FIB Agents
After the completion of the main story it's possible to spot FIB Agents and white coat workers (possibly scientists?) near a huge satellite and a shack near the north-east highway. Killing the agents will raise your wanted level immediately. The intentions of the FIB Agents are unknown and it's a possible lead to our investigation, since some of the Space Saucers were found with FIB markings.
(Large Satellite with FIB)
(The Shack with FIB Agents)
(Shack's location)
VI. Alien Park
Near Sandy Shores, there's a park with a lot of paintings, drawings and text-graffiti related to Aliens, some weird looking vehicles can also be spotted such as an old (not working) car with a saucer on top of it.
A very interesting point is hinted, there's a painting with the following chars: 6EQUJ5. This code is a reference to a signal named Wow! Signal, which is a strong narrowband radio signal coming from outer space.
VII. Space Saucers
After following some leads and researches, players found UFOs that look like Space Saucers around San Andreas. Some saucers are special and have some special markings on them, all of this information will be explained in this section.
UFO #1 - Sunken UFO
This UFO is not actually a flying one but we still count this one as an UFO. This UFO can be found at the north side of the map in the sea. You may reach the UFO with a sub or scuba gear. Nothing special about this UFO and there is nothing special visible on it.
[Video]
UFO #2 - Mt. Chiliad
This UFO requires you to have a 100% completion before it can be triggered. Go to the TOP of the Mt. Chiliad and you will be able to see the UFO flying near you (Idle position). The trigger will only occur if the hour is 3am and there is rainy weather with thunder storm!
The UFO got a 'FIB' mark on it, might mean something about Government Intervention - This UFO believed to be a HOLOGRAM around the community.
UFO #3 - Fort Zancudo
There is a Bunker in Fort Zancudo with an (unenterable) elevator inside. Around 1am you may see a beam ontop of the bunker. If you go higher you may discover a (creepy-looking) black saucer that makes strange noise. Going extremely close to the UFO will push you backwards and (incase you are in a vehicle) will turn the engine off. Going too far from the UFO will make the UFO disappear until you come close.
There's a trick related to this UFO. The words 'segregate and rearrange' are written on the saucer. Using anagram Technics, segregate can be translated to 'easter egg', the words and + rearrange can be anagram'd to near grand ear. Results:
segregate and rearrange
easter egg near grand ear
Must mean something, Grand Ear might be the Big Ear - Big Ear is the huge satellite at Bone Country, San Andreas (GTA SA). Or, another place in San Andreas that is named 'Big Ear'?
[Video]
UFO #4 - Sandy Shores
Yet another UFO with 'FIB' mark on it, found above Sandy Shores - it works like the Fort Zancudo UFO does. You need to be near the UFO in order to make it appear. [Video]
VIII. Community Made Glyph
Alot of community members invested their time and creativity to create a glyph with possibilities and opportunities of research after the Jetpack, the Egg and the Saucers. Some of them aren't necessarily true or false but the idea of the glyph worth a shot for fame. Glyph will be shown below with it's creator's name - Enjoy!
Glyph by Fmlad
Glyph by Holyhyan
Glyph by ferminator748
Easter Egg Hunt Map by holyhyan
thread is still being updated.
Edited by SpaceOmega, 26 September 2013 - 08:21 AM.