*HIGH RANKED MEMBERS REQUIRE A  HEADSET WITH A MIC
 graphic designer for banners and logos wanted!!!!! Extra money and guns for graphics guy....
**OFFICIAL GANG HISTORY COMING SOON**
Vice Money Murder is a crew that is, somewhat, cannon to the official R* crews and GTA Universe. Vice Money Murder is the Los Santos chapter of the Vice City Mambas Gang, a cannon R* crew. V$M is a a hybrid mafia-street-syndicate with an ironic (yet perfect) mix of mob and street principles. Flashy but not noticeable. Our goal is to become well known as the guys who took over LS and maybe R* will notice the intentions and immortalize us into GTA history as the VC Mamba Gang's LS set.

To put it simply, V$M is to bring a little Vice City to Los Santos by relentlessly taking over the city like Tommy Vercetti would do. If it's there, we take it. If it makes us money, we sell it. If it's fast cars, women and drugs, we entertain it. We trust no one but ourselves and are only out for we. LOYALTY. Trust is all we ask and in return, you get to make a name for yourself in the city of Los Santos as we rise to the top. V$M is a family that holds no bounds. We represent Vice City, sun-soaked metropolis is what we were built for.

What kind of crew is this?
Vice Money Murder is a street gang with mob rules. V$M is also mafia family with a street mentality. We will Uzi a rival apartment, bandanas up, and then eat dinner in gang colored suits on Portola Drive. We will extort your liquor store for profit and then rob the place and mug pedestrians.
This is where the whole "street mob" mentality arose. Gangs need discipline, but cannot become to strict or uniform otherwise the enemy will get you to the routine. So we move methodic like the mob yet are still as unpredictable as any notorious street gang. This also ensures that any type of GTA player, of any kind, can find his "niche" within the ranks of V$M. We currently have 2 divisions of the V$M to suit any player:

------------- The Representatives (Mission-based/Competitive): This is for all players who enjoy the competitive modes such as death match and so on. Also players of this division, if problems erupt (like gang vendettas or a compromise to the safehouse) are expected to handle the problem. If guns, protection, assassinations, retaliation, back-up or any extreme and violent measures are needed, Rep Gang handles it. Offense is our best defense, so it's your job to be the best and sharpest criminals in all of Los Santos. If there has been a tip off of a rival gang hideout with a jackpot, we call Rep Gang. If we need anything that is to difficult to do solo, we call Rep Gang. So basically, your the bread and butter.

------------- Muscle Gang (Free-Roam and Havoc): V.$.M.G are the guys who are REALLY in the streets. Bandanas, hoes, guns, money and cars. Hood life. There just out there causing mayhem in the name of mayhem. From mugging peds and robbing liquor stores to full out gang wars and high speed chases, Muscle Gang are the true gangsters of the crew. This part of the crew is for those players who don't want to be obligated to complete missions but rather just dick around! Rob other players, sell drugs, grief, parachute, free-roam.... Just remember to rep! The more you rep in the streets, the more the streets take notice and the more notice you get, the more the boss has to give you a pay raise.
PS3 Crew
 
Rank                                             GTAForum Name                            PSN ID
 
Don Father (Boss)                                  JStarr31                                             Starr31
Consigliere                                         jvictoria11                                     xGodIsBlackx
Underboss                                        Danilo_Frost                                       Fun_Frost
Supplier                                         xyron34 (SoA AU)
Communications    
Lieutenant    
Lieutenant  
Enforcer     
Chief Security
Rep Gang    
Recruiter    
Recruiter    
Street Soldier    
Street Soldier    
Runner/Carrier (NR)  
Runner/Carrier (NR)    
Spotter (NR)    
Spotter (NR)  
 
 
 
 
XBOX Crew
Rank                                             GTAForum Name                   XBL Gamertag
Don Father (Boss)                                JStarr31                                           Starr31
Consigliere                                         jvictoria11                                   xGodIsBlackx
Underboss                                        Danilo_Frost                                    Fun_Frost
Supplier                                        xyron34 (SoA AU)
Communications     
Lieutenant                                         scouse choice                              scouse_choice
Lieutenant   
Enforcer     
Chief Security
Rep Gang    
Recruiter     
Recruiter     
Street Soldier     
Street Soldier    
Runner/Carrier (NR)   
Runner/Carrier (NR)     
Spotter (NR)     
Spotter (NR) 
 
Reptuation & Colors

REPUTATION
Vice Money Murder Gang is a criminal syndicate currently operating in Los Santos, San Andreas. Some would call this crime ring a mob-oriented street gang while others will call it a street-based mafia. In any light, V.$.M.G is a on going threat in the streets of Los Santos. Notarized as a violent yet intellectual crew, V.$.M.G specialize in drugs, extortion, racketeering, and laundering. The gang is widely known for its rivalry with the ♥ ♠High Rollers♦ ♣, a rivalry stemming from early 90's Vice City, who's foreign gang families were fighting to take control of our domestic drug trade.

The 3-point Symbolism
The symbolism originates from the triforce of the Almighty 3 points of Wisdom, Courage, and Power. This trinity is stronger than all others. A trinity so strong and omnipotent that it has united us to create a triforce like no other. A divine unity that is destined for supreme victory over all of our adversaries. The Heirs of the Three will destroy the hatred, falsehood, wars, and in-harmonies in life. 3 is life. The 3 is the eternal connection that unites body, mind, and soul.

--------------------------------------------------

COLORS

We are identified by the beige/khaki color worn by our members with particular bandanas, clothing, gang symbols and distinctive hand signs. V.$.M.G also go by the name "Dirty Money" which stems from the brown/beige color worn by the gang. Members also refer to each by "Three/3" which is in reference to occult gang symbolisms. Although graffiti is frowned upon by the higher-ups, it is still practiced by the newer members of the crew.
Muscle - Khaki and Black
Representatives - Beige and White
Lieutenants - Tan and White Suits
Commissioners - White and Tan Suits
Leader - Undisclosed

------------------------------------------------



Flag
"All of my brothers and sisters within this family shall hold dearly the divine colors of this almighty alliance." - V. Vinnotti

Meaning
The White is for the original purity of courage, wisdom, and power. It represents the pure mind of our brothers and sisters born before the struggle, and the white light that unites us all after life.

The Black is for the color of the dark and vicious past of our family, for the and for the everyday unknowns of life. Black is also the color of the "UNIVERSAL": U and I VERSES all.

The Beige is for the land and dirt we walk on, the color of the caskets for our enemies, and the natural earth we inhale to keep our minds at peace.

-----------------------------------------------
GUNS
MUSCLE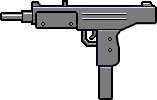 REPRESENTATIVES


LIEUTENANTS
Turf
Vice Money Murder Gang ran territory along Hoarmont Ave. in Downtown, V.C., some streets in Little Haiti and most of the Little Havana residential areas. Now V.$.M.G is operating in Los Santos, San Andreas. Branching into various sub-groups known as "sets", significant and noticable differences exist between these sets such as colors, clothing, rank, and operations.
V.$.M.G now covers a good portion of Los Santos occupying parts of South L.S., East L.S., and streets in Vinewood. The V.$.M.G have been documented to even have ties within the military, existing in both the San Andreas and Vice City bases.
Sets
Muscle - Grove Street, South L.S.
Representatives - Rancho, East L.S.
Lieutenants - Vinewood, Los Santos
Commissioners - Undisclosed
Leader - Undisclosed