Maybe I could've said it earlier, but I think you could make the roof go a little higher? It'd make a lot more sense, given the vehicle's proportions. Other than that, solid work.
Thanks. It's not to late. Raising the roof is not a problem at all.
Raised a little and a comparison with the unchanged cab:
But actually I don't want to do this.
1. As long as the medium and heavy duty trucks from GM (and also Ford as far as I know) were derived from the pickups they all used exactly the same cab. So assuming the Walton has been modeled perfectly by R* (spoiler alert: it's not) the cab should be left exactly that way.
2. Tommy has already way to much headroom. (see below how much the roof could be lowered without problems) 
3. I think you maybe might be confused by the runningboards under the doors (everything below the darkest line at the bottom of the door). They are not a part of the cab (so it's basically the same as the Walton).
4. This is how my reference looks and a quick unprofessional comparison with a blueprint: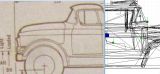 But of course the Walton cab is not perfect which I noticed after you pointeed out the "low "roof. Thanks for that.
  The vanilla cab is way to long so I want to to shorten it a bit which should also make it look higher.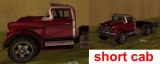 (I'm just realizing that this looks way off on the pic. Ingame it didn't look that way...)
Unfortunally that creates problems with the seating position so I'll maybe combine a less shortened cab that is raised just a little bit.  Anyway I'll compare with some more blueprints and also consider the width because I want to get this as accurate as possible. Hopefully without raising the roof.
And about the lowest possible roof that still leaves reasonable headroom: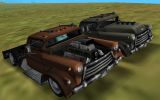 I kinda lost track and rodded the truck a bit.



If I recall correctly, you are working in Zmodeler 2. You have a great talent and your skills have vastly improved since you've started working on the truck! I really like the result. Would be epic to see some boats/helis from you. They don't have damage parts, so you'd have it easier
Yes, I use Zmodeler 2-point-something.Thanks for the praise but better wait until you see the model up close and my uneconomic use of vanilla textures.
(trying to fix these issues as well as I can...) 
I  wouldn't be aversed to trying a boot/heli after I finish this but my knowledge of them is quite limited. I wouldn't know what to model regarding the styling - Speedboats, helis, planes etc. kind of all look the same to me... Anyway we'll see.