"We hope that GTA V will do for multiplayer open-world
games what GTA III did for open-world single player."


- The Benz
A bold statement, The Benz.
....But, what would that exactly
mean
?
On the heels of the release of
Grand Theft Auto III
in late 2001, fans converged upon this very forum searching for new ways to indulge their Grand Theft
State of Mind
. At the time, there was a subsection of the forum called the Public Gang Chat. Here members of the forum banded together as 'gangs' while rumors and speculation circulated about a possible multiplayer addition to GTA III with the PC port.
The idea was simple, but the execution far exceeded anything multiplayer gaming at the time could offer.
As the GTA III port came and went without any addition to multiplayer, the community moved forward creating a world within itself that could hopefully, one day be realized within the world of Grand Theft Auto Online. For years we have played the same old death match and capture the flag bull sh*t as multiplayer has become commercialized by Call of Duty/Battlefield and every other game to offer a multiplayer option.
However, Rockstar has shown us a glimpse into the future with Rockstar Social Club. A proposition of what multiplayer
could be
.
I have compiled some suggestions as to what I think would make Grand Theft Auto Online as big of a game changer as Rockstar has, thus far, hyped it to be.
-----------------------------------------------------------------------------------------------------------------------------------------------------------

Customization

While the port to PC never opened the door to multiplayer, the modding community wasted no time creating a world best fit for their gang. The GTA modding community is well known for some
pretty
awesome
stuff
, but in this particular case the mods were designed specifically for each gang. We had customized vehicles, character skins, hell, even our own mansions. This took the idea of GTA Online to the next level. The idea was that even if the representative players from each gang were not on the map,
their presence would still be felt
.
Obviously, our idea of multiplayer was fairly narrow minded as we only focused on the community within this forum. However, the idea still persisted as something a lot of gamers wanted. Traditionally speaking, the multiplayer experience has been confined to a series of game options; capture the flag, death match, open map, etc. However, thats not what Grand Theft Auto is about. With the exception of GTA IV, the titles within the series have progressivly focused on empire building, customizing assets, and possession of guns, vehicles, safe houses, outfits, and more. The deluge of GTA V news over the past few months has stirred long lost ideas of what Grand Theft Auto Online could be.
We know now that we will be able to purchase businesses and safe houses, customize vehicles, outfits and so much more. Why is this important?
For the love of money.
So, what about multiplayer? Surely, we will see the return of crews ala Max Payne 3. A system that was quite successful, but only scraped the surface on the potential idea of Grand Theft Auto Online. But what are we fighting for? Points? Respect? What about a physical representation of the gangs success? Like a customizable safe house filled with trophies and loot from previous adventures that we can fight for and defend. Or perhaps a cutsomizable vehicle exclusive to that crew. Imagine a flashy vehicle you have never seen before zips past you on the street. How'd they get it? Can you get one? Will you
fight
for it?
Whatever it may be, we want to put our stamp on the city. We want our actions to have consequences. We want something to fight for.
-----------------------------------------------------------------------------------------------------------------------------------------------------------

Territory

In the days of the Public Gang Chat gangs forged alliances, and carved out sections of liberty city as their own in preparation for whenever multiplayer would come. We realized strength in numbers, and by combining efforts we could control parts of the map.
Remember in San Andreas, how CJ would fight and claw against waves of rival gang members for a single block of Los Santos? It was fun, for awhile, but never felt fully fleshed out. Perhaps you recall Vic Vance, racing across town to defend one of his businesses as rival gangs attempted to destroy his assets, crippling his income.
There was a sort of narrative that went unannounced between the work going into to creating a business, and the determination in defending what you had worked so hard to create.
This
is what the Public Gang Chat had created amongst themselves as personalities would clash, and battle lines were drawn. While on the forum we would jockey for respect and votes to become an official gang of the forum, but what we really craved was a piece of Liberty, Vice, and Los Santos.

Gangster sh*t.

Instead of strictly killing more than dieing within the alloted time, perhaps the focus should be on territory, and the value players place upon them. In other multiplayer games, players would have to fight and defend spawning points on the map, whether or not they had any intrinsic value to the players themselves. I never understood why I
had
to defend a stupid fort in Battlefield when there were no vehicles, planes, or artillery to be had there. It's dumb. However, if the location was a gun shop that offered a location for players to customize their weapons, I would fight to the death to possess it. Furthermore, I would be much more motivated to defend a street corner outside my gang's hide out than I would another piece of territory across the map.
-----------------------------------------------------------------------------------------------------------------------------------------------------------

Continuity

Perhaps, this is the most farfetched idea of them all, but perhaps someone with more understanding of the "behind the scenes" process of what makes multiplayer possible could shed some more light on how much of this could be reality, if at all.
With everything listed above; customizable safe houses, territory, etc. I believe the biggest potential shift in how we view multiplayer would be the ability to have a certain degree of continuity with whatever our gangs or crews have accomplished.
Lets say, in fact, crews will be rewarded with customizable safe houses, guns, vehicles, and outfits. Additionally, lets assume territory is something we could gain and lose in battle. What happens when we go offline? Is everything involved in multiplayer exist strictly within its own vacuum? Or, perhaps is there a way where one main existing world will constantly ebb and flow with the interactions of the global community as a whole?
Perhaps, Los Santos is not big enough alone to hold every player online at once, if that was even possible. However, what if
Grand Theft Auto Online
was bigger than just GTA V? To me, this is the most striking information we have received thus far. They didn't call it GTA V Online, they called it Grand Theft Auto Online.

I got five on it.
Perhaps I am wrong about Grand Theft Auto existing on one single map, but perhaps a crew that has engaged itself within a set map would have a percentage of territory and their customized assets carried over from map to map. This could be achieved by allocating territory percentages via the point system. Additionally, safe houses could be attributed to set locations around the map. They might not always be in the same place, but the building could be replicated as part of the crews involvement.
-----------------------------------------------------------------------------------------------------------------------------------------------------------

It's not all about gun play...

I had a conversation with a friend a few days ago about Rockstar's multiplayer games to date; GTA IV, Red Dead Redemption, Max Payne 3 etc. He shared with me that some of the most fun he has in multiplayer are the moments before a match begins when friends get together to talk, and punch each other in the face for fun.
This got me thinking. That is
a lot
of what the Public Gang Chat was about. Obviously, the premise of the game is that you steal cars, shoot people, etc. Yet, there is so much more to Grand Theft Auto than that. How much time have you spent in a GTA title, just.....walking around?
For my money, multiplayer becomes stale when I'm constantly being shot at incessantly for hours on end. I wish I could walk up to someone, and challenge him to a street race down the block which we're standing on. Perhaps, we could bet customizable guns on the race. I win, and the player reluctantly hands over a customized SR-1 with full tactical equipment. From there, I would zip around town and stop at a safe house which some friends have customized. Walking upstairs, there are pictures of current and former gang members in moments of goofballery. As I enter the main loft I notice some friends are playing a hand of poker, while my buddy is on the couch watching Space Ranger Republicans. I sit and join him, while we talk about guns, drugs, and bitches.
Now this all sounds a lot less like Grand Theft Auto, and more like something out of the Sims or Habboo Hotel, when suddenly, gunfire rang out. As everyone rushes to the window to see the commotion we realize a rival gang has arrived in mass to take over the safe house. My buddy asks for my assistance, and as I pull out my new SR-1 I simply reply, "No doubt."
We rush to the lobby of the building and take position. Bullets kick open the doors, and glass shatters all around. "These are a bunch of cowboys."one gang member announces. A gunfight ensues, as the gang shouts strategy at one another. My buddy and I go out the back door, stopping at the gun closet to load up on heavy artillery. He hands me a mini-gun, and we swing around the building to flank the attackers. We take position behind a dumpster, they haven't noticed us.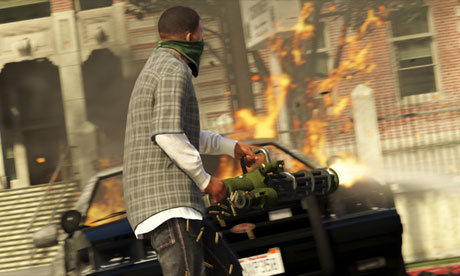 The sh*t just got real.
We mow down the enemy attackers and the safe house is, well, safe again. My buddies and I dance around the corpses shouting expletives like ten year olds as we enjoy the fruits of victory. Someone suggests we go to the local Honkers Strip Club to celebrate. "Good idea".
There is so much to see and do within the world of Grand Theft Auto that it is unfair to limit it strictly to gun play and car chases. Sometimes, the cities represented within the game are not something we so much want to destroy, as we just wish to
inhabit
.
Even in just the six plus years since the release of GTA IV, social media has become an every day aspect of just about everyone's lives. I personally do not engage, but the far reaches of instant information have an effect on even myself. This is a profound step our society has taken.
In terms of gaming, is social media integration the next step, particularly for online gaming? Its often suggested that one day we will all exist online as avatars rather than our physical forms.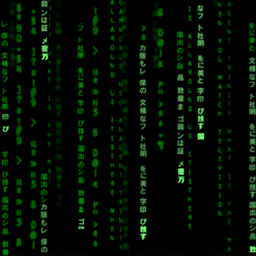 Er.....um.....not exactly.
Perhaps, more realistically, people will want to engage socially with friends across the globe in virtual arenas like Grand Theft Auto where the best of gaming and social integration converge, without all the humanity getting wiped out by viruses or whatever.
-----------------------------------------------------------------------------------------------------------------------------------------------------------

Grand Theft Auto.....America?

Rockstar has taken a firm stance that the previous generation of GTA titles and the current HD titles don't exist within the same universe. That being said, we are currently moving forward into the second city of the
new
HD universe. What does that mean to Grand Theft Auto Online? Well, potentially, a lot.
Rockstar has set its focus on one city from the San Andreas state, Los Santos. Without getting too far ahead of ourselves, it may be safe to assume that moving forward into the next generation of consoles we can expect to see fully fleshed out versions of Vice City, San Fierro, and/or Las Venturas. Of course, I admit caution with this, as there is no guarantee of anything.
I believe it is worth noting that this installment of multiplayer is given a title which transcends the game it is packaged with. This isn't GTA V: Online, this is Grand Theft Auto Online.
The original GTA on the PC offered players the option to travel to one of the three main locations; Liberty City, Vice City, and San Andreas. More recently, The Benz was quoted in an interview saying...
QUOTE (Rockstar North President The Benz @ Digital Trends)
"Of course at some point we would like to have one big world containing all our cities and let the player fly between them and revisit their favorite areas.."

Frequent Flyer?
Is this time now? We shall see.
-----------------------------------------------------------------------------------------------------------------------------------------------------------

Unscripted

Imagine this. You have worked for weeks, perhaps months with a group of your friends to finally achieve a desired level of status within the game. Your crew has been rewarded with property, vehicles, perks, and of course bragging rights.
Not a day later, a much larger crew comes in and takes
everything
. You were out gunned, out played, out performed. You have lost everything. Would you be mad?

U mad bro?

Wouldn't your very next step be vengeance? Would you not want to reclaim what you worked so hard to achieve? It's the moments of defeat, in video games, that keeps you coming back for more. You may seek out a single player, or an entire crew, but a narrative would form between players and crews as vendettas, beefs, and wars would break out.
On the flip side of that, there is strength and numbers. Why fight with a gang, when you can become friends and act within an alliance to achieve your goals?

Are they, or aren't they?
The concept of alliances can have just as much potential "unwritten narrative" when betrayal is always a possibility. Am I my brother's keeper?
Cash has clearly become a huge part of GTA V with everything from property purchases, vehicle customization, and now real estate, stocks, and more. Certainly, the value of money should be carried over into Grand Theft Auto Online. Perhaps not as fully as in single player, but the spirit of the concept should be included to some degree. Players can acquire cash on their own, but may realize more opportunity within a crew. While a player may be within a crew, they might not yet be the first choice to participate in a planned heist. This means a player will have to acquire cash on the side.
Within the idea of unscripted narrative, there is a potential for a player within a crew to attempt a clean robbery that has presented itself as an easy play. However, this involves stealing from an ally. Potentially it could be a big cash grab for the player, or pose dire consequence for the player and crews...
Additionally, as you achieve more success within the game and you and/or your crew's stats are broad cast world wide, more players will seek to knock you off. Did you think driving around in that flashy whip wouldn't catch someone's eye? That safe house of your's looks like a great spot for my crew.

Scientifically Proven.
With great reward, come's great responsibility. People are going to want what you have, and they're will to take it from you. That game is called Grand Theft Auto after all...
That being said, are you willing to fight for what you own, and how far would you go to get back whats been taken from you? For a player of high status, this becomes a huge problem when every time you step onto the streets of Los Santos and everybody is trying to be the one to knock the king off his throne. What's a brother to do?
Lemme segway this motha f*cka....

Always wear a helmet.
-----------------------------------------------------------------------------------------------------------------------------------------------------------

Ranks

Back in the glory day's of the Public Gang Chat there were gang's like the Corleone Family Mafia, The System, $outh $ide Hoodz, and many more. To an outsider it seemed ridiculous that member's had ranks such as; The Don's Bodyguard, Driver, Security, etc. Especially, when there was no multiplayer!
However, we saw the potential in something great. Purpose within a game. For now, it's a run and gun affair within a set spectrum of rules and stipulations. Personally, I hope for a more organic approach. When you consider the previous suggestion and you can imagine the difficulty it may be as a high ranked player within the game. Success garners respect, but also jealousy, resentment, and opportunity.
When we ran our gang's on the forum, newer members would take up lower positions such as The Don's Driver, and body guard until they had proven themselves within the community as valuable members. Within Grand Theft Auto Online, the same applies while remaining practical. The leader of a crew may enlist several new members of the crew as personal bodyguards as he/she roams the map. This offers the new members an opportunity to prove their skills, while lending a helping hand to a high ranking target to other up-and-comers seeking to make a name for themselves.
Perhaps, you are not as good in fast paced shoot outs, but excel in driving ability. This could create an opportunity for someone to fulfill the position of Driver for a crew. Heists could be planned out, utilizing the skills of crew members. A team of five of the best shooters will enter the building from the back, a driver will position the getaway vehicle around the corner awaiting for the signal to pull in front. A sniper is positioned across the street upon a roof top to lend protection in case of a shoot out during escape. Finally, a helicopter pilot will circle the area to offer aerial support during get away.
Coming up in a crew wouldn't just be about stats, but actual credentials and a resume of success. Players would have to prove themselves by protecting the gang's leaders with hopes of ascending the ranks to be involved in heists, robberies, and other attacks which would lead to more opportunities in scoring cash.
-----------------------------------------------------------------------------------------------------------------------------------------------------------

Death.

This, got me thinking. This may or may not be what it is about, but it stood as inspiration all the same. The one major flaw, for me, with GTA IV's multiplayer was that it was a lot more like Battlefield or Call of Duty than it was GTA. This bothers me. If I wanted to play Battlefield or Call of Duty, I would be playing, Battlefield or Call of Duty.
I want Grand Theft Auto.
Player's stand in the middle of the street and shoot RPG's at anyone on site. Even in set games like Cops N' Crooks, players end up messing around instead of taking the game seriously.
Let me put it to you this way. I love baseball, and have played my whole life. I made it to the low ranking college level, and that's about where my talent topped off. Now, when I play MLB The Show, I'm the greatest that ever lived, and it's f*cking awesome. I could turn up all the sliders to make the game even easier for myself, but I enjoy the challenge and the satisfaction of the process. What can Grand Theft Auto Online do to ensure that there are consequences to actions?

This is an M rated game....right?
What if that "83 Days" signified how long that player has remained alive? What if when your online player was killed, you lost all your assets, property, and vehicles? What if when your player was killed you had to start over and regain all those attributes, cash, and perks you have acquired? Would you not stand in the street and shoot RPGs at everyone?

Thought so.
This concept ties into just about every aspect previously suggested. Gang leaders would
want
to be protected and utilize body guards. Being taken out by another player or crew would be a bigger deal than just a statistic.
This could also be applied to entire crews as well. If a crew's safe house was sacked, they would also lose all assets, vehicles, and cash saved within that safe house. This places tremendous value in protecting what is yours and giving much more purpose to planning and strategy. Players would utilize cover and flanking maneuvers creating a more realistic approach to game play.
Players who survive longer become more valuable to crews and may be recruited by other gangs. The idea of survival changes every element of multiplayer and imposes a sense of realism to online gaming.
When gamers play single player campaigns, we expect the best AI possible in the enemies we face. When that fails its wonky and noticeable. You would think that adding other players to the game would create a more realistic atmosphere, but it is the human element that makes the game,
unrealistic
.
Without a system in place to impose consequences, we are confined to Battlefield and Call of Duty - like multiplayer. Grand Theft Auto has again, and again been the focal point of innovation in video games. I believe this instance is no different.