Contasion 1 - Colony City is a free top-down 3D GTA clone I've been developing for quite some time. The game consists of over 60 vehicles, 14 weapons, and a fully functional multiplayer!
The game features a diverse city packed with action and things to do. WIth a multiplayer and a single player in Contasion, the amount of gameplay in the game is huge. In single player, you are faced with several tasks set by your best friend. Getting your best friend anything he wants, as he intimidates you over the phone. The tasks consist of collecting items, killing with weapons and vehicles & traveling, getting to know Colony City.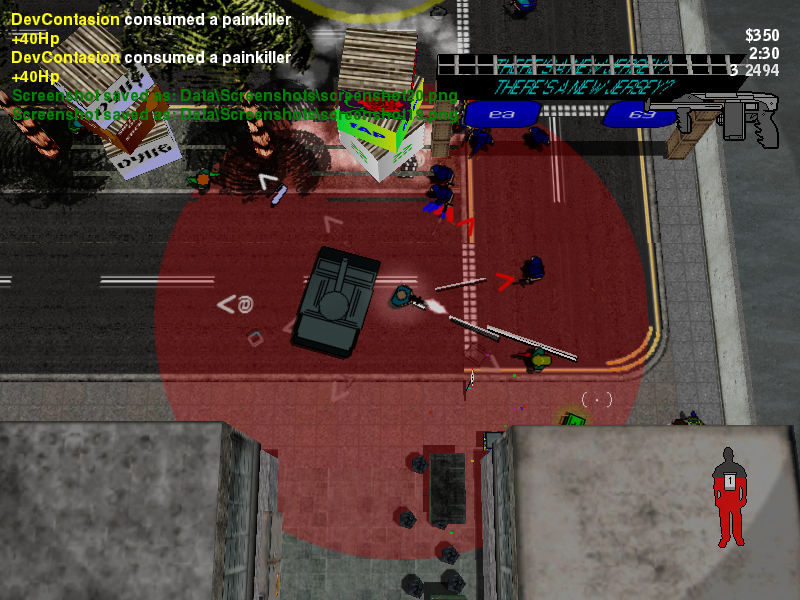 In the multiplayer, the primary spawnpoint in Contasion is the Colony City International Airport, but when you die, the spawnpoint will be altered depending on where you last died. There are certain areas within the city where you can obtain certain vehicles, in the average place you may just get the average sports car, but in other places, you can get heavy war vehicles, such as the Knack, ADF & S.A.M vehicles. In Contasion, you can increase your multiplayer rank by killing other online players, robbing local stores, looting coffins & more! The rank will give you the opportunity to alter what your multiplayer character will look like. The more kills you get in multiplayer, the higher your kill streak will be. Having a kill streak means you get more money, but committing suicide in the game will make you loose $100!
The online is one game mode - free mode. Giving the players a wider range of things to do, good or evil. It's almost impossible to behave in a city full of violence, and when other online players get violent, it's time to show them how you dominate the streets of Colony City. Dominating the streets or doing anything immoral on the streets will increase several of your stats. But stats do not only increase when you're bad, stats increase depending on how well you drive, how well you fire whatever weapon, how often you spend around the city running. Contasion provides endless fun for the players.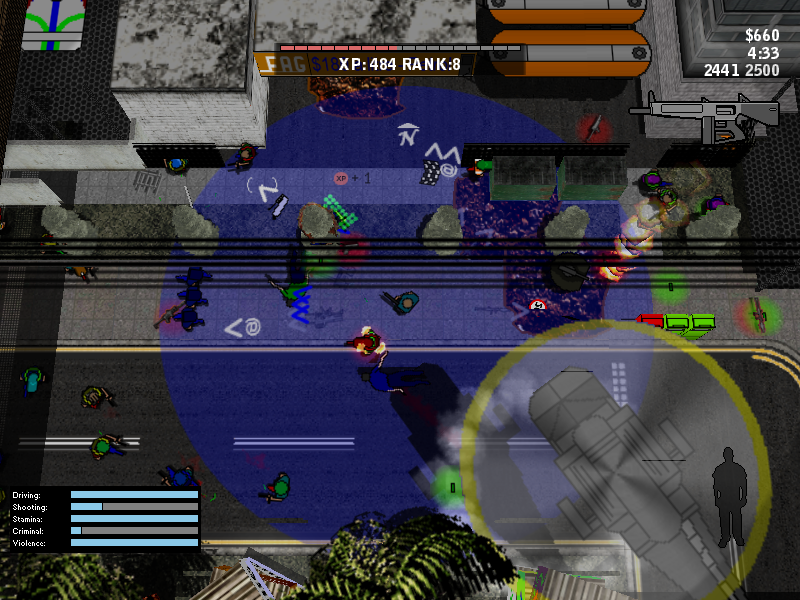 For multiplayer, I'll be hosting the server as much as possible. You can also host a server by clicking the "host server" option when you have the multiplayer options list on screen. I will be listening to criticism and updating the game as much as humanly possible, adding more features to make the world more intense. Please download the game and tell me what you think about it. If you have found a major bug, please 
message me
, and I will try and solve the problem. The server ports are 7777 if you wish to host.
The game is free to download…
Last minute information (including controls) are in the ReadMe folder, or you can ask me for the controls in the server if you are planning to proceed to multiplayer  
If you want me to host and the server appears to be offline, just message me, I will happily host & play with you! 
.
Server IP: 
78.86.98.132  Please type this IP or click "join match of the day" if I am hosting the server.
Ports required to forward if hosting: 7777.
Come along, try it out with me!
If you have a question or concern, throw me a PM! 
Suggestions and feedback is welcome! Cheers : - )